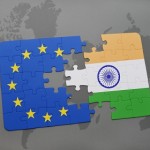 Prime Minister Narendra Modi's virtual summit with European Union leaders on May 8 sets relations between India and the EU on a new and more ambitious trajectory. The six-page joint statement issued after the meeting announced an impressive array of aspirational goals meant to inject new life into the often lacklustre, on-again-off-again relationship.
In diplomacy, intentions matter. But so do results.
The summit was big on the headline-grabbing announcement of a restart of stalled trade talks and the launch of negotiations on an investment treaty. A first-ever EU-India connectivity partnership also secured attention. But the meeting – the highlight of the current Portuguese presidency of the EU – fell short in responding to Indian and South African demands for a waiver on patent protection for vaccines.
Once media attention has faded, Delhi and Brussels face the Herculean task of turning the summit's words into action, an effort that will require continuous discussion, patient negotiation and uninterrupted dialogue between the two capitals – with both sides under pressure to show a willingness to compromise and find common ground that they have not managed to demonstrate so far.
The vast agenda sketched out at the Porto, Portugal, summit – attended physically by the EU members and by video conference by India – with its references to health, climate change, trade, connectivity and security covers competences spread among several EU departments and Indian ministries. It therefore will demand non-stop internal coordination and constant consultation among the different domestic European and Indian actors. As it negotiates and implements different elements of the new joint vision, the EU will need to coordinate with its 27 member states while India will have to do the same with its own states. It is a mammoth task.
The challenge is worth taking on, however. India and the EU have spent too many years going around in circles as they gauge each other's strengths and weaknesses and much too often get distracted by the lure of other partners. For India, the focus has been on the US, even under the mercurial former president Donald Trump. The EU, meanwhile, has spent far too long looking only at China in its quest for stronger engagement in Asia.
But times change and geopolitics now dominate. The EU has not fallen in line with America's view of China as an "existential threat" but nevertheless sees Beijing as a competitor and systemic rival as well as a partner. Improved relations with India as well as Japan, Korea and ASEAN (Association of Southeast Asian Nations) are seen as a good way to diversify the EU's partners in Asia.
After months of hesitation, the EU has also adopted a collective strategy for the Indo-Pacific which implicitly recognises India's increased geopolitical relevance. Competition with post-Brexit Britain which is working on its own trade and investment deal with India, is also an incentive for Brussels to do more and better.
Charles Michel, the European Council president, said the two sides were opening a "new chapter" in their partnership.  "We agreed to resume negotiations for a balanced, ambitious, comprehensive and mutually beneficial trade agreement which would respond to the current challenges," the joint statement pointed out.
All attention is focused on the decision to kick-start stalled India-EU trade talks, after a break of almost eight years and the launch of parallel negotiations aimed at achieving an investment protection agreement as well as a deal to protect regional specialty foods.
Breaking the stalemate in the trade talks and the decision to focus on investments in the short term are what many have argued for. But there is an inconvenience: Unless Brussels and Delhi are careful, talks on reviving negotiations on a trade deal could turn into an uncomfortable question of "back to the future".
Meanwhile the connectivity partnership agreed by Delhi and Brussels will seek to foster public and private investments in joint connectivity projects in Africa, Central Asia and the Indo-Pacific. This is only the EU's second such partnership after a similar arrangement with Japan.
Despite the dizzying new promises, none of the questions which led to the impasse in the trade negotiations the last time around have disappeared. The list of unresolved questions includes EU demands for tariff reductions on European exports of cars and wine and spirits and calls to open up the Indian financial sector.
Clinching a deal this time is unlikely to be any easier unless there is active involvement of the prime minister, not least because of the power of India's domestic lobbies as illustrated by farmers' protests and the fact that India opted out at the last minute from the market-opening Regional Comprehensive Economic Partnership (RCEP) agreement.
Still, India appears more eager than in the past to seek Western investments, technology and capital transfers, aspires to be a manufacturing hub and integrate into global supply chains. It also wants to be classified as a data secure nation and would like free movement for Indian professionals. With Britain no longer in the EU, there is a good chance that Indian demands for visa facilitation for its IT specialists could be given the EU greenlight.
Health remains a touchy subject. As India battles COVID-19, EU leaders assured Modi of their solidarity and support, pointing to the oxygen-related gear, medicines and other equipment worth 100 million euros donated by 17 member states. The summit conclusions spotlighted ways that India and the EU would work together to "better prepare for and respond to global health emergencies and cooperate on resilient medical supply chains and vaccines and the ingredients that go into them". Cooperation to strengthen and reform the World Health Organisation has been promised.
But the bloc was disappointingly vague – and is likely to remain hesitant – about responding to demands that EU governments follow the Biden Administration in agreeing to a temporary waiver on vaccine patents to help ramp up vaccine supplies in India and elsewhere. In fact, Washington's move on patent waivers took Brussels by surprise, creating another unexpected rift in transatlantic ties.
Unwilling to spoil the party, European Commission President Ursula von der Leyen said at the summit that the EU was open to discussions on the waiver but insisted that the question of the temporary waiver was a "topic for the long term". German Chancellor Angela Merkel also underlined the point, saying a waiver on patents was not the solution to supplying the vaccine to more people. She pointed instead to the "need for creativity and innovative force of companies and …patent protection." Pressure on the EU to follow America's lead is likely to continue, however.
Looking ahead, expectations will have to be managed as both Brussels and Delhi struggle to reconcile the demands of their internal lobbies with the need to build stronger bilateral ties. Additionally, India will have to become less prickly about EU criticism – especially from the European Parliament – about questions like human rights and labour standards. For their part, Europeans will have to stop expecting any special favours from Delhi.
India-EU relations are certainly on a more dynamic track. It is now up to both sides to make sure that the momentum is maintained and that a history of unfulfilled promises does not repeat itself.
Shada Islam is a Brussels-based independent EU commentator, Non-Resident Fellow at the Center for Global Development and Senior Adviser at the European Policy Centre.
This article was exclusively written for Gateway House: Indian Council on Global Relations. You can read more exclusive content here.
For interview requests with the author, or for permission to republish, please contact outreach@gatewayhouse.in.
©Copyright 2021 Gateway House: Indian Council on Global Relations. All rights reserved. Any unauthorized copying or reproduction is strictly prohibited.