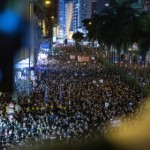 In the last three months, 2 million residents amassed on the streets of Hong Kong to protest an extradition bill effectively imposed by Beijing on the island city. The Fugitive Offenders and Mutual Legal Assistance in Criminal Matters Legislation (Amendment) Bill 2019 ("Bill")[1] was introduced in March 2019 by the Hong Kong government, led by Chief Executive Carrie Lam. The bill mandates that the territories with which Hong Kong has no formal extradition accord, including mainland China and Taiwan,[2] will be able to extradite a suspect accused of any one of 37 criminal offences, including corruption, money laundering, sexual assault and murder.
The public is protesting the Bill as it fears its misuse by China to extradite suspects, citizens or foreigners in Hong Kong, especially those who are critics of China. They worry about China's unfair trial history, denial of basic human rights and the lack of independence of China's judicial system in the case of an extradition to mainland China. A recent example of China's unpredictability is the 2015 kidnapping of dissident booksellers from Hong Kong who were forced into months-long judicial investigation in the mainland and consequently, had to give up their businesses. Hong Kongers fear that such regulations can hinder the smooth functioning of international businesses in Hong Kong, with crucial implications for its role as an international financial hub in Asia.
The large crowds were an embarrassment to Beijing, which announced a suspension of the Bill on 15 June 2019.
But the people of Hong Kong want the Bill to be withdrawn completely and are pushing for the issue to be raised at the G20 Osaka summit on 28-29 June 2019. Residents view the extradition Bill as particularly unfair as corresponding requirements do not exist in China's extradition laws where Chinese nationals are excluded from extradition requests[3]. If a Chinese national commits a crime in Hong Kong, and thereafter returns to China, such a person cannot be extradited by Hong Kong.
The Bill has rattled the international community too. Until now, Hong Kong has been viewed as a safe gateway to China, given its semi-autonomous position and the 'One Country, Two Systems' principle which granted Hong Kong its independence – judicial, legislative and economic – for a period of 50 years till 2047. Hong Kong was one of the top global recipients of FDI in 2017, at $117 billion.[4] The common law system of Hong Kong, with which the proposed Bill conflicts, entails judicial independence and values private contracts, akin to globally-followed systems in jurisdictions such as Singapore and London. Consequently, businesses across sectors, such as GMT Research,[5] and high-net worth individuals (HNIs) have preemptively begun moving money and business out of Hong Kong to friendlier jurisdictions, such as Singapore.[6]
The global reactions to the extradition Bill have been mixed. Australia had already, in 2017, withdrawn its plan to ratify its extradition treaty[7] with China, citing the lack of protection of basic human rights and rule of law. The UK, in contrast, has only suspended export licenses for the supply of crowd control equipment to Hong Kong.
But the U.S. reaction has been more potent. On 12 June 2019, the Hong Kong Policy Reevaluation Act of 2019[8], was moved in the U.S. Congress to amend the U.S.-Hong Kong Policy Act of 1992.[9] It requires a report by the U.S. Secretary of State on how China exploits Hong Kong to circumvent United States law, given the challenge to the semi-autonomous status of Hong Kong, which was the basis of the U.S.-Hong Kong Policy Act of 1992.
The previous Act granted certain privileges to Hong Kong and not to China. Some of these were:
–  a separate customs territory and being treated as a separate territory in economic and trade matters, such as import quotas and certificates of origin;
– enlisting Hong Kong as an international financial centre, which led to its development as a popular business hub;
– encouraging American businesses to operate in Hong Kong over mainland China; and
– U.S. support for access by Hong Kong to sensitive technologies which helps the city's businesses.
If the report shows rising exploitation by China of Hong Kong's special trade status, then it will be withdrawn – and be another sore in the continuing U.S.-China trade dispute.
In light of the Hong Kong protests, the sovereignty of Taiwan has become the prime election issue in Taiwan, where elections are scheduled for January 2020. Incumbent President Tsai Ing-wen won her Democratic Progressive Party's presidential nomination on June 13 – a change from previous less favourable polls. She publicly supported the anti 'One Country, Two Systems' rhetoric as well as the Hong Kong protests. This has boosted her chances to be re-elected over pro-China political opponents.
The Bill has no immediate  implication for  India, whose bilateral trade with Hong Kong was $34.11 billion in 2017[10], with an extradition treaty in place.[11] However, even though Hong Kong's GDP grew only 3% in 2018 as compared to Shenzen's GDP growth of 7.5%,[12] the territorial consolidation under way is significant in light of the U.S. perhaps withdrawing its special status for Hong Kong. There could, therefore, be an indirect impact on India. It merits a close watch as China moves to take control of a key financial market in the East.
Ambika Khanna is Senior Researcher, International Law Studies Programme, Gateway House
Aashna Agarwal is Manager, Website and Publications, Gateway House
This article was exclusively written for Gateway House: Indian Council on Global Relations. You can read more exclusive content here.
For interview requests with the author, or for permission to republish, please contact outreach@gatewayhouse.in
© Copyright 2019 Gateway House: Indian Council on Global Relations. All rights reserved. Any unauthorized copying or reproduction is strictly prohibited.
References
[1] Legislative Council of Hong Kong, Fugitive Offenders and Mutual Legal Assistance in Criminal Matters Legislation (Amendment) Bill, 2019, <https://www.legco.gov.hk/yr18-19/english/bills/b201903291.pdf>
[2] In 2018, Taiwanese authorities were unable to prosecute a man accused of killing his girlfriend (a Hong Kong resident) while on vacation in Taipei before he fled to Hong Kong.
[3] Order of the President of the People's Republic of China, Extradition Law of the People's Republic of China (Order of the President No.42), 28 December, 2000, <http://www.unodc.org/res/cld/document/chn/2000/extradition_law_of_the_peoples_republic_of_china_html/China_Extradition_Law_2000.pdf>
[4] United Nations Conference on Trade and Development, World Investment Report 2018: Investment and New Industrial Policies: Key Messages and Overview, 06 June, 2018, <https://unctad.org/en/PublicationsLibrary/wir2018_overview_en.pdf>
[5] Mortlock, Simon, "'I'd like to move to Singapore': extradition bill has Hong Kong bankers fretting over future," eFinancialCareers, 13 June 2019, <https://news.efinancialcareers.com/sg-en/3001350/hong-kong-extradition-bill-bankers>
[6] Robertson, Benjamin, "Stock Analyst Spooked by Extradition Law May Leave Hong Kong," Bloomberg, 12 June 2019, <https://www.bloomberg.com/news/articles/2019-06-12/stock-researcher-spooked-by-extradition-bill-may-leave-hong-kong>
[7] Ministry for Foreign Affairs, Government of Australia, "Media Release on China Extradition Treaty," 28 March 2017, <https://foreignminister.gov.au/releases/Pages/2017/jb_mr_170328.aspx>
[8] United States 116th Congress (2019-2020), S.1824 – Hong Kong Policy Reevaluation Act of 2019, 12 June 2019, <https://www.congress.gov/bill/116th-congress/senate-bill/1824/text?r=1&s=1>
[9] United States Code, Title 22 – Foreign Relations and Intercourse Chapter 66 – United States-Hong Kong Policy, 2008, <http://uscode.house.gov/view.xhtml?path=/prelim@title22/chapter66&edition=prelim>
[10] Ministry of External Affairs, Government of India, "India – Hong Kong SAR Bilateral Relations," April 2019, <https://mea.gov.in/Portal/ForeignRelation/India-Hong_Kong_Bilateral_Brief-April_2019.pdf>
[11] Ministry of External Affairs, Government of India, Order on Hong Kong Extradition Treaties, 20 April 1999, <https://mea.gov.in/Images/CPV/leta/Hong_Kong_Extradition_Treaties.pdf>
[12] Hong Kong Trade Development Council, "Shenzhen (Guangdong) City Information," 16 May 2019, <http://china-trade-research.hktdc.com/business-news/article/Facts-and-Figures/Shenzhen-Guangdong-City-Information/ff/en/1/1X000000/1X09VT4H.htm>