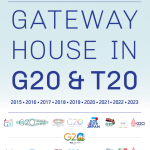 Gateway House is the only institution in India that has been hosting official and independent meetings under the annual G20 process since 2015. The first meeting of the Think20 (T20) hosted in India was by Gateway House in 2015 under the Turkish presidency of the G20. Since then, Gateway House has officially hosted T20 meetings annually along with the Ministry of External Affairs and our  T20 counterparts during the Chinese presidency in 2016, German presidency in 2017, Argentine presidency in 2018 and Japanese presidency in 2019.
The tradition of hosting T20 meetings was suspended in 2020 and 2021 due to the Covid-19 pandemic. Nevertheless, research on India in the G20 has continued as has Gateway House's partnership with the network of G20 think tanks. In 2022, the meetings were resumed by Gateway House in the form of an independent G20 Task Force on Energy Transitions and Climate Finance, the first task force of the Indian Presidency of 2023.
Over the years, Gateway House has also been part of several G20 Engagement and Working Groups, particularly on International Financial Architecture and Trade and Investment.
For Gateway House, these initiatives are the outcome of the focus on multilateralism and India's growing global presence, economically and politically. We also continuously engage business leaders and government officials from India and the G20 countries.
In this compendium of reports, Gateway House assesses and includes their engagements through task forces, research and meetings on the last nine G20 Presidencies.
You can download the PDF version of this paper here.
© Copyright 2022 Gateway House: Indian Council on Global Relations. All rights reserved. Any unauthorized copying or reproduction is strictly prohibited.