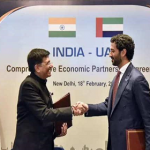 A looming global recession could dampen global trade and Asian supply chain activities. Meanwhile, India is pursuing several free trade agreements (FTAs) with Australia, the United Arab Emirates (UAE) and the United Kingdom (UK). What do these developments mean for India?
Global trade came to a virtual standstill following the Covid-19 pandemic and lockdowns in 2020. Global supply chains centred on China as the global assembly hub, were hit by sky-rocketing sea freight charges and shortages of workers and intermediate inputs. Just as a global trade recovery began in 2021, the Russia-Ukraine conflict and resulting sanctions brought a sharp rise in commodity prices, inflationary pressures and disruptions in key transport links.
Furthermore, downturns at the same time in the US and China – the world's two largest economies – have cast a darkening recessionary shadow over the global economy. The US economy is slowing as the Federal Reserve continues to tighten monetary policy to control inflation. A worse-than-anticipated Chinese slowdown is related to a deepening crisis in the real estate sector and a strict zero-Covid lockdown policy hitting consumers and businesses.
Not surprisingly, world trade is now expected to be 3% in 2022 and 2023, sharply down from the 10% of 2021, according to forecasts from the World Trade Organization (WTO) made in April this year.[1] With no end in sight for the Russia-Ukraine conflict, the WTO's forecasts may prove optimistic.
Turbulent global waters bring risks and opportunities for India. On the one hand, a fragile global trade recovery amid widespread supply shortages and rising protectionist sentiments could dampen demand for India's exports of goods and services. Geopolitical risks to India's neutrality in the Russia-Ukraine conflict may manifest as its economic ties gradually shift towards the West and away from Russia.
On the other hand, however, India could attract medium and high-tech manufacturing sectors leaving China, benefit from technology and skill transfer from abroad and lay the foundation to become a complementary Asian manufacturing hub to China. Geopolitical moves such as President Biden's Indo-Pacific Economic Framework seek to decouple global supply chains from China and promote more global sourcing from trusted supplier economies like Southeast Asia and India.
India's attractiveness to foreign investors stems from its low-wage, trainable work force, a large middle class of consumers, relatively liberal foreign investment policies and being billed as Asia's fastest growing economy. Sectors such as automotive parts, pharmaceuticals, electronics assembly, ICT services and financial services could be winners.
Import tariffs to protect domestic manufacturing is at historic lows. But protectionism in the form of murky non-tariff measures (NTMs) is on the rise globally. These include ad hoc customs rules, sanitary and phytosanitary (SPS) provisions, technical barriers trade (TBT), and other red tape regulations which generally raise trade costs and disrupt global supply chains.
The Modi Government's new push towards bilateral FTAs in 2022 can be viewed as a strategic move to counter the threat of rising global protectionism, gain access to new markets, facilitate technology transfer, and help to position the country as a complementary Asian hub to China. These new deals are significant because they are with Western trading partners and reflect deep economic integration going well beyond India's previous FTAs which focussed on the goods trade and related measures.
An early harvest was reached in April 2022 for the Australia-India FTA and talks are on-going for the full FTA by the end of 2022. The UAE-India Comprehensive Economic Partnership Agreement entered into force in May 2022. This can further integrate India into services trade in the Middle East and smooth the Indo-Pakistan goods trade which mostly occurs through entrepots like Dubai and Singapore. Meanwhile, the Australia FTA will provide reliable supplies of raw materials for Indian manufacturing and opportunities for outbound migration of Indian professionals. However, India will see limited economic gains from these deals with relatively small global economies.
The real prize for India is the FTA with the UK, which is the world's sixth large economy, measured by GDP. Six negotiating rounds have occurred since January 2022. This could be the most comprehensive of India's FTAs, with 26 chapters covering tariffs, sustainable growth, product and service standards, SMEs, government procurement, data flows and intellectual property. A comprehensive agreement will bring significant economic gains to India and the UK, and estimates suggest total bilateral trade in goods and services could rise from GBP25.7 billion in 2021Q1-2022Q1[2] to around GBP39.7 billion by 2035[3]. Powered by trade, India's GDP could increase by between GBP3.7 billion to GBP8.8 billion by 2035 and the UK's GDP by between GBP3.3 billion to GBP6.2 billion.
These gains will not automatically accrue to India once the UK trade deal is concluded particularly with a global recession looming. To realise the benefits from the FTAs, Indian business needs strategies which raise price, quality and delivery to global standards. The Modi government recognises the challenge and on 23rd August 2022 announced ambitious plans to restructure the Department of Commerce to support Indian business to export and join global supply chains. Implementing much-needed second-generation economic reforms to cut red tape affecting business, ensure reliable electricity and green the economy, and invest in education and training, will help business process engineering. By working more closely together, business and government can ensure that the potential gains from India's new FTA push are properly realised in difficult economic times.
Dr. Ganeshan Wignaraja is Professorial Fellow for Economics & Trade at Gateway House
A version of the article was featured in the Daily FT
References
[1] https://www.wto.org/english/news_e/pres22_e/pr902_e.htm
[2]https://assets.publishing.service.gov.uk/government/uploads/system/uploads/attachment_data/file/1098375/india-trade-and-investment-factsheet-2022-08-19.pdf
[3]https://assets.publishing.service.gov.uk/government/uploads/system/uploads/attachment_data/file/1046839/uk-india-free-trade-agreement-the-uks-strategic-approach.pdf