---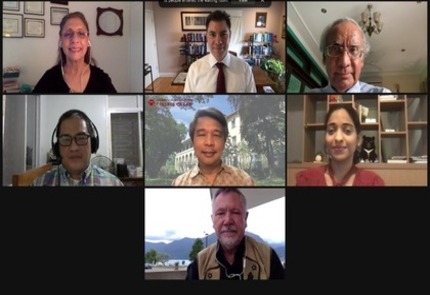 ---
Gateway House o-hosted a webcast with Konrad-Adenauer-Stiftung (KAS) on 15 July 2021 on 'Countering China's Maritime Grey Zone Activities'.
The panel included: James Kraska, Chair and Professor of International Maritime Law, U.S. Naval War College and Visiting Professor, Harvard University, Jay Batongbacal, Director, University of Philippines Institute for Maritime Affairs and Law of the Sea, Renato Cruz De Castro, Professor, International Studies Department, De La Salle University, Manila, and Dr. Aurelio Calderon Chair in Philippines-American Relations and Sana Hashmi, Visiting Fellow, Taiwan-Asia Exchange Foundation.
The discussion was moderated by Manjeet Kripalani, Executive Director and Co-founder, Gateway House. Opening remarks were given by Peter Max Rimmele, Resident Representative to India, Konrad-Adenauer-Stiftung.
This webcast discussed the potential strategies that smaller nations in the region can adopt to overcome the challenges of Chinese maritime grey zone activities and the role of regional maritime powers in the Indo-Pacific in building capabilities for regional maritime law enforcement agencies.
Read the key takeaways.