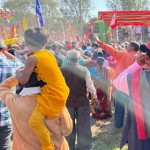 The elections in Uttar Pradesh (UP) for representation to the state legislature are always important. UP is India's largest state and sends 83 elected representatives to Parliament – all of whom are dependent on their colleagues in the state legislature to get the wheels of government moving.
But this year, the election is more important than usual. It is viewed as a preliminary indicator for the mood of the country, a lead-up to the national elections of 2024. UP is said to decide the leader of India: whoever wins UP, wins India.
The stakes then, are very high for a win in UP. When the campaigning began in late 2021, it looked like a four-way fight between the ruling Bharatiya Janata Party (BJP), the opposition Samajwadi Party (SP), the Bahujan Samaj Party (BSP) and the Congress Party. By January, it had narrowed down to a fierce fight between two giants in UP – the BJP and the SP – and especially the caste arithmetic they can manage. The BJP, known as the party of the upper castes, is now seeing traction from the lower castes, and the SP's vote bank is entirely made up of the Yadavs and the Muslim community in the state.
At this time, the work of the incumbent government at the centre and the state is on display and under voter discussion. In this case, it is the BJP which runs both UP and India. It has enough to show to the public, especially during the two years of the pandemic. The party has been on the front lines of delivery of services and support funds across the country via a massive digitalisation and fintech effort, stepped up during the pandemic. Nutritional support to the poor, a massive vaccination rollout nationally with associated health support, education and physical infrastructure – roads, electricity, water, housing – which has been on its manifesto since 2017. Its most important campaign issue is having brought law and order back to the state, and especially keeping women secure.
Some of this is visible on the ground in UP, some of it is not, when travelling through Eastern UP through the crucial fifth, sixth, and seventh and last phase of the elections. The state roads and highways are half-ways through completion. There are physical schools, unattended since March 2020. The transition to online education especially in government-run local schools, has been challenging for parents, especially without smart phones. Parents fondly remember the previous chief minister from the SP, Akhilesh Yadav, who had distributed 1.5 lakh tablets to students, and wish they had them during this pandemic.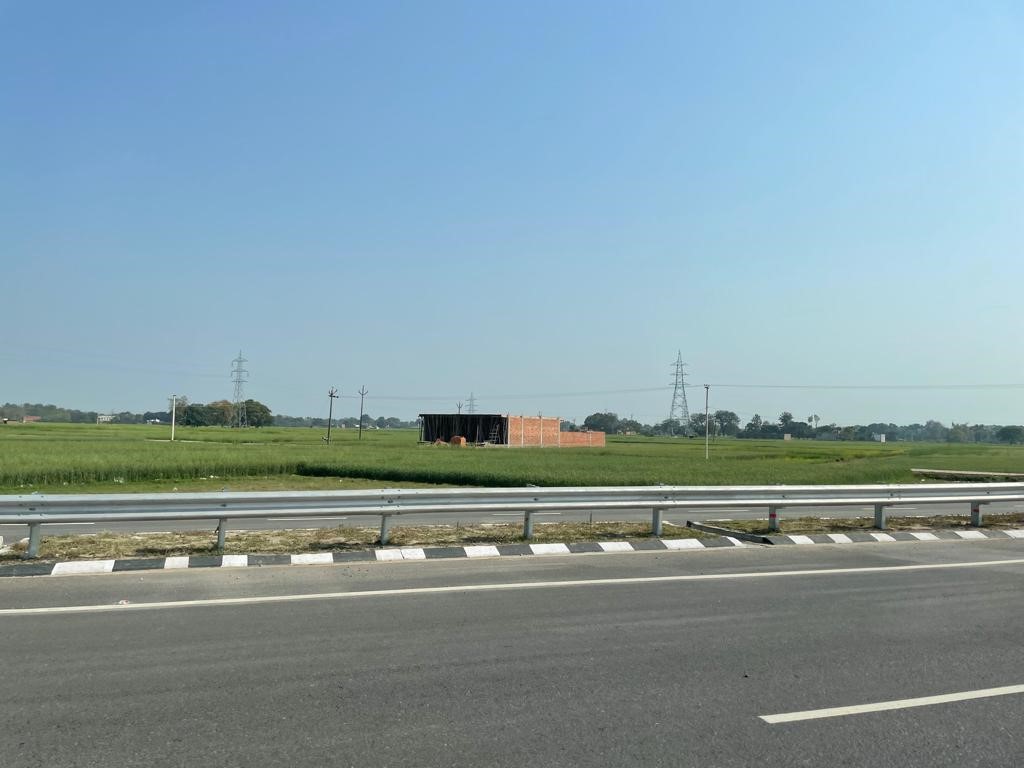 Varanasi's new Ring Road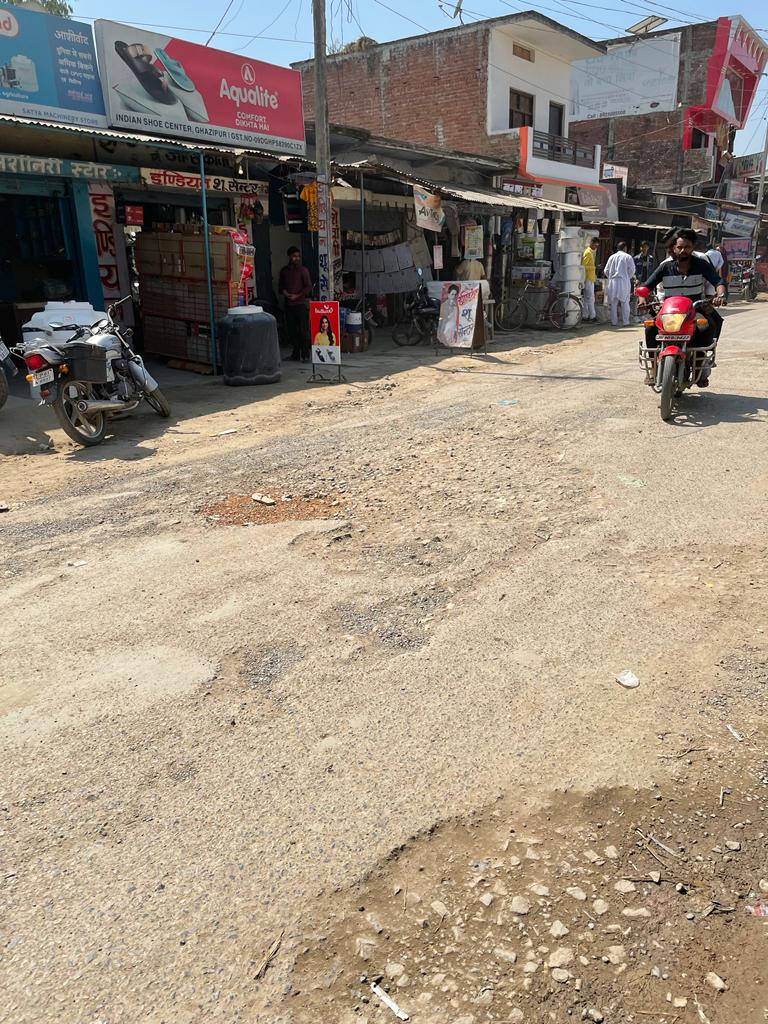 Unfinished roads in Ballia
Though reforms to attract industry have been on-going, and up to 800 dated laws repealed and new ones implemented, the pandemic has prevented the much-promised jobs for youth from materialising. This has resulted in frustration, and with the youth, a turn towards the SP which promises 2.2 million IT jobs for them and 33% reservation for women in government jobs. It may be a tall promise, but it has caught their imagination.
These vast numbers of youth can be seen in all the party rallies, some with aggression, some with exuberance, a clear devotion to their chosen leaders and caste. A delirious and charged crowd in the district of Ballia, are there to meet their hero, SP party leader Akhilesh Yadav, a young former chief minister. They blame the loss of jobs on incumbent UP chief minister Yogi Adityanath and the Prime Minister Narendra Modi, notwithstanding the pandemic which destroyed jobs worldwide. Yadav encourages these beliefs.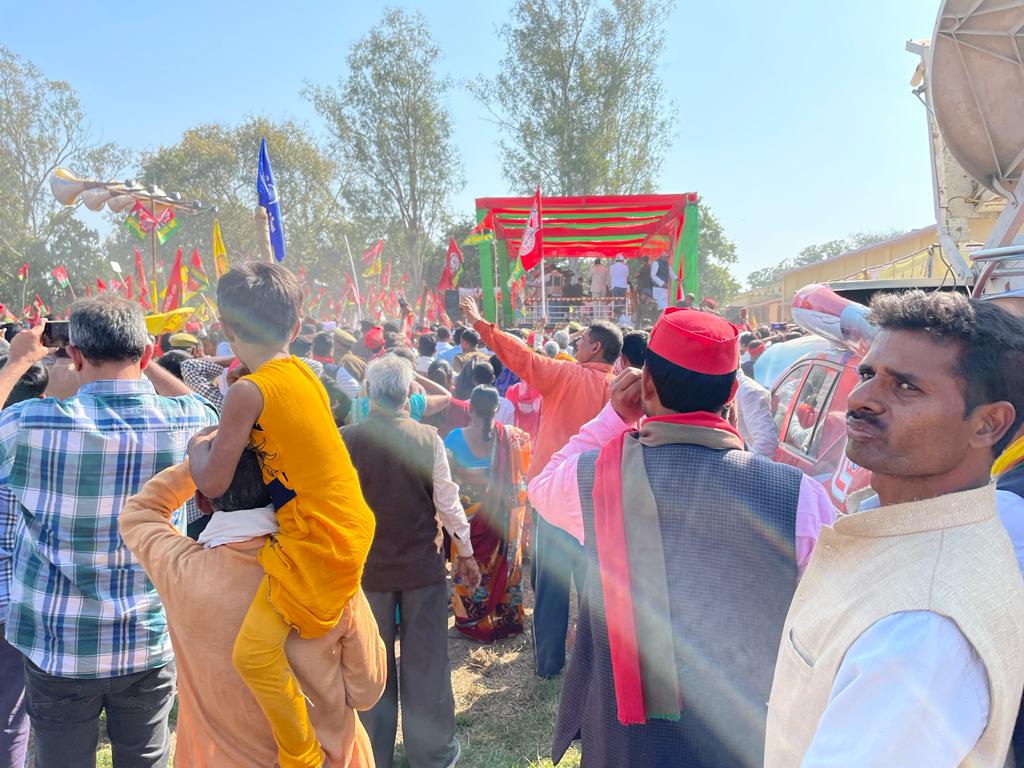 The devoted Akhilesh Yadav fans at the Samajwadi Party rally in Ballia.
The crowd at the Samajwadi Party rally in Ballia.
Even BJP supporters complain about joblessness. In the village of Semrajpur, Mau district, at a bi-weekly farmers market, Rabindra Nath Singh, 64, says education and joblessness are a big issue. "The youth have taken to drink, people are getting fake 'pass' certificates made, and paying high capitation fees to go to private colleges," he says. Still, he is voting for the BJP, because "there is no Prime Minister like Narendra Modi."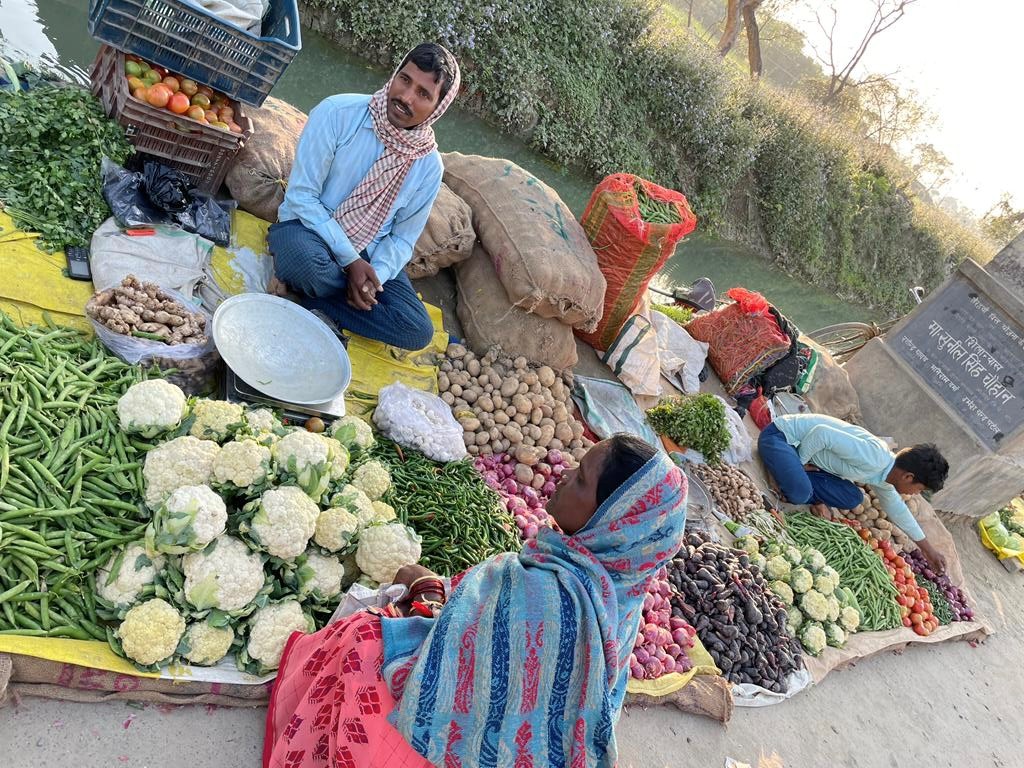 Farmer's market in Semrajpur
Rabindranath Singh, who knows about the situation in Ukraine.
His current legislative representative is Mukhtar Ansari, who has been in and out of jail for 25 years for criminal activities and murders, and despite scores of court cases stacked against him, has contested and won from his jail cell five times. This time around, this son Abbas Ansari, a suave and jaunty 30-year-old with a well-styled ponytail, is contesting, and confident of winning by "helping people with small things like paying bills, etc."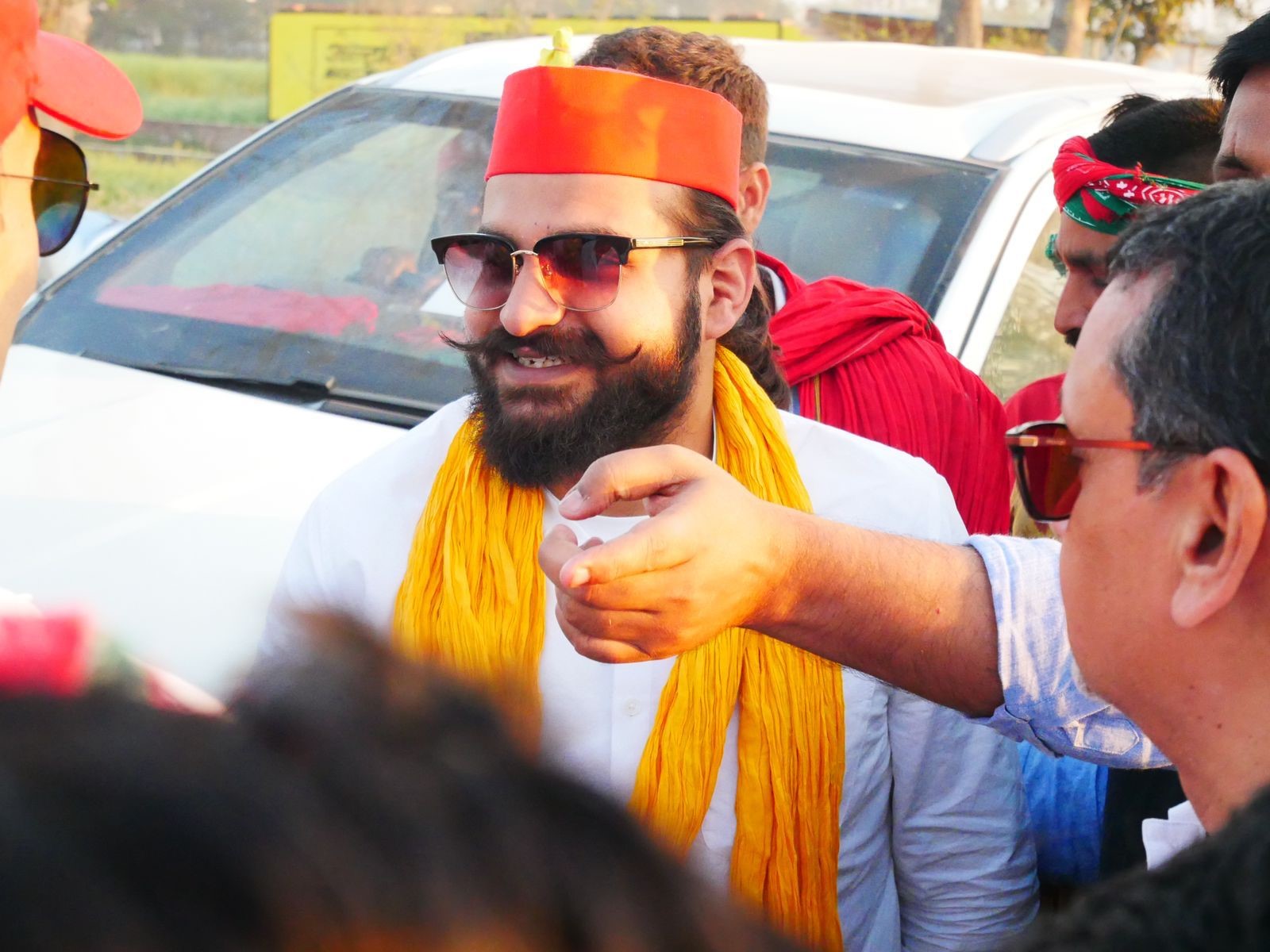 Abbas Ansari of the Samajwadi Party
Abbas Ansari of the Samajwadi Party
Big and small, these all matter in a state like UP which is transitioning from a poor state, into one with an aspiring population. Since 2017, the state has seen a visible developmental upgrade. Gone are the straw huts (jhaonpri) of the countryside. They are replaced by brick homes, mostly unplastered, but secure in a storm. Most homes have a toilet, now placed inside the homes unlike three years ago when they were outside the home, sometimes across the road. Nearly every home has a water pump outside, and the young women say they are looking forward to running water at home – a central government mission.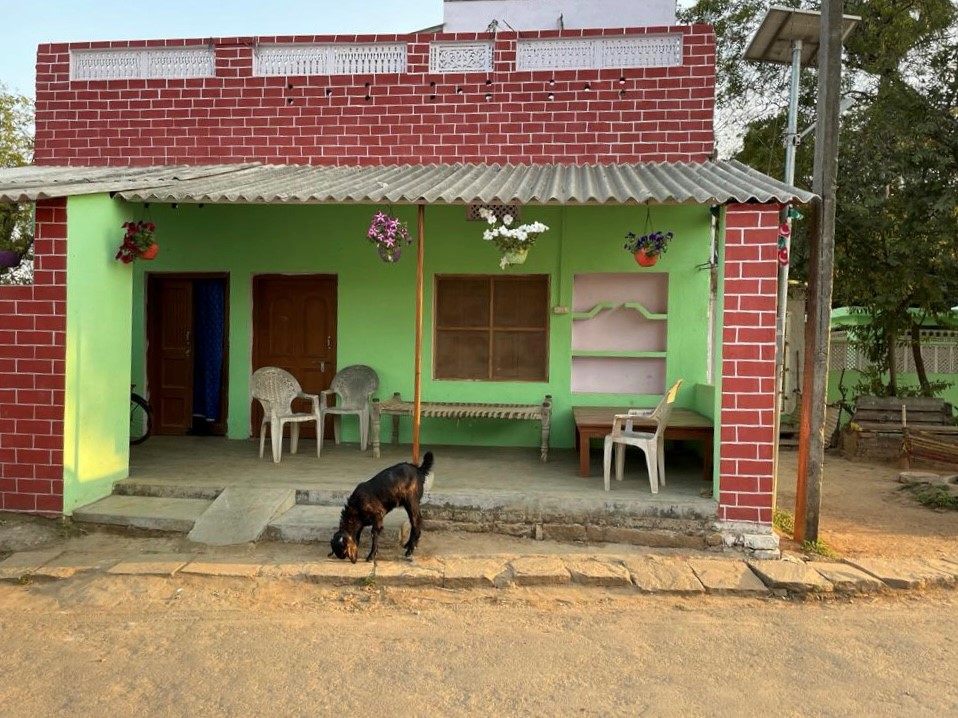 Constructed houses in Uttar Pradesh
Cleanliness in rural UP is becoming the norm – not yet in the towns and cities which are still a municipal mess. Villagers are proud of their neat habitats. And Security has improved dramatically. It is evident in the number of women of all ages out on the streets and shops, on their own, and the young girls cycling to school.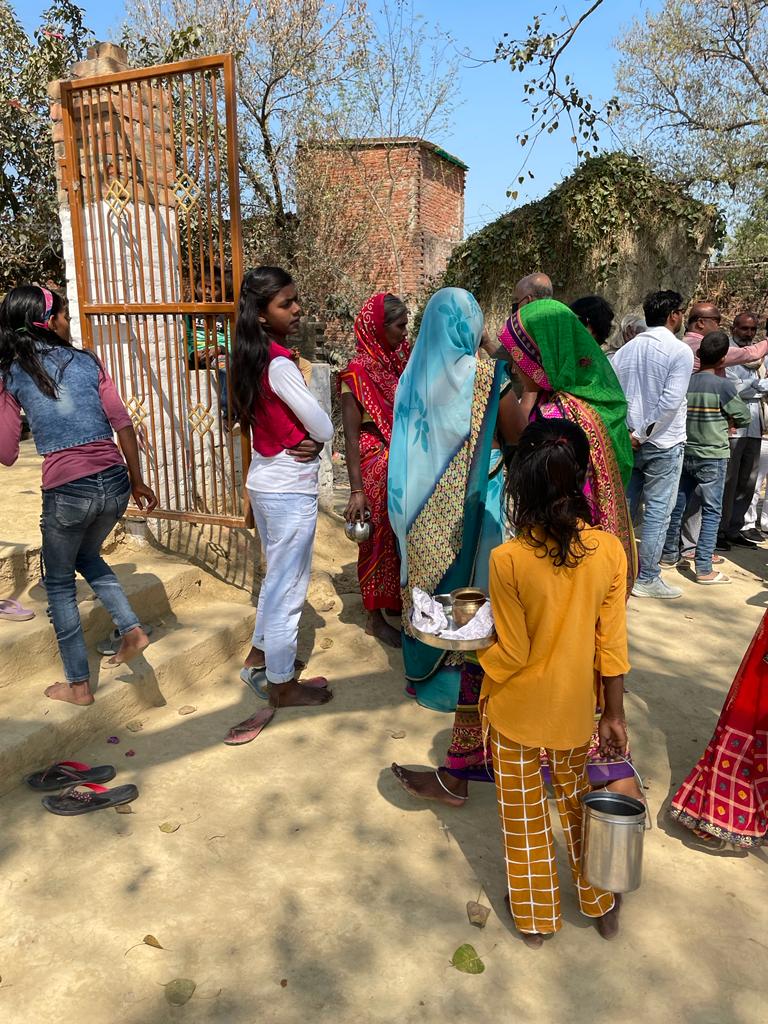 Girls going to the temple in their jeans in Sarvar Nagar, Ghazipur.
This has increased confidence levels among the women. Girls want to study more, they wear jeans even to the temple, everyone has an opinion to share – even on the ongoing crisis in distant Ukraine, where some of the stranded Indian students are from UP. Kumari Anjani is a 21-year-old in the tribal village of Gengwar in Sonbhadra district. She has a degree from a local college but wants skills training so she can earn. "We want a centre here that will teach us tailoring," she says. Kajal Tiwari, a 16-year-old upper caste is cycling through the village as her family's farm is located here. She is dressed stylishly, like a metropolitan student, and says she is studying "double English" because she wants to join the Indian Police Service.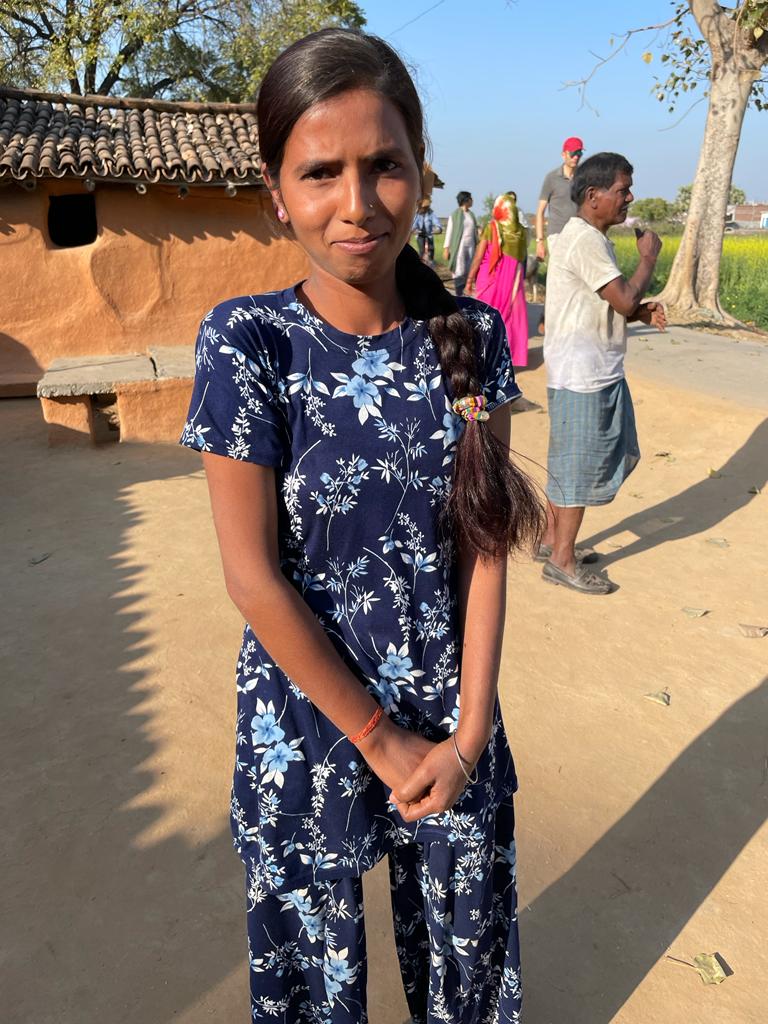 Kumari Anjani of Gengwar village, Sonbhadra district, wants to study more or receive skills training to work and earn.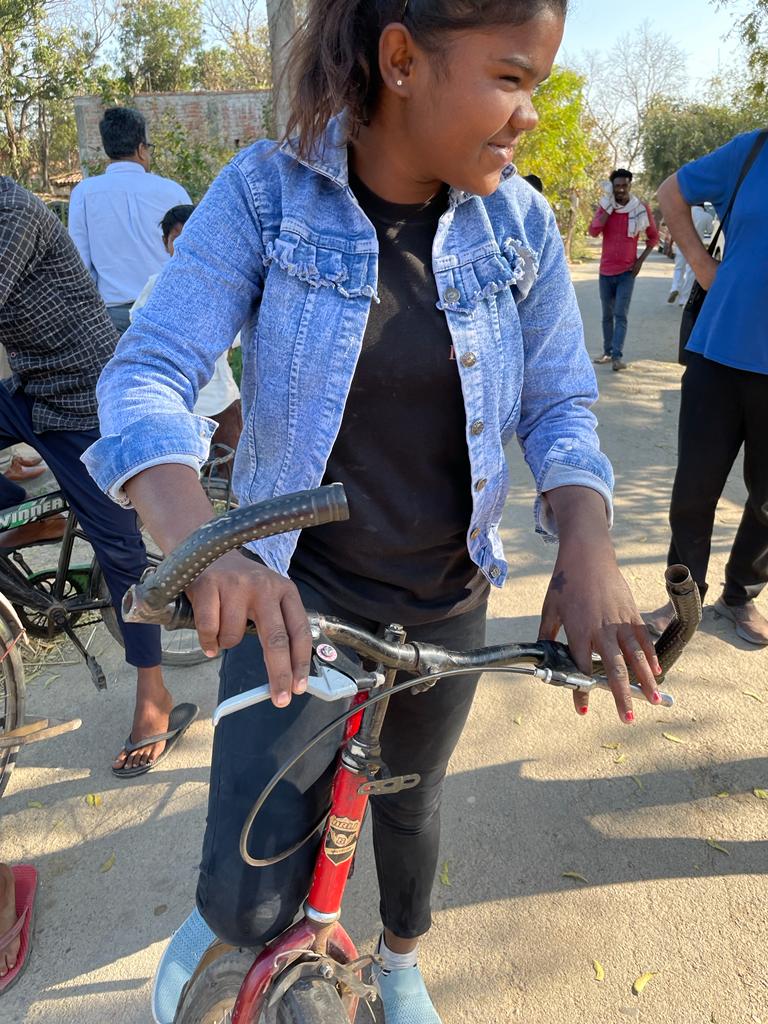 … while Kajal Tiwari hopes to be an elite police officer.
Education is the key to emerging from poverty, and coaching classes for students like Kajal abound in the state, especially for the civil services, engineering and medical exams.
But along with the confidence is also an anxiety. Caste and communal polarisation is still a way to get votes en bloc, and the political parties – save for the BSP Dalit party – play it up.
Still, most residents of UP say there has been no tension between the Hindus and Muslims and that during the pandemic, there was a particularly strong brotherhood between the communities, with everyone helping each other out. Some young men have felt deeply, the comments made by the UP chief minister on the terrorist and criminal associations of the Muslim community. Arif Ahmed, a 22-year-old construction worker is genuinely hurt by the analogies. He is voting for the SP, because he worries that loose campaign talk may linger. He is also worried about the high prices of oil, now out of reach for a daily wager who brings home just Rs. 250 a day.
The city folk in UP have a different view of their state's youth. They say young people are hooked on government freebies, don't really want to work and have no interest in building their own future. "All the young men want is a mobile, a bike and a girlfriend," says Mithai Maurya, who earns his living driving tourists in Varanasi.
Campus of the Banaras Hindu University. Credits: Senthil Chengalvarayan
Certainly, the welfare state in UP is firmly established. The pain of the pandemic has been alleviated by free rations twice a month, free and functioning healthcare, and an administration prodded into some responsiveness by the dedicated cadres of BJP workers in UP.
The real test of whether UP will live up to its promise will come at the end of March, when the pandemic's emergency rations scheme and other support ends, when people have to pay for their own gas cylinders – already an expensive Rs. 1,200 per cylinder – for their truck and tractor and bike diesel and petrol whose prices are rising due to western sanctions on Russia.
But fear not! The politicians are there to take away their worries, promising more freebies than ever before. Akhilesh Yadav pledges to blunt the edge of rising fuel prices by offering 300 units of free electricity – a trick he has learned from Arvind Kejriwal, the chief minister of Delhi. He plans to build IT hubs across the state and provide 22 lakh jobs to the youth. Yogi Adityanath promises two gas cyclinders free annually, more tablets, more grants for daughters' weddings, and a job for one person in each family, while BSP's Mayawati says she will continue her grassroots work. Priyanka Gandhi of the Congress party says her focus will be on building the confidence of young girls.
The race is close, and is being fought fiercely – and without violence, a significant achievement for UP. These are proud moments in India's democratic tradition, and a giant leap forward for UP. Perhaps it will, again, prove right the adage that "who wins UP, wins India" – not because it sends the largest number of MPs to Parliament, but because it is an example, across the board, of the tough work of development going right, and paying dividends.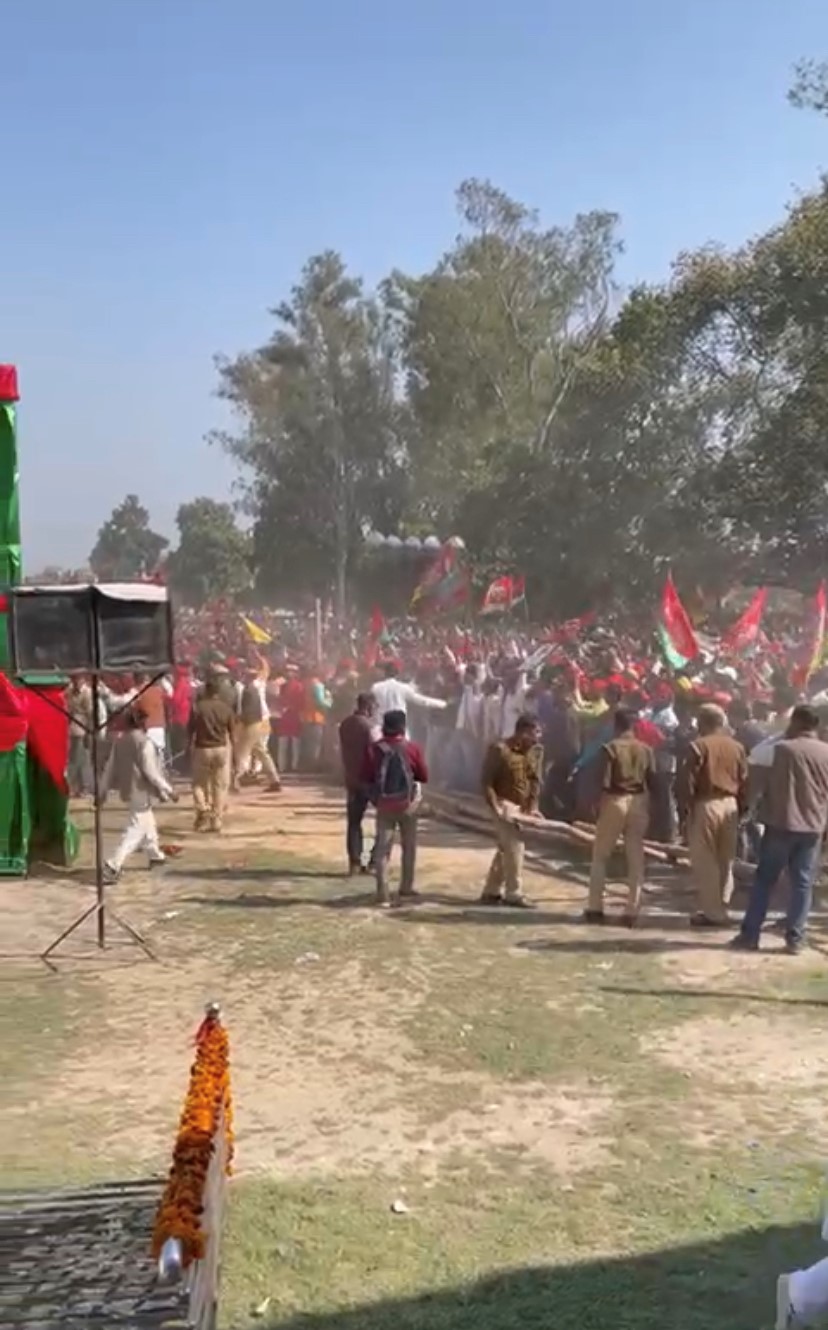 Samajwadi Party rally in Ballia, Azamgarh. The delirious crowd throngs the venue and breaks through the rickety bamboo barricades to be closer to their leader, Akhilesh Yadav. His helicopter lands in the middle of the melee, to cheers. Devotion and aggression are both evident in the comment of a local bystander: "Jo diwane hain, voh hi aayen hai yahan."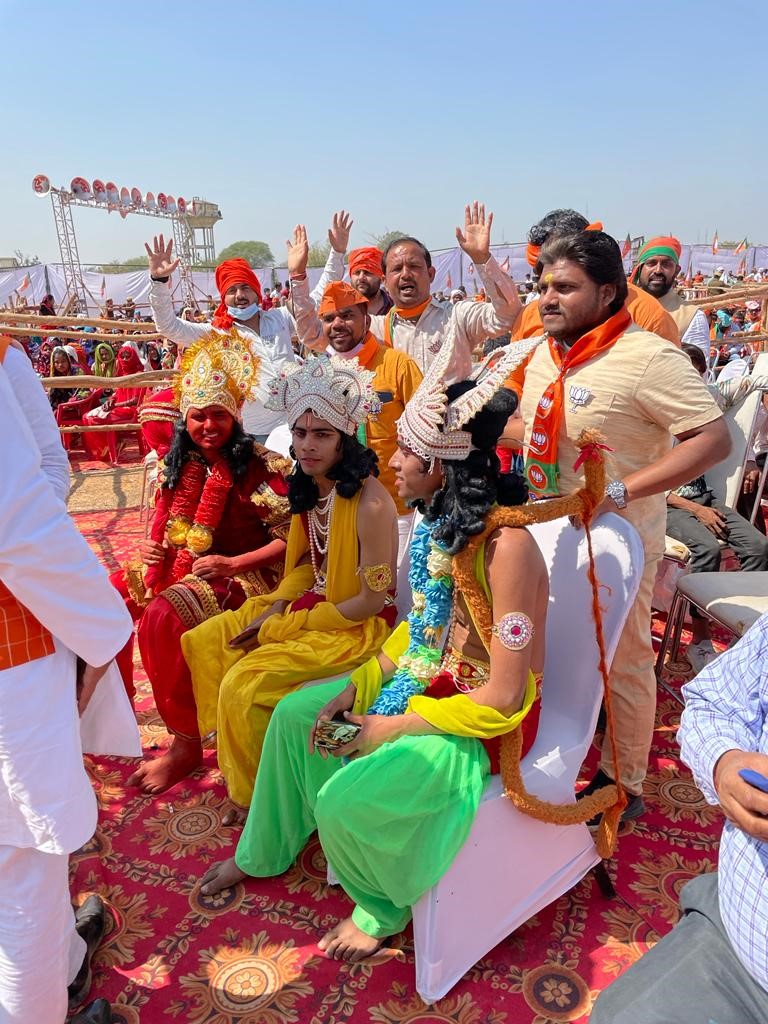 BJP rally in Churkh, Sonbhadra. The devotees of Prime Minister Narendra Modi have traveled for miles to this mineral rich but poor region, to hear him. This is an audience of the believers, disciplined but with controlled aggression. They listen to the BJP's achievements in UP, and Modi promises to establish a Rs. 50,000 District Mineral Fund for the area.
PM Narendra Modi at the BJP rally in Churkh, Sonbhadra district.
BSP rally in Chandaha, Ghazipur. The largest crowd of all, spilling out into the roads and fields, an estimated 1 lakh followers of Mayawati. These are the Dalits whom she empowered, an exuberant lot, happy to hear their leader. She says she has worked right through the pandemic, every day, at the grassroots, and will continue to do so. Hers are the best arrangements – the crowd is shaded by large hangar-like structures, as is her dais.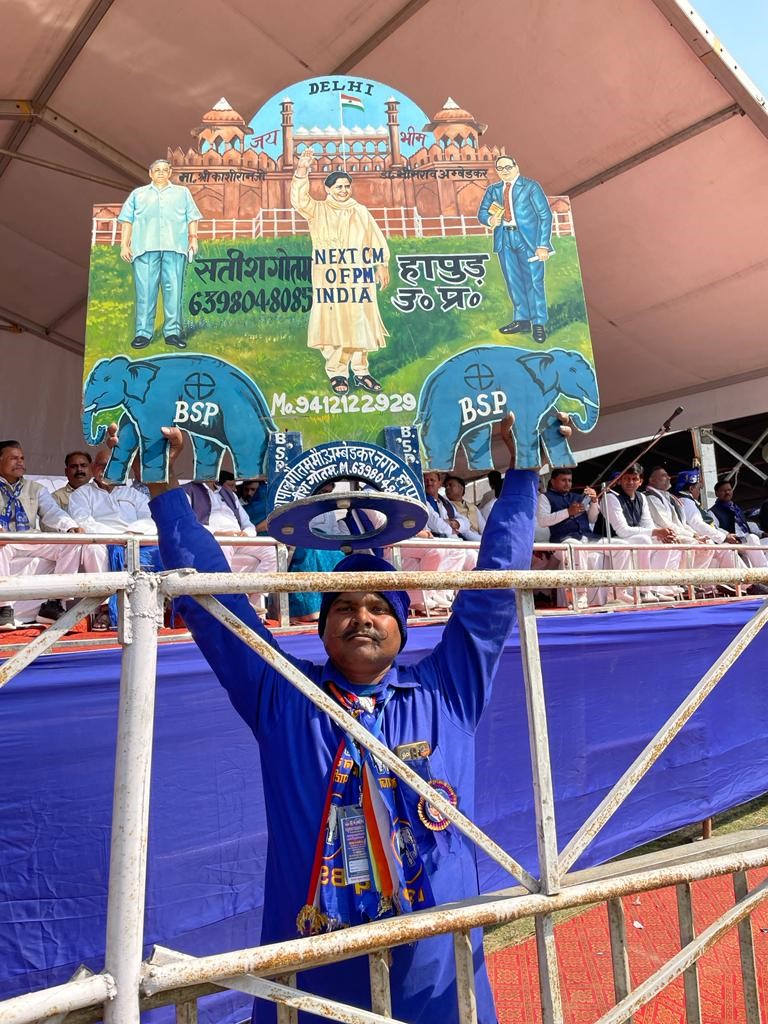 Man holding a poster at the BSP rally in Chandaha, Ghazipur.
BJP's Yogi Adityanath's rally in Pindra, rural Varanasi. The chief minister is delayed by nearly three hours. By the time he arrives, it is almost dusk and people are leaving. These are the decided voters. It's an evening in the local park: those that are left have brought their chairs and children to enjoy the cool air.
In a corner, very visible, is a large bulldozer, with fans of "Bulldozer Baba" sitting inside the forklift and in the driver's seat.
Priyanka Vadra and Rahul Gandhi's rally in Pindra, rural Varanasi. The warm-up speaker is TK Baghel, the Congress Chief Minister of Chattisgarh, who surprises his secular base with Sanskrit shokas and a cheer to Lord Shiva. Rahul Gandhi asks often, what has the government done for you apart from telling lies. His audience is thin, prompting a journalist to ask sotto voce if this is a one-on-one conversation instead of a political rally.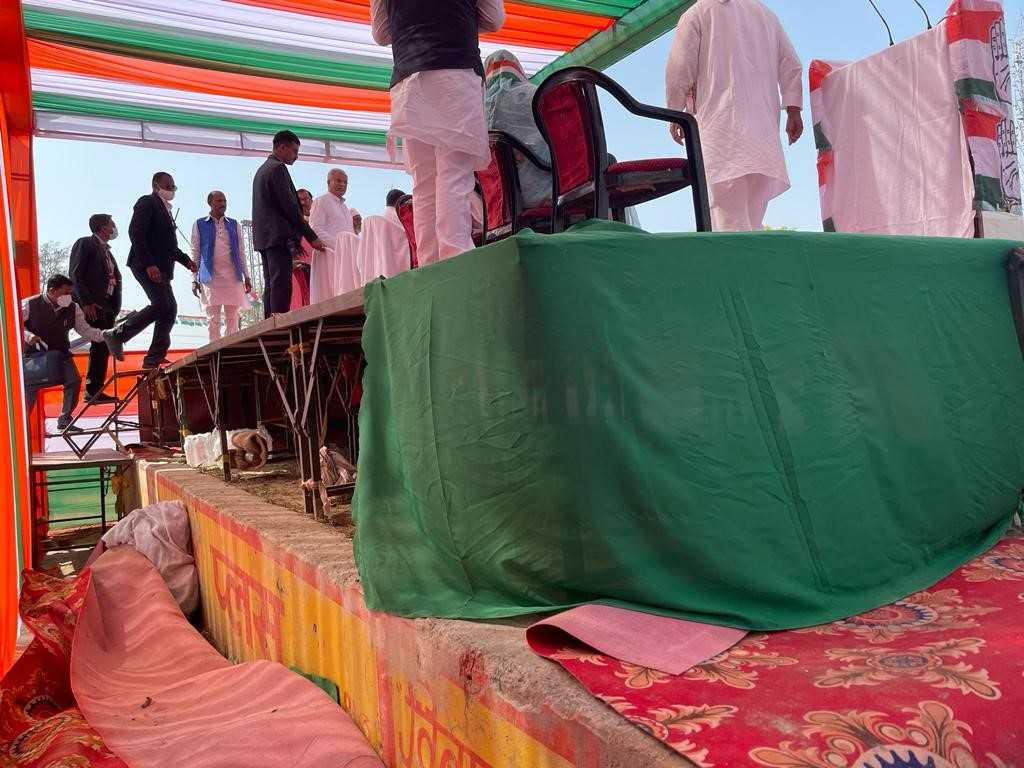 Congress Party rally in Pindra – on a precarious stage.
Manjeet Kripalani is Executive Director, Gateway House.
This article was exclusively written for Gateway House: Indian Council on Global Relations. You can read more exclusive content here.
For interview requests with the author, or for permission to republish, please contact outreach@gatewayhouse.in.
© Copyright 2022 Gateway House: Indian Council on Global Relations. All rights reserved. Any unauthorized copying or reproduction is strictly prohibited.