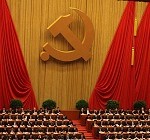 The third plenary session of the Chinese Party Congress (CPC) Central Committee has historically been a platform for economic reform. Former Paramount Leader of China, Deng Xiaoping, instituted economic reforms in 1978 and 1992 to lay the framework for China to become the second-largest economy in the world. It was no surprise then that the world waited with bated breath for the results of the four-day closed-door 3rd party plenum of 18th CPC Central Committee that concluded on November 12. The party plenums have transformed China's economy and society significantly over the years and the level of expectation for a blueprint of social and economic reforms, naturally, was high.
The 60-point 2,700-word document titled, 'Resolution concerning Some Major Issues in Comprehensively Deeping Reform,' released by the party on November 15 proved to be a very detailed outline or framework of economic reforms for China. It acknowledged several structural imbalances, growing pains for the economy, and societal changes that need to be addressed. The types of reforms ranged from direct changes to over-arching themes to second-order consequences. The successful implementation of these reforms is anything but a foregone conclusion, but the document reveals that the Party will continue to make bold changes in an attempt to "regain China's lost glory."
A new model
China's economy thus far has followed a growth model of state-driven investment controlled through state banks and State-Owned Enterprises (SOEs). Between 2000 and 2010, state investment constituted 53% of China's GDP growth, most of which was directed to infrastructure projects. [1] But this model is no longer sustainable to meet its declared minimum of 7% GDP growth rate and China is beginning to transition to a private consumption model.  In order to do so, the party seeks to re-define the relationship between the economy and the state.
According to the document, the market is to play a "decisive" (jueding xing) role in the allocation of resources within the economy (previously, termed "base" level).  The implications are further reaching than a mere change of terminology.
The document states that the pricing of key industries such as water, oil, natural gas, electricity and telecommunication will soon be decided by the market. Interest rates and Renminbi (RMB) capital controls will gradually be liberalised and will follow market rates. This is extremely important as it would increase competition among banks and overall allow for a more efficient allocation of capital. A further liberalised RMB will allow the currency to play a bigger role in the global financial markets and continue its ascendancy, having just risen to an all-time high of ninth-most traded currency in the world.
For the first time, the private sector will be treated as an equal of the public sector as the party looks to establish a "mixed-ownership economy." To enable this, it will eliminate barriers to entry in "sector monopolies," allowing industries such as telecommunication to be open to Chinese private companies. Foreign companies will now be allowed to enter the service sector in industries such as commerce and healthcare, among others. This could present a real opportunity for Indian pharmaceutical companies to gain a foothold in what will grow to be a trillion dollar industry by 2020, according to consulting group McKinsey.
"Natural monopolies" such as railways, power grids etc. will continue to be protected, but China will rely on its entrepreneurs to spearhead innovation, relieve the government of the immense pressure of creating jobs —  high-skilled and blue collar — to employ its growing number of college graduates and influx of migrants from rural areas.
Accelerating urbanisation
The fundamental feature of China's transformation has been its urbanisation. More than 300 million people have migrated into cities as part of the world's largest rural-urban migration. Both former Premier Wen Jiabao and current Premier Li Keqiang have repeatedly stated the necessity to move forward with urbanisation in order cultivate an economy of urban consumers and provide a support system for its ageing population.
But the inherent problem in China's urbanisation is that it has created two classes of people. The 250 million migrants living in urban areas with a rural 'Hukou'(housing registration) don't have the same access as those with urban Hukous to basic public services like education, healthcare and other social services. In rural areas, peasants are still not owners of their land. Accelerating urbanisation without addressing this crucial aspect could prove disastrous.
The Party knows this and the plenum document cements the Party's intention and direction to find the solution. Household registration reforms are to be accelerated and restrictions on settling into small cities will be lifted with immediate effect. This will soon be extended to medium-sized cities and peasants will now be given more rights to ownership of land.
Yet again, the devil lies in the detail. The Party does not provide an answer how exactly the Hukou will be reformed. The most obvious way would be to gradually convert 10-15 million migrants into urban Hukous every year. In this case, the economic decision might be tougher than the policy decision. According to the Chinese Academy of Social Sciences (CASS), the estimated cost of providing 25 million immigrants the same rights as urban citizens is $108 billion. [2] The plenum document stated that it intends on increasing the percentage of capital transferred from the SOEs to social welfare programs to 30% by 2020. Perhaps that provides an indication of how the party will pay for this difficult and expensive but necessary reform.
What this plenum indicates is that President Xi and Premier Li have emerged as strong reform-oriented leaders capable of building political support around their policies. Indeed, it will be President Xi who will lead the very important committee that will be responsible for coordinating the details of these reforms. The power of the vested interests within the party against diminishing state control over the economy should not be underestimated — 65 out of 70 of the Chinese companies in the 2012 Fortune 500 list are state-owned, and the Central Committee of the government has more present (and former) CEOs of SOEs than ever before. But the leadership does not want SOEs to diminish; instead it wants them to become more efficient, innovative and capable of competing independently of government support.
These reforms certainly lay the foundation for the creation of an urbanised, dynamic, sustainable and consumption-driven economy with a large middle-class under the firm authority of the CPC. In the long run, this may lead to more assertive population, more likely to disturb the social harmony and demand for political reforms, but this is a risk that the Party is willing to take in order to deliver the "Chinese dream." In doing so, this plenum could one day be spoken of in the same breath as the third plenum of the 11th Congress in 1978, as a catalyst for the change of China's economic future.
Dev Lewis is a trainee at Gateway House: Indian Council on Global Relations.
This blog was exclusively written for Gateway House: Indian Council on Global Relations. You can read more exclusive content here.
For interview requests with the author, or for permission to republish, please contact outreach@gatewayhouse.in.
© Copyright 2013 Gateway House: Indian Council on Global Relations. All rights reserved. Any unauthorized copying or reproduction is strictly prohibited
References
[1] Woetzel , J., Xiujun, L. L. & Cheng, W. (2012, December ). What's next for china Mckinsey Insights, Retrieved from http://www.mckinsey.com/insights/asia-pacific/whats_next_for_china
[2] Economy, E. (2013, September 10). China's li keqiang on the urbanization warpath. Council on Foreign Relations, Retrieved from http://blogs.cfr.org/asia/2013/09/10/chinas-li-keqiang-on-the-urbanization-warpath/