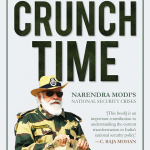 Few studies exist of India's national security crises. This is odd, considering India, like no other country on the planet, is severely challenged by two nuclear powers in occupation of its territory. The world forgets. Thus, this timely book Crunch Time: Narendra Modi's National Security Crises by Sreeram Chaulia, deserves to be read outside India. Chaulia, 43, professor and Dean of the Jindal School of International Affairs, is the author of six books, journal essays, and columns, in India and abroad. He writes and analyses at a manic pace, and runs a weekly broadcast on his subject.
In this retelling of the Uri, Doklam, Balakot, and Ladakh crises, Chaulia reserves praise for Prime Minister Narendra Modi. He compares the Parliament attack of 2001 and the Mumbai attacks of 2008 with the current muscularity, recalling India being exposed as a "terribly soft state"[1] compared with its current path of "self-redemption and self-revitalization".[2] Chaulia is right. By denying the Uri surgical strikes had even taken place, Pakistan allowed the crisis to dissipate. India's unchallenged incursion into Balakot, undisputed Pakistani territory, validated its controlled use force without nuclear retaliation. Thus far, without a major terrorist attack in India after Balakot, deterrence remains. "One must view offensive defence as a long-term pursuit" and it will "take years"[3] to stop Pakistan's pursuance of terrorism and China's territorial incursions, Chaulia says.
Modi's goal in these crises was clearly to establish deterrence, rather than only bolster his domestic popularity a few months before a critical national election. China consolidated its territorial gains as the first mover in Ladakh. It is unclear how this crisis will end, and what impact it will have on Modi's image.
There are some quibbles with the book.
First, the evidence is inconclusive whether Bhutan "appealed"[4] to India to intervene in Doklam. Bhutan might have privately sought Indian help but did not make public entreaties, even framing the crisis as a bilateral issue between itself and China.[5] Bhutan's silence on reports that India acted on its behalf may, however, be construed as consent. Perhaps India's nuclear capability, and its nuclear doctrine, under which India affirms the right to nuclear retaliation against nuclear attacks on Indian forces anywhere, might have allowed India to act as Bhutan's nuclear guarantor, even without a formal alliance.[6] With Bhutan asserting a more independent course in foreign affairs, it might be less accommodating towards India in the future.
On Balakot, Chaulia's claim that Indian aircraft dropped payloads "on a crowded JeM[7] terrorist camp"[8] has been questioned by neutral observers. However, without the evidence, Chaulia refrains from supporting either Pakistani or Indian claims about scores in aerial combat.
Chaulia acknowledges Indian forces were surprised by the Chinese occupation of Indian territory in eastern Ladakh in 2020.[9] But was India's response resolute, as he claims? While a matching Indian deployment might have halted further Chinese incursions, details surrounding disengagement at Galwan, Pangong lake, and Gogra are murky, with claims by some analysts that buffer zones were created predominantly on the India side of the Line of Actual Control.[10] As for non-military countermeasures, despite a campaign to boycott trade with China, in the year ending March, 2022, India's trade deficit with China increased by more than 60% over the previous year, reaching $ 72. 91 billion,[11] and exceeding its defence budget.[12]
Besides, isn't the Covid- 19 pandemic a national security crisis? As Chaulia states, an outbreak of Covid- 19 in the Indian Army likely delayed summer exercises in Ladakh in 2020, allowing the Chinese to occupy territory India considers its own. Discussion of the Chinese operation will deepen the national understanding of weaknesses in India's intelligence and decision-making. Clearly, India needs to do more to inflict costs on China.
Did the Pakistani army conduct the 1999 Kargil operation "without Nawaz Sharif's knowledge,"[13] as Chaulia asserts?  Pakistan's then army chief Pervez Musharraf in his book In the Line of Fire says Sharif knew. Claims and counterclaims on this are inconclusive.
Finally, its best to avoid language like "shamefaced,"[14] "spineless,"[15] and "flop show,"[16] when describing India's response to 26/11. Better for Chaulia to be a calm deity rather than an angry citizen, to further burnish his reputation as an informed sceptic.
Small disagreements don't weaken Chaulia's main argument that Modi was more decisive than his predecessors dealing with China and Pakistan. Amid fast-and-loose writing on foreign affairs, this work is current, well-researched, and civil. It breaks down complex decision-making into accessible language, thus serving the public's right to know.
Chaulia occasionally sounds like a crisis management consultant full of adulation for Modi, "the least risk-averse prime minister India has had in decades".[17] Call this book a hagiography, disagree with Chaulia, but Prime Minister Modi has drawn new red lines with Pakistan and China.
What's next for Chaulia? Maybe a sequel to this work, on the "unsung"[18] August 2019 internal reorganisation of Jammu and Kashmir.
Chaulia, Sreeram, Crunch Time: Narendra Modi's National Security Crises. Rupa Publications India Pvt. Ltd (New Delhi), 2022
Jitendra Nath Misra is a retired Indian ambassador.
This review was exclusively written for Gateway House: Indian Council on Global Relations. You can read more exclusive content here.
For interview requests with the author, or for permission to republish, please contact outreach@gatewayhouse.in.
© Copyright 2022 Gateway House: Indian Council on Global Relations. All rights reserved. Any unauthorized copying or reproduction is strictly prohibited.
References:
[1] Chaulia, Sreeram. Crunch Time: Narendra Modi's National Security Crises. (New Delhi: Rupa Publications, 2022), p.21, para 2.
[2] Ibid, p.29, para 1.
[3] Ibid, p.32, para 3.
[4] Ibid, p.51, para 2.
[5] Royal Government of Bhutan, Ministry of Foreign Affairs, Press Release, June 29, 2017, https://www.mfa.gov.bt/?p=4799.
[6] Rajesh Basrur, "CO21042 | Tension in the Himalayas: De-escalation or Prolonged Uncertainty?" S. Rajaratnam School of International Studies, Nanyang Technological University, March 10, 2021, https://www.rsis.edu.sg/rsis-publication/rsis/tension-in-the-himalayas-de-escalation-or-prolonged-uncertainty/#.YnlCWBNBy3I.
[7] Jaish- e- Mohammed, a Pakistan-based jihadist group active in Kashmir.
[8] Chaulia, p.86, para 2.
[9] Ibid, p.125, para 2.
[10] H.S. Panag, "India, China's stand on Hot Springs has 2 sticking points — Chang Chenmo, 1959 Claim Line," The Print, April 14, 2022, https://theprint.in/opinion/india-chinas-stand-on-hot-springs-has-2-sticking-points-chang-chenmo-1959-claim-line/915614/.
[11] PTI, "U.S. surpasses China as India's biggest trading partner in FY22 at $119.42 bn," The Hindu, May 29, 2022, https://www.thehindu.com/news/national/us-surpasses-china-as-indias-biggest-trading-partner-in-fy22-at-11942-bn/article65473850.ece
[12] Vivek Raghuvanshi, "India unveils new defense budget aimed at promoting a self-reliant industry," Defense News, February 4, 2022, https://www.defensenews.com/global/asia-pacific/2022/02/03/india-unveils-new-defense-budget-aimed-at-promoting-a-self-reliant-industry/#:~:text=India's%20total%20defense%20budget%20for,than%201.5%20billion%20military%20personnel.
[13]  Chaulia, p.4, para 2.
[14] Ibid, p.33, para 1.
[15] Ibid, p.33, para 2.
[16] Ibid, p.23, para 4.
[17] Ibid, p. 20, para 2.
[18] Ibid, p.110, para 1.