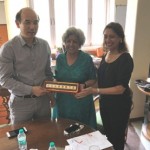 Aashna Agarwal (GH): An historic summit took place in Singapore between American President Donald Trump and North Korean Chairman Kim Jong Un. What is the Chinese opinion on the meeting? And, in your view, how will this summit impact the already precarious China-U.S. relations?
Yuan Peng (YP): Our Chinese government has always supported the improvement of relations between the DPRK and the United States. This meeting has been good not only for these two countries, but also good for the peace and stability of North East Asia and the world. That's why we did our best to facilitate this kind of a summit.
Secondly, I think our policy on the nuclear issue is never changing; we have been quite consistent – for more than two decades. Denuclearisation, peace and stability: this is our official stand. Maybe we are the only party – among the relevant ones — that holds this consistent a policy.
So, with the summit behind us, we hope that the two sides will keep their promise — and keep to their joint statements in moving towards the final goal of denuclearisation. On the other hand, it should not be that because the situation lasted more than two decades, it cannot all become better overnight. We should be very patient, take it step by step, but be very resolved on the final goal of denuclearisation.
I think, in the denuclearisation issue, we share the same interest and goal with the U.S. This is a very important pillar to sustain U.S. and China co-operation and our relations. I have noticed that President Trump and U.S. Secretary of State, Mike Pompeo, both praise Chinese efforts, and so does Kim Jong Un from North Korea. The Chinese have played a proper role as facilitator, mediator, and most important, outsider. We players in the North Korean nuclear issue will continue to do whatever we can to maintain peace and stability in the region.
GH: The leaders of our countries have met twice in two months: first, for an informal summit in Wuhan, and second, for the SCO annual meeting in Qingdao. On the Indian side, these two meetings were very well received. How were they received in China? And what are the next steps your government is contemplating?
HU Shisheng (HS): The two meetings, especially the informal one in Wuhan was also warmly welcomed in China. We know last year's Doklam stand-off made the people, especially the Chinese people, not feel good towards India. But this meeting has changed the general feeling on the Chinese side. Now, finally, most of them also realise that conflict between these two countries was not serving the national interest, and will only make other countries feel happier. Also, the top leaders' meeting has been the driving force of our bilateral relations. So we have reason to believe that in the future, with the two top leaders guiding the production, our bilateral relations can be stable.
As for the next step, I can see that it is over to the Department and Ministries to carry forward further discussions about how to implement cooperation in line with the spirit that the two top leaders have set. But in the end, it is a very positive thing, especially the way China is facing the Americans' squeezing in the Western Pacific. So, now, rational people feel it is necessary to have good relations with India. The feeling is very good, I can assure you.
GH: There has been significant Chinese investment in India, with companies such as Tencent, Alibaba, Fosun International etc. entering India. What is the Chinese perception of these investments and how is the Indian market viewed in China?
HS: I don't have an exact number on Chinese investments in India. There are still some difficulties that Chinese companies face. The Indian market is quite unique for the investor and businessman from China – like the labour force, land acquisition, liberal market, democracy, central government, local government. Sometimes, their policy is different. All this makes Chinese companies hesitate – and sometimes, also because of political relations. So until now, according to my knowledge, Chinese companies have not been so enthusiastic about investing here, especially after Wanda's industrial park project being put up here.
Chinese businessmen and companies need some adventurous spirit because this is an emerging land for investment. At the same time, they have to be prepared for the difficulties here. It is a huge market: consumers have become strategic resources. If any company succeeds in the Indian market then it can succeed anywhere else in the world. You've become a world standard. It is clear from this that because there are already some Chinese companies here, such as ZTE, Huawei and Xiaomi, and present especially in the frontier economies, like Artificial Intelligence, big data and also the Internet of Things (IOT), there will be more Chinese companies, such as Alibaba, which will be interested in such a big market. This is because the economy of the future is based on big data technology and also the size of the population.
So, I think the future could be good: China feels that the Indian market is an emerging one with a huge population. They would like to visit, invest here. Chinese telecom companies will be much more interested, high-tech companies will find more options here -–since the manufacturing companies may not be adaptable, they may not find a suitable environment in India.
GH: India and China are both heavily dependent on oil imports, collectively accounting for 17% of global oil consumption. What is your view on the recent announcement that India and China will be forming an oil buyers' club? Will they be able to successfully negotiate together to challenge OPEC's capability to sway oil prices i.e. become the price-makers rather than the price-takers?
HS: This is important. In the past, both India and China suffered. We were just the price-takers. But in the future, since our economies are emerging, especially since the developed economies', especially the United States' dependence on energy is reducing, that means all your oil producers are becoming more and more sensitive to the oil buyers. If we unite, we will have the final say in pricing. So it is a very good thing.
Several years back, India had some kind of dialogue – there was an oil supply group and oil consuming group — but there seems to be no result after several rounds of talks and such dialogue has already been dismissed, right? But now China and India should work together to face the blackmailing from the oil producer countries – or it's very unfair. We are the buyers, we should have more say in the pricing.
GH: The Belt and Road Initiative (yi dai yi lu) is progressing apace. It has been five years since President Xi Jinping announced the initiative (in 2013). What opportunities and challenges have you faced along the way? Given the internal turmoil in some of the countries, what security concerns has China dealt with?
HS: In the last five years, we have encountered several kinds of challenges: the first one, of course, is the major powers' reluctance, especially like those of the U.S., India, even Japan, or Russia, which makes some of the projects pertaining to their neighbours a little more difficult or sensitive. So, how to match the projects: those under the Belt and Road Initiative (BRI) versus the projects by the major powers. This is a challenge, especially between China and India and how we carry forward our future cooperation under such circumstances. Maybe it will not be under BRI, but we have to do something.
As for the second, the challenge from the major powers, there is no disturbance, maybe reluctance. This is more concrete. They may be apprehensive about being Sinicised by China or be one part of China's development or economy or become too dependent on China, that they are losing some of their independence or sovereignty. These are the kinds of concerns that arose over what happened in Sri Lanka, Malaysia, even in Myanmar. The new prime minister said they were renegotiating one of the heavy projects.
The third could be related to the security issues you mentioned in your question, the terrorist attacks – they are not a big issue. Most important is that the marketisation, not material market system, and also that the recipient government, lack a strong planning authority, strong governance.
Chinese investors have some fears about NGOs and civil society and building good relations with them. How to make China and other recipient smaller economies feel comfortable is also a challenge. We are still exploring the way forward.
The guiding principle for the BRI is that we will do business on the basis of ground realities, and not use a universal guiding principle. The policies differ according to the country, their duration and project. If we follow the IMF way, the World Bank way, in short, the western economic way, it will not work, because most of the regions and the countries across which the BRI is running are, I believe, very backward, and lack such systematic support. So we should have different policies depending on the country and region. That is our way.
We have made reasonable progress with the BRI in the past five years: we have already signed 86 MoUs on BRI cooperation. This is a big success since last year's Belt and Road Forum to which we invited 29 heads of countries and 120 delegations. It was good coverage. We have found the way forward with some major powers too. Even with India we have cooperated on the ground, although without the name of BRI over it. We are carrying forward the physical connectivity.
Yuan Peng is Vice president, China Institute of Contemporary International Relations
Dr. Hu Shisheng is director of Institute of South & Southeast Asian and Oceanian Studies, China Institute of Contemporary International Relations.
Aashna Agarwal is Content Coordinator at Gateway House.
This interview/podcast was exclusively created/recorded by Gateway House: Indian Council on Global Relations. You can read more exclusive content here.
For interview requests with the author, or for permission to republish, please contact outreach@gatewayhouse.in.
© Copyright 2018 Gateway House: Indian Council on Global Relations. All rights reserved. Any unauthorized copying or reproduction is strictly prohibited.