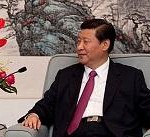 China's new leadership wants to improve economic relations and maintain the uneasy pre-2008 status quo on strategic disputes with India. This message came through in the first policy statement on India from China's new President Xi Jinping.
Xi's five-point foreign policy proposal on India is overall a friendly overture in familiar wording. It is not a new or innovative policy shift. The statement signifies once again that Beijing is increasingly going for a semblance of stability in relations with its largest neighbour, without making any strategic concessions on contentious issues.
For the last decade, China and India have had an unwritten understanding to shelve the resolution of the border dispute in favour of first expanding economic, trade and cultural relations. This strategy has made limited progress in both countries. While bilateral trade has grown from $25 billion in 2006 to about $73 billion in 2011, it is lopsided. India's trade deficit burgeoned from $4 billion to $27 billion in the same period. Economic talks are stone-walled on market access issues for Indian software, pharmaceuticals and agricultural products in the Chinese market and Chinese complaints of protectionist policies in telecom. Cumulative investments by India in China and vice versa, are not yet worth a billion dollars each.
Future Sino-Indian dialogue can genuinely take bilateral relations to a 'new height' as Xi called it, if the two sides hammer out policy actions on problem areas like the boundary dispute, China's Kashmir policy, trade disputes and the damming of Tibetan trans-boundary rivers. This is unlikely to happen soon. India is not top priority in China, but seen as increasingly important in the context of India' s closeness with the U.S. Beijing is preoccupied with tackling disputes with the U.S., Japan and with the increasing tension in its maritime neighbourhood of the South China Sea – a sea that China claims almost in its entirety. China's newly anointed leaders are busy shoring up internal support after a once-a-decade power transition was completed this month. Ensuring domestic stability and curtailing social and economic imbalances is Xi's immediate concern.
Xi has assumed charge amid growing nationalist expectations in the Communist Party and the military that Beijing must reassert historic territorial claims in an assertive manner befitting a strong state. The Chinese military budget is about three times as large as India's and expands at double-digit rates per year. Xi's transition to power was accompanied by several statements from him on boosting military preparedness.
The crux of Xi's India's message, 'to accommodate each other's core concerns and properly handle problems and differences,' provides no guarantee of maintaining genuine stability. For Beijing, 'core concerns' are a matter of indisputable sovereignty related to Tibet and Taiwan. For New Delhi, a core concern is Kashmir. While India has reiterated a one-China policy, China has not reciprocated likewise on Kashmir, as seen by the Chinese policy of stapling visas for Indian residents of Kashmir, which led to military ties being cut for a year in 2010. Ever louder Chinese assertions claiming Arunachal Pradesh as 'Southern Tibet' have been particularly irksome for India, as has been its growing closeness with Pakistan. These will continue to pop up sporadically unless bilateral dialogue confronts the issues. India did not issue a response to Xi's proposal, but officials noted that it's the first time that Beijing emphasized maintaining 'strategic communication'.
China is the only major power that has still not endorsed India's candidature for a permanent seat on the United Nations Security Council and it has not backed India's membership of the Nuclear Suppliers Group.
Xi, like past China leaders, prefers to speak in old idioms to convey a policy statement. At the press conference where Xi enunciated his India policy suggestive of a Chinese take on Panchsheel, he also told a Xinhua reporter that 'a gentleman never goes back on his word.' India needs to press China's most powerful man to keep his word on our mutual problems and concerns – and act on it too.
Reshma Patil is Associate Fellow, East Asia Studies, Gateway House: Indian Council on Global Relations.
This article was exclusively written for Gateway House: Indian Council on Global Relations. You can read more exclusive content here.
For interview requests with the author, or for permission to republish, please contact outreach@gatewayhouse.in.
© Copyright 2013 Gateway House: Indian Council on Global Relations. All rights reserved. Any unauthorized copying or reproduction is strictly prohibited.