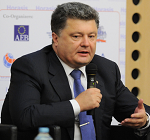 With 54% of the votes, Petro Poroshenko was the clear winner in the May 25 presidential elections in Ukraine. But the voter turnout was less than 50%, and the voting was extremely low in the eastern districts of Lugansk and Donetsk, which have strong cultural and linguistic affinities with Russia. This week, the Ukrainian armed forces also launched a major attack to wrest back the international airport in Donetsk from anti-Kiev rebels; more than 50 rebels have reportedly been killed so far.
Q. Now that Poroshenko has been elected, how will he approach the EU and Russia?
His victory could be a new beginning for Ukraine, but he will have to strike a balance between Russia and the West. It is significant that Poroshenko has retained the pro-West government led by Prime Minister Arseniy Yatseniuk, while stating that he will seek talks with Russian leaders in June. It is of equal importance that Russian President Vladimir Putin had said in advance that he will respect the outcome of the elections.
Q. The Yatseniuk-led government has been retained: how do we interpret this move?
Poroshenko is trying to be "all things to all people" and he is retaining the government installed with NATO support because he needs continued western backing. For this, he has announced that he will sign the Association Agreement with the EU. The desire in Western Ukraine to join the EU and NATO is strong. However, will the EU accept a bankrupt Ukraine?
At the same time, the "Chocolate King" is a businessman with significant investments in Russia and ties to Russia's business elites. He knows that the survival of Ukraine depends on a fruitful relationship with Russia, on which it completely relies for gas. Reaching out to Russia is the beginning of a way to balance the two pressures on Ukraine.
Q. How will Poroshenko's electoral victory impact Ukraine's pro-West and pro-Russia regions?
This is a temporary victory for the pro-West sections of the population—particularly those around Kiev—because the Yatseniuk government will remain in power for now. However, since voter participation in the eastern regions of the country was low, we can expect a lack of government/governance in areas contiguous with Russia. The divide between the two sections of the population cannot be bridged as long as the existing government, which has frequently expressed its pro-EU leanings, stays in power. However, if Poroshenko introduces legislation to devolve powers to the eastern regions, a process of negotiation, and at a later stage even reconciliation, can at least begin.
Q. The U.S., EU, and Ukraine too, clearly do not want an armed conflict with Russia. What are the steps the president-elect can take to deescalate the present crisis?
Moscow has maintained that a civil conflict is underway in Ukraine. So far, over 100 people have been killed in the Maidan protests, at least 42 in Odessa, around 30 were killed in Slovyansk, and more than 50 have died in the latest clash in Donetsk. In contrast, Russia's takeover of Crimea was relatively peaceful, with a total of six casualties.
Ukraine is not a member of NATO. According to Article 5 of the North Atlantic Treaty of 1949, the organisation has no obligation to defend a non-member state. Washington has repeated on numerous occasions that it will not be drawn into a military conflict, while concurrently widening the net of sanctions (that have so far remained focussed on individuals) and deepening their impact and implications.
The conflict has taken a toll on the Russian economy. Negative growth is expected this year after a capital outflow of $63.5 billion in the first quarter; the value of the Russian rouble has dropped nearly 10% since September 2013. But the Putin government continues to act as if this level of economic pain is acceptable. Russia will, however, get a boost from the recently-signed 30-year gas deal with China, reportedly worth $400 billion. Over time, Europe's diversification of gas options will be matched by Russia's diversification of customers in the East.
Poroshenko does not have much of a role in the overarching and long-term EU/NATO confrontation with Russia. It has to be understood that Ukraine is merely the proximate locus of this confrontation. The West sees Russia as strong enough to pose problems, while Russia feels it is finally strong enough to stop NATO from pushing right up to its borders, as was its experience in the Baltic and Caucasus states under the weak former president Boris Yeltsin.
If Poroshenko can stabilise Ukraine and be seen to be winning over the eastern regions, he can lower tensions within the country. One important step in this direction will be to take the focus off Crimea, at least temporarily.
Q. Will the change of leadership in Ukraine affect India?
It will benefit India's trade—particularly in pharmaceutical exports—if Ukraine stabilises. The West-Russia confrontation has resulted in a huge pivot to China by Russia. This too will have a two-fold impact on India: because Russia is India's biggest supplier of weapons and because of China's widened strategic space. By refusing to negotiate any of its expansive territorial claims and using economic leverage, China is already in confrontation with its maritime neighbours, and has an unsettled land border with India.
If the U.S.-backed sanctions against Russia are taken to the extreme levels imposed on Iran, it will have an impact on companies from all over the world, including Indian businesses that have dealings with the U.S. and Russia. Therefore, it is in everyone's interests that Poroshenko reduces tensions in and over Ukraine.
Neelam Deo is Co-founder and Director, Gateway House: Indian Council on Global Relations; She has been the Indian Ambassador to Denmark and Ivory Coast; and former Consul General in New York.
This interview was exclusively conducted by Gateway House: Indian Council on Global Relations. You can read more exclusive content here.
For interview requests with the author, or for permission to republish, please contact outreach@gatewayhouse.in.
© Copyright 2014 Gateway House: Indian Council on Global Relations. All rights reserved. Any unauthorized copying or reproduction is strictly prohibited