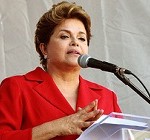 Brazilian President Dilma Rousseff cancelled her scheduled October 23 state visit to the U.S. (the first state visit in 18 years), reportedly outraged by the news that the U.S. spied on her and the oil company Petrobras, as revealed in the documents recently leaked by former NSA contractor Edward Snowden.
Brazil's O Globo television network reported in September 2013 that the U.S.'s National Security Agency (NSA) had spied on the emails, telephone calls and text messages of Rousseff as well as the Brazilian national oil company Petrobras. Rousseff sent Foreign Minister Luiz Alberto Figuereido to Washington DC to ask for explanations; when she found the U.S. response unsatisfactory, she decided to call off the visit.
Snubbing the U.S. by cancelling the visit is typical of the Brazilian approach to the U.S. whenever the latter crosses a red line. When the U.S. introduced finger-printing and other security formalities for visitors to the U.S. after 9/11, the Brazilian government retaliated by introducing reciprocal measures for U.S. visitors to Brazil. When an American pilot mocked the Brazilian procedure, he was detained and fined. When President Rousseff welcomed U.S. President Barack Obama to Brazil in March 2011, she emphasised that any true alliance between the two countries must be "amongst equals."
In her address at the UN General Assembly (UNGA) on 24 September (Brazil is the first speaker at the General Assembly by tradition) President Dilma condemned U.S. espionage, calling it a breach of international law, a violation of civil and human rights, a lack of respect for national sovereignty, and an affront to the principles that must guide the relations among [countries], especially among friendly nations. She demanded of the U.S. "explanations, apologies and guarantees that such procedures will never be repeated." [1]
The Brazilian president called for a broad global discussion of international regulation of the use and governance of the internet, and called on the UN to get involved in helping nations safeguard themselves from cyber-snooping by other countries. She said that information and telecommunication technologies cannot be the new battlefield between states, and emphasised that the time is ripe to create the conditions to prevent cyberspace from being used as a weapon of war through espionage, sabotage, and attacks against the systems and infrastructure of other countries.
Rousseff confirmed in her UNGA speech that Brazil plans to soon present proposals to the UN for the establishment of a "civilian multilateral framework for the governance and use of the Internet" that will ensure privacy and respect for individual human rights and neutrality of the network so it will be "guided only by technical and ethical criteria.''
In response, President Obama said in his speech at the UNGA, "We've begun to review the way that we gather intelligence, so that we properly balance the legitimate security concerns of our citizens and allies with the privacy concerns that all people share.'' [2] Earlier, when Rousseff cancelled her visit to the U.S., the White House had issued a statement saying that Obama "understands and regrets the concerns that disclosures of alleged U.S. intelligence activities have generated in Brazil."
On the domestic front, President Rousseff has ordered a series of measures aimed at greater Brazilian online independence and security. She is urging Brazil's Congress to compel Facebook, Google, and other U.S. companies to store all data generated by Brazilians on servers physically located in Brazil in order to shield it from the NSA.
Since most of Brazil's global internet traffic passes through the U.S., the Brazilian government is working on plans to lay an underwater fibre optic cable directly to Europe and also link to all South American nations to create what it hopes will be a network free of U.S. eavesdropping. Brazil also plans to build more internet exchange points, where vast amounts of data are relayed, in order to route Brazilians' online traffic away from potential interception.
Other South American presidents also criticized the U.S. for its espionage during their UNGA speeches. The 12-nation UNASUR (South American Union) is now jointly exploring the creation of a communications system to curtail U.S. spying in the region.  UNASUR's defence council – made up of the region's defence ministers – is in charge of examining how to set up a new internet communications system and common platform to minimise the risk of external interception.
The foreign ministers of IBSA (India, Brazil, South Africa), who met alongside the UNGA session, also called for an open discussion and setting of international norms.
Brazil has thus succeeded in creating another new global agenda. Now Brazil must work hard to mobilise support and take the lead on the negotiations. It is going to be challenging, given the opposition of the U.S. government as well as that of U.S. companies such as Facebook and Google, who have much to lose from Brazil's proposal.
In an editorial titled 'Brazil shows the way' on 20 September, The Hindu said, "Prime Minister Singh need not call off his visit à la Rousseff; but the least he could do is to publicly register India's anguish at NSA's spying". [3] Even if India cannot confront the U.S. upfront as Brazil did, India can follow the Brazilian lead in taking steps to make its internet and communications systems less vulnerable to external interception.
Ambassador Viswanathan is Distinguished Fellow, Latin America Studies, Gateway House. He is the former Indian Ambassador to Argentina, Uruguay, Paraguay and Venezuela, and Consul General in Sao Paulo.
This article was exclusively written for Gateway House: Indian Council on Global Relations. You can read more exclusive content here.
For interview requests with the author, or for permission to republish, please contact outreach@gatewayhouse.in.
© Copyright 2013 Gateway House: Indian Council on Global Relations. All rights reserved. Any unauthorized copying or reproduction is strictly prohibited.
References:
1. Rousseff's speech is available at http://gadebate.un.org/sites/default/files/gastatements/68/BR_en.pdf
2. Obama's  speech is available at http://www.whitehouse.gov/the-press-office/2013/09/24/remarks-president-obama-address-united-nations-general-assembly
3. The Hindu. (2013, September 20). Brazil shows the way. Retrieved from http://www.thehindu.com/opinion/editorial/brazil-shows-the-way/article5147637.ece