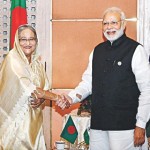 Two months after the parliamentary elections, the Awami League government in Bangladesh exudes confidence – and with reason. Prime Minister Sheikh Hasina secured a decisive victory at the polls that won her party and allies 288 seats in a 300-member parliament, making this her third consecutive term as head of the government, at the end of which she has announced her intention to retire.
Her electoral success at home does not constitute the whole picture: the country's foreign policy challenges are undiminished, the most serious of them being its failure to send back the Rohingya refugees to Myanmar.
A total of 740,000 Rohingyas have been residing in camps in Bangladesh since August 2017 after fleeing from the atrocities committed by the Myanmar military, which a UN official described as a textbook case of genocide. Foreign Secretary Shahidul Haque, speaking at the UN Security Council last week, stated that his government could not accept any more refugees; no one was willing to return to a hostile Rakhine state: "Is Bangladesh paying the price for being responsive and responsible in showing empathy to a persecuted minority population of a neighbouring country?"[1]
A year after Bangladesh and Myanmar signed the agreement on repatriation of the Rohingyas to the Rakhine state,[2] it remains only on paper, which shows Myanmar's disregard of its responsibility and the failure of Bangladesh diplomacy. Initially, Dhaka launched a spirited campaign both at the UN and in select national capitals, especially New Delhi and Beijing, seeking that they use persuasion and pressure on the Myanmar government to take the refugees back. Support for Bangladesh's cause came from powerful friends in the Organisation of Islamic Cooperation (OIC) and the Muslim-majority countries – Indonesia, Malaysia and Brunei – of the Association of South East Asian Nations (ASEAN); the latter preferred discretion over a showdown with Myanmar, a fellow member-state.
Refugees are a huge financial and social burden. The longer they stay the more remote is the possibility of their return. Dhaka seems to have run out of diplomatic options. Syed Muazzem Ali, Bangladesh High Commissioner to India, recently called for "a regional solution" to this problem, urging "the bigger powers in the region" to put pressure on Myanmar.[3]
India and China
The second major challenge lies in balancing relations with India and China, an area where Bangladeshi diplomacy has shown considerable dexterity and success so far. The core of its balancing strategy has been the investment by PM Hasina in building a fund of mutual trust and goodwill with New Delhi throughout the prime ministership of Manmohan Singh (2004-2014) and Narendra Modi. Accommodating India's concerns over security and geopolitical sensitivities while asserting Bangladesh's right to have autonomy in conducting its relations with China, Russia and others, has been the leitmotif of Hasina's winning formula. The result: economic cooperation and connectivity projects involving India have registered progress even as Bangladesh gains from China's generous loans under the Belt and Road Initiative (BRI).
"Maintaining healthy working relations with both India and China is critical for economically and infrastructurally weak Bangladesh,"[4] writes Ishrat Hossain, a research scholar. China may have an economic edge over India in Bangladesh, but India's bonds with the country are far richer and closer, and that cannot be wished away: this is evident in Bangladesh's geographical and political proximity to India and a shared cultural and linguistic heritage, which includes Rabindranath Tagore, whose songs were adopted as national anthems by both countries.
A month after the elections, Bangladesh and India held an important meeting of the Joint Consultative Commission when they agreed that the bilateral relationship "goes far beyond a strategic partnership". It covers sectors ranging from security, investment flows, energy, river water sharing and transport connectivity to new and high-technology areas. Officials are understood to be working to develop "a forward-looking roadmap" for bilateral cooperation "to make the partnership irreversible".[5] External Affairs Minister Sushma Swaraj revealed at the meeting that the two countries signed a total of 90 bilateral agreements since Prime Minister Modi's visit to Bangladesh in June 2015.[6]
A little prior to the elections, Bangladesh-China relations came up for a comprehensive review at the Foreign Office Consultations in Beijing when both parties discussed the actual progress made in the implementation of agreements since Sheikh Hasina's visit to China (2014) and President Xi Jinping's to Bangladesh (2016). The promised sum of loans amounting to $24 billion has been slow to come  in.  Bangladesh pressed China for easier procedures for their speedy release and sought greater Chinese investment in special economic zones and hi-tech parks. It also expressed concern over the deficit in bilateral trade, stressing the need for China to step up imports from Bangladesh.
Beijing considers Bangladesh an important country for its BRI. It has been participating actively in China's grand project.[7] PM Hasina, who did not attend the BRI Forum held in Beijing in May 2017, may now be under some pressure to attend the next meeting, due to be held in April. "China-Bangladesh relations are going through a change in the 21st century with wider scope of mutual cooperation and benefits,"[8] as Sultana Yasmin, another researcher, has correctly observed.
Other challenges
Relations between Bangladesh and Pakistan have remained strained for long. The Pakistani establishment perceives the Sheikh Hasina government as being pro-India. Dhaka's demand that Pakistan apologise for the atrocities of 1971 has not been met while the Bangladesh government's decision to execute a few Bangladeshi collaborators in the 1971 genocide for being war criminals evoked negative reactions in Pakistan. The activities of the Pakistani diplomatic mission in Dhaka have also come to the adverse notice of the authorities.
Finally, relations with the U.S. have shown a positive trend. Following the 2014 elections, boycotted by most of the opposition parties, PM Hasina's victory did not sit well with Washington, which took its time to accept the electoral outcome, partially bowing to India's full support for it. In contrast, Washington readily accepted the outcome of the 2018 elections despite fairly widespread reports of unfair practices that marked the recent polls. In a message to Dr. A.K. Abdul Momen, the new foreign minister, Secretary of State Michael Pompeo said he hoped for the strengthening of Bangladesh-U.S. cooperation. In particular, he conveyed America's appreciation for "the generosity of the Bangladesh government and people for continuing to host and shelter the Rohingya refugees".[9]  The U.S. has provided, until April 2018, a sum of $110 million in humanitarian assistance to Bangladesh for helping the refugees.[10]
With India-Pakistan relations touching a new nadir and regional cooperation projects at a standstill, Bangladesh can show leadership in many ways. It can save the South Asian Association for Regional Cooperation (SAARC), reinvigorate the Bay of Bengal Initiative for Multi-Sectoral Technical and Economic Cooperation (BIMSTEC) and the Bangladesh, Bhutan, India, Nepal (BBIN) Initiative, thereby imparting a new fillip to the idea of the Bay of Bengal community. It can also coopt South Asia into the task of mining the Blue Economy's potential. Will PM Hasina rise to the occasion?
Rajiv Bhatia is Distinguished Fellow, Gateway House and a former ambassador to Myanmar. He also headed the division responsible for relations with Bangladesh in the Ministry of External Affairs.
This article was exclusively written for Gateway House: Indian Council on Global Relations. You can read more exclusive content here.
For interview requests with the author, or for permission to republish, please contact outreach@gatewayhouse.in.
© Copyright 2019 Gateway House: Indian Council on Global Relations. All rights reserved. Any unauthorized copying or reproduction is strictly prohibited.
References
[1] UNB news, 'Bangladesh: We'll become unable to take new Myanmar refugees', 1 March 2019, <http://unb.com.bd/category/Bangladesh/bangladesh-well-become-unable-to-take-new-myanmar-refugees/13671> 
[2] Bhatia, Rajiv, 'Presentation on 'Rohingyas: Geopolitics, Morality and International Law'', 5 January 2018, <https://www.gatewayhouse.in/presentation-on-rohingyas-geopolitics-morality-and-international-law/please see my presentation on the subject.> 
[3] The Hindu, 'Dhaka plans to open a diplomatic office in Chennai', 24 February 2019,<https://www.thehindu.com/news/cities/chennai/dhaka-plans-to-open-diplomatic-office-in-chennai/article26355866.ece>
[4] Hossain, Ishrat, 'Bangladesh balances between big brothers China and India', 6 June 2018,  <https://www.eastasiaforum.org/2018/06/06/bangladesh-balances-between-big-brothers-china-and-india/> 
[5] Ministry of external Affairs, 'Joint Press Release on Joint Consultative Commission between India and Bangladesh', 8 February 2019, <https://mea.gov.in/bilateral-documents.htmdtl/31015/Joint_Press_Release_on_Joint_Consultative_Commission_between_India_and_Bangladesh>
[6] Ministry of external Affairs, 'Transcript of opening statement by External Affairs Minister at the 5th India-Bangladesh Joint Consultative Committee Meeting', 9 February 2019, <https://mea.gov.in/SpeechesStatements.htmdtl/31019/transcript+of+opening+statement+by+external+affairs+minister+at+the+5th+indiabangladesh+joint+consultative+committee+meeting+february+08+2019>
[7] Ministry of Foreign Affairs of the People's Republic of China, 'China and Bangladesh Hold the 11th Round of Diplomatic Consultation',
8 November 2018, <https://www.fmprc.gov.cn/mfa_eng/wjbxw/t1612507.shtml>
[8] The Daily Star, 'The changing dynamics of China-Bangladesh relations', 11 November 2018, <https://www.thedailystar.net/opinion/global-affairs/news/the-changing-dynamics-china-bangladesh-relations-1658695> 
[9] UNB News, 'US to strengthen relations with Bangladesh', 14 February 2019, <http://www.unb.com.bd/category/bangladesh/us-to-strengthen-relations-with-bangladesh/12665> 
[10] Editorials, 'U.S.-Bangladesh Relations Strong', 10 April 2018, <https://editorials.voa.gov/a/us-bangladesh-relations-strong/4340927.html>