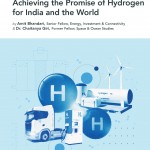 This paper studies and analyses the viability of using green hydrogen as a vehicle fuel and as an industrial gas, the reasons it is necessary to consider, and recommendations for companies, entrepreneurs and policy-makers to enable the use of this clean energy source. The advent of cheap renewable energy has made it possible to produce hydrogen from water by electrolysis, also called green hydrogen. Green hydrogen offers a way to store renewable energy in bulk, not possible otherwise with existing battery technologies. In this role, green hydrogen can serve as a multiplier for renewable electricity.
Interest in green hydrogen has risen in line with environmental concerns and most major economies including India have a hydrogen plan in place. For India, the use of hydrogen in transport offers an additional advantage – reduced import dependence on minerals such as lithium and cobalt, which have unproven and potentially unreliable supply chains.
Based on our study of the hydrogen market, we feel that wider adoption of green hydrogen can be made easier by first using it in existing applications such as petroleum refineries, as a replacement for grey hydrogen (produced from fossil fuels). This approach will ensure that investments made in the production of green hydrogen don't become stranded assets. The use of green hydrogen in vehicles can be pioneered by using it in gated infrastructure such as ports and warehouses, which will not require the creation of a geographically dispersed fuelling infrastructure. Finally, India also needs to enable its vibrant start-up sector, which can come up with new technologies as well as business models by directing risk capital towards innovators working on green hydrogen.
This paper is authored by Amit Bhandari, Senior Fellow, Energy, Investment and Connectivity, Chaitanya Giri, former Fellow, Space and Ocean Studies, and Saeeduddin Faridi, Researcher. Read the paper.
This paper was exclusively written for Gateway House: Indian Council on Global Relations. You can read exclusive content here.
For interview requests with the authors, or for permission to republish, please contact outreach@gatewayhouse.in.
© Copyright 2022 Gateway House: Indian Council on Global Relations. All rights reserved. Any unauthorized copying or reproduction is strictly prohibited.