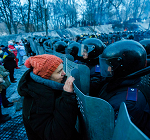 Back in 1990, when Russia, Ukraine and the Baltic states of Estonia, Latvia and Lithuania were all part of the Soviet Union, a single Soviet contingent would represent these nations at the Olympics. Similarly, they would collectively celebrate achievements in everything, from space programmes to cinema.
It is a vastly different picture today, with the Baltic States part of the European Union (EU) and NATO, while Ukraine is on the brink of civil war following Russia's takeover of Crimea.  Various external players including Moscow, the EU and the U.S. are exploiting the conflict to pursue their geopolitical and economic agendas.
The conflict in Ukraine has opened a can of worms – of unresolved economic, political and historical issues in nations of the erstwhile East Bloc. The reactions have been varied across the East Bloc –  both among countries that comprised the former Soviet Union as well as it's the earlier 'satellite' states in East Europe. These reactions have been shaped by current factors like energy dependence and strong trade ties with Russia, as well as by historical issues and some EU members' lack of faith in the European Union. The reactions range from those extremely critical of Russian actions, like Poland and the Baltic states (Estonia, Latvia and Lithuania), to the more neutral, and occasionally pro-Russian stance taken by the Czech Republic, Slovakia, Hungary and Bulgaria. These differences contribute to what is often described as the slow EU response to the Ukrainian crisis.
Historically suspicious of Russia's intentions, the Baltic states are very supportive of the EU sanctions against Russia. They have also asked NATO to increase the presence of its troops in their countries.1 However, all three Baltic states have major economic ties with Russia and their economies are dependent on transit and trade relations with it.
Latvian Prime Minister Laimdota Straujuma has said that sanctions can cost the country hundreds of millions of euros. Also, the Latvian Finance Minister had stated that in the event of further sanctions against Russia the EU should compensate the members who are affected.2Therefore, while being vocal against Russian influence, the Baltic states have to be careful about how tougher sanctions against Russia will affect their economies.
Another former East Bloc country leading the cry for tougher sanctions is Poland. While the Polish government is traditionally opposed to Russian expansion – political and economic – a large part of its population does not support the new Kiev government which includes members of the nationalist far-right Svoboda Party.
Svoboda has often honoured the memory of Stepan Bandera3, the Ukrainian nationalist politician who cooperated with Nazi Germany during World War II and was responsible for the death of tens of thousands of Poles4. Hence, while calling for tougher sanctions against Russia5, the Polish government has to maintain distance from certain groups and individuals in Kiev as else it risks losing support among its own people.
Other east European countries have been less opposed to Russia's growing influence in Europe, partly because of their people's distrust of their own governments and of the EU, coupled with clear individual economic priorities.
For example Bulgarians, who have seen less economic growth in the last 20 years than the Baltic states and Poland, are quite sceptical of how joining the EU has benefited them. The country is ruled by a fragile coalition, headed by the traditionally Russia-friendly Socialist Party. Moreover, the new South Stream pipeline from Russia goes through the Black Sea to Bulgaria, and further to Serbia, Hungary, Slovenia and Austria.
This pipeline, which will go around Ukrainian waters and eliminate Ukraine from Russian deliveries of gas to Europe, is a big factor in shaping Bulgaria's response to the conflict.
Hungary is another example of a country with strong euro-scepticism and individual economic interests. Hungary was one of the hardest-hit EU economies during the financial crisis of 2007, and its government has openly criticised the EU and its policies6. It has opposed further economic sanctions against Russia, with Hungarian PM stating that 'economic sanctions are in the third round and it would be fortunate to avoid these because it is not in the interests of either Europe, or much less Hungary'7.
Slovakia and the Czech Republic are also not fully supportive of the new government in Kiev and have chosen to stay neutral.
Slovakia is the only country which has the immediate infrastructure to support Ukraine's efforts to reduce its dependence on Russian gas by providing it with reverse gas. It has signed a 3.2 bcm reverse gas deal with Ukraine in the end of April. However, that will meet only 20 per cent of Ukraine's requirement. Slovakia can face legal issues with Russian Gazprom8 if it increases the reverse gas supplies to Ukraine.
Meanwhile, the president of the Czech Republic, Milos Zeman, has said that the EU should accept the fact that Crimea is a part of Russia. 9
The disagreements between the EU member states regarding sanctions on Russia, especially among the former East Bloc countries, shows members place their economic priorities over the EU's larger political agenda and indeed, its unity. As these priorities clearly go beyond merely Russian gas supplies, they are also a reminder that the core of the conflict in Ukraine is economic rather than political — at least for the EU countries.
Gleb Zhukov is a business research and strategy consulting professional with diverse working experience in Asia, Europe and North America.
This article was exclusively written for Gateway House: Indian Council on Global Relations. You can read more exclusive content here.
For interview requests with the author, or for permission to republish, please contact outreach@gatewayhouse.in.
© Copyright 2014 Gateway House: Indian Council on Global Relations. All rights reserved. Any unauthorized copying or reproduction is strictly prohibited
References
1. Mardiste, David. 'Estonia wants, expects more NATO troops on its territory,' Reuters, 24 June 2014, <http://www.reuters.com/article/2014/04/22/us-ukraine-crisis-estonia-idUSBREA3L10D20140422> (accessed June 24, 2014)
2. Latvia calls for EU compensation if sanctions rebound,' Reuters, 24 June 2014 http://uk.reuters.com/article/2014/03/17/uk-ukraine-crisis-latvia-idUKBREA2G17U20140317
3. 'На Запоріжжі свободівці відзначили день народження Степана,' Бандери, 24 June 2014, <http://www.svoboda.org.ua/diyalnist/novyny/046155/> (accessed June 24, 2014)
4. Snyder, Timothy, 'To Resolve the Ukrainian Question Once and For All:The Ethnic Cleansing of Ukrainians in Poland, 1943-1947', MIT, Working Paper#9, November 2001, <http://web.mit.edu/cis/www/migration/pubs/rrwp/9_resolve.html> (accessed June 24, 2014)
5. Aktualizacja, Ostatnia, 'Tusk: potrzebujemy planu nowych sankcji wobec Rosji', Forbes, 20 March, 2014,  http://www.forbes.pl/tusk-potrzebujemy-planu-nowych-sankcji-wobec-rosji,artykuly,173606,1,1.html> (accessed June 24, 2014).
6. Balazs, Edith and Jones Hayden, 'Hungary's Orban Willing to Compromise in Dispute With EU', Bloomberg Business Week, 19 January 2012, <http://www.businessweek.com/news/2012-01-19/hungary-s-orban-willing-to-compromise-in-dispute-with-eu.html> (accessed June 24, 2014)
7. 'Hungary opposed to economic sanctions against Russia', Thomson Reuters, 28 March 2014, <http://www.reuters.com/article/2014/03/28/ukraine-crisis-russia-hungary-idUSL5N0MP15Y20140328> (accessed June 24, 2014).
8. 'UPDATE 1-Ukraine haggles with Slovakia for bigger gas shipments', Thomson Reuters, <http://www.reuters.com/article/2014/04/24/ukraine-gas-idUSL6N0NG5NZ20140424> (accessed June 24, 2014).
9. 'Zeman: NATO should go to Ukraine if Russia invades it,'Prague Monitor, 17 April 2014, <http://praguemonitor.com/2014/04/07/zeman-nato-should-go-ukraine-if-russia-invades-it> (accessed June 24, 2014).