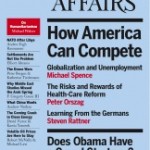 As a connoisseur of fine diplomacy, Henry Kissinger finds a lot of it to admire in China. His new book, cast as a history of Chinese foreign policy, traces the twists and turns of Chinese strategy since the establishment of the People's Republic in 1949, quoting liberally from his numerous conversations with Chinese leaders. But On China is really neither history nor memoir. Its purpose is to argue that the United States should yield gracefully to China's rise in order to avoid a tragic conflict.
Aaron Friedberg gives the opposite advice. A Princeton professor and former foreign policy adviser to Vice President Dick Cheney, he analyzes the strategies that China and the United States have used in dealing with each other since the early 1990s and tries to decipher China's intentions in the coming decades. In the face of growing Chinese power and ambition, the United States, he argues, must stand strong in those many areas in which China's interests are adverse to its own. Together, the two books offer a window onto the strategic split over China among mainstream Republicans.
This article was originally published by Foreign Affairs. You can read the rest of the article here.
You can read exclusive content from Gateway House: Indian Council on Global Relations, here.
Copyright © 2011 by the Council on Foreign Relations, Inc.