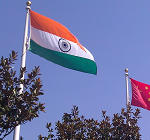 Over five decades after it was written, the full contents of the Henderson Brooks Report remain a closely guarded secret. The Report, which was commissioned by the Indian Army in the aftermath of the 1962 India-China War was aimed at drawing lessons from the crushing defeat inflicted on India, as well as to fix accountability.
However, down the years, successive governments have refused to de-classify the Report. Clearly, it remains a touchy subject – evident in how quickly the Ministry of Defence moved to block the site on which former journalist Neville Maxwell posted the contents. Later it issued this cryptic statement – "Given the extremely sensitive nature..which are of current operational value..it would not be appropriate to comment on the contents uploaded..on the web."
The 1962 defeat traumatised our young nation like no other event in recent history. The Chinese launched simultaneous offensives in Ladakh and across the MacMohan Line, capturing territories in both areas. A month later, they declared a unilateral ceasefire and withdrew to pre-hostility lines. The debacle has cast a shadow on India's domestic, military and foreign policies down the decades.
The MoD's explanation rings hollow, given that probes into many other operations that the Indian Army has been a part of, and suffered heavy casualties in, have been declassified. Both, the 1965 war with Pakistan and the 1999 Kargil War, exposed the same fundamental challenges  –  lack of political will and direction, weakness in intelligence gathering, deficient senior military leadership and lack of, or outdated, equipment. It follows then that the reasons for suppressing the Henderson Brooks Report go beyond simple operational relevance – given that this is an aspect that neither our political leadership nor the bureaucracy has shown itself to be particularly perturbed about.
Apparently the authors of the Henderson Brooks Report were advised not to examine the functioning of the Army Headquarters as by implication this would mean probing the political directions given to the forces through the Defence Ministry, and how top Army officials acted on them.
Two significant aspects of the war emerge from the Report – that the political leadership and intelligence machinery chose to ignore the hostile attitude and military capability of the Chinese, and that Nehru's Forward Policy, possibly, triggered the conflict. The policy failed because it was not backed by adequate military capability.
Not publishing such reports only leads to speculation, un-informed debate and recurrence of such serious mistakes. Unless we have an opportunity to examine the past, we will continue to blame the lack of political will and substandard military equipment. History repeats itself because men do not learn from their mistakes.
Xerxes Adrianwalla is a retired Brigadier of the Indian Army and a regular contributor to Gateway House: Indian Council on Global Relations.
This blog was exclusively written for Gateway House: Indian Council on Global Relations. You can read more exclusive content here.
For interview requests with the author, or for permission to republish, please contact outreach@gatewayhouse.in.
© Copyright 2014 Gateway House: Indian Council on Global Relations. All rights reserved. Any unauthorized copying or reproduction is strictly prohibited