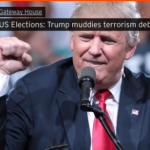 In the sixth episode of this podcast mini-series on the upcoming U.S. presidential elections, Ambassador Neelam Deo, Director at Gateway House, analyses the discourse on terrorism. Listen in to learn more about the candidates' proposals to defeat ISIS and dismantle transnational terror networks.
Highlights:
(1:50) Increasing home grown terror in the U.S.
(2:30) Trump's anti-Muslim rhetoric
(3:00) Clinton's position on ISIS
(8:30) What both visions lack
(12:30) The right candidate from India's perspective
(18:10) The changing global dynamics
In the next episode, Ambassador Deo will be discussing the rhetoric which has surrounded International Trade in the U.S., listen to it now! (http://bit.ly/2cJ69hb)
Subscribe to The Gateway House Podcast on iTunes and Soundcloud and get notified when the next episode releases.
Hosted by Virpratap Vikram Singh, Website Content Manager, Gateway House
Produced by Arjun Chawla, Researcher, Gateway House and Virpratap Vikram Singh, Website Content Manager, Gateway House

Podcast: Play in new window | Download
Subscribe: Apple Podcasts | Android | Email | RSS