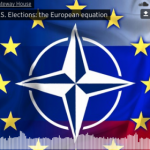 In the third episode of this podcast mini-series on the U.S. presidential elections, Ambassador Neelam Deo, Director at Gateway House, discusses the upcoming election and its implications for Europe. Listen in to learn more about each candidate's position on NATO, Russia, Brexit, and more.
Highlights:
(1:20) Trump's position on Russia
(2:10) The debate on NATO
(4:10) The alleged Russian hack of classified Democratic Party emails
(7:05) The future of U.S.-Europe relations if Trump becomes president
(7:30) The impact of Brexit on the U.S.-Europe equation
(12:30) The future of transatlantic mega trade agreements
In the next episode, Ambassador Deo will be examining the strong anti-China rhetoric and what a new President will bring to U.S.-China trade and the South China Sea, listen to it now! (http://bit.ly/2csSMV9)
Subscribe to The Gateway House Podcast on iTunes and Soundcloud and get notified when the next episode releases.
Hosted by Virpratap Vikram Singh, Website Content Manager, Gateway House
Produced by Arjun Chawla, Researcher, Gateway House and Virpratap Vikram Singh, Website Content Manager, Gateway House

Podcast: Play in new window | Download
Subscribe: Apple Podcasts | Android | Email | RSS