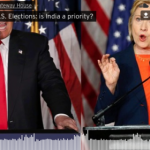 In the second episode of this podcast mini-series on the U.S. presidential elections, Ambassador Neelam Deo, Director at Gateway House, discusses the Indian perspective of the upcoming election. Listen in to learn more about the race to the White House and its implications for India.
Highlights:
(1:10) Why India is not top priority
(4:25) The likelihood of reverting to a joint India-Pakistan desk at the U.S. Department of State
(8:20) U.S.'s strategy behind closer ties with India
(11:25) Future trajectory of the India-U.S. bilateral
(11:50) Regional implications of the U.S-Pakistan equation
In the next episode, Ambassador Deo will discuss the implications of this election on Europe, NATO and Russia, listen to it now! (http://bit.ly/2bvdkrk)
Subscribe to The Gateway House Podcast on iTunes and Soundcloud and get notified when the next episode releases.
Hosted by Virpratap Vikram Singh, Website Content Manager, Gateway House
Produced by Arjun Chawla, Researcher, Gateway House and Virpratap Vikram Singh, Website Content Manager, Gateway House

Podcast: Play in new window | Download
Subscribe: Apple Podcasts | Android | Email | RSS