Turkmenistan-Afghanistan-Pakistan-India Pipeline Possibility or Pipe Dream?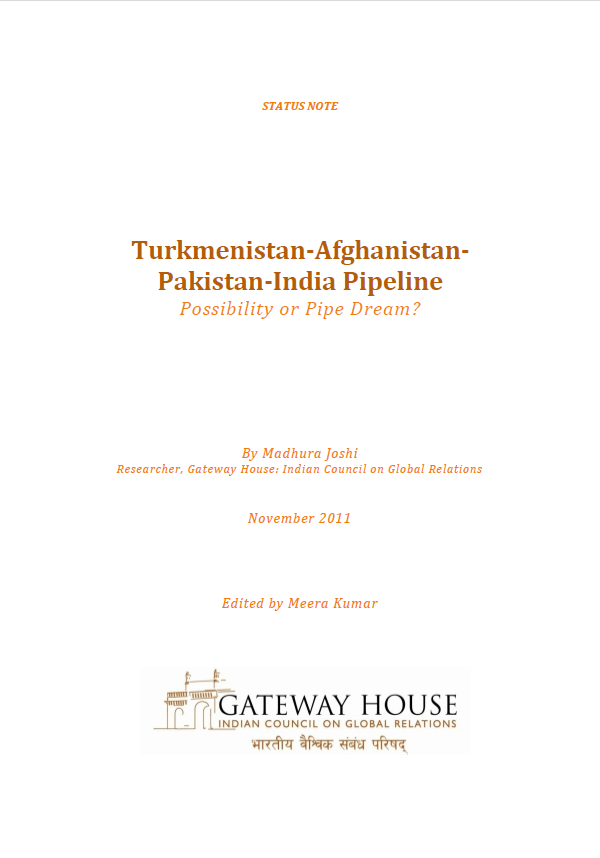 Introduction
Oil was the fuel of the 20th century. But depleting sources, volatility of prices and environmental concerns have made it imperative to look for alternate fuels. Natural gas provides one such solution for these concerns. Natural gas has a lower environmental impact than oil, emitting 30% less carbon dioxide, is generally priced at a fraction of the price of crude, and given its suitability as a substitute for oil in industries, makes it an attractive alternative to oil. Natural gas emits 45% less carbon dioxide than coal, making it an equally attractive substitute to iti. With the rapid depletion of most fuel sources, the need to tap into existing and unexplored natural gas reserves has become central to the energy debate.
In order to secure a constant source of supply of natural gas to India, the Government of India is looking into the ambitious Turkmenistan-Afghanistan-Pakistan-India (TAPI) pipeline. This will be an addition to the existing domestic production and LNG (Liquefied Natural Gas) imports. This project has been in the pipeline for the last 15 years though India signed on to it in early 2008. Since this pipeline passes through Afghanistan and Pakistan, both restive regions, security concerns have triggered wide debate on its viability.
This paper briefly looks at the position of natural gas in the world vis-à-vis other fuels. The paper also elaborates on the economics and politics of the TAPI pipeline to conclude that this will remain a very tempting but unfortunately, a 'Forever Project' where discussions can go on for years without any concrete results. The paper advocates caution given the tumultuous times prevalent in Afghanistan and Pakistan and lists alternate options and possible courses of action for India.
You can download the PDF version of this essay, here.
Madhura Joshi is Researcher, Gateway House.
This essay was exclusively written for Gateway House: Indian Council on Global Relations. You can read more exclusive content here.
For interview requests with the author, or for permission to republish, please contact outreach@gatewayhouse.in.
©Copyright 2011 Gateway House: Indian Council on Global Relations. All rights reserved. Any unauthorized copying or reproduction is strictly prohibited.