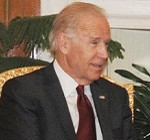 Critics point out that American vice presidents matter little in terms of decisions about foreign policy. U.S. Vice President Joseph Biden's recent visit to India did pass without a press conference and without any new singed agreements.
But a few American vice presidents have indeed played a critical role in the country's foreign policy and on deciding national security issues. This includes, in recent decades, Lyndon Johnson, Richard Nixon and Dick Cheney. Biden could well be added to the list. As Chairman of the U.S. Senate Foreign Relations Committee, he did have an important role in foreign and national security issues. His word gets the attention of President Barack Obama. And he is a credible contender for the U.S. presidential polls in 2016.
No new agreement may have been signed during Biden's visit, but his goals were different. The visit was mainly aimed at renewing the momentum in the "strategic partnership" by pushing for the implementation of existing agreements such as the civil nuclear deal; promoting U.S. business and investment interests; re-emphasising U.S. support to India's rise as a significant global actor; and consulting India on key regional security issues.
U.S. Secretary of State John Kerry's and Biden's visits to India, Indian Finance Minister P. Chidambaram's recent visit to the U.S, and Prime Minister Manmohan Singh's upcoming visit to the U.S., are all timed to remove the perceived logjam in the momentum of the India-U.S. strategic partnership.
Biden spoke of enhancing bilateral cooperation in various areas, but the most crucial conversation he had was on Afghanistan. Time is running out on the question of the uncertain future of Afghanistan and the U.S.'s efforts to work out a mechanism to handle the post-troop withdrawal situation in that country. This has a direct bearing on Indian security and regional stability.
Both India and the U.S. have similar demands from the Taliban – distance itself from Al Qaeda, accept the Afghan Constitution, reject violence, and respect human rights. The Obama administration strongly backs the idea of a greater Indian role in Afghanistan. Indian development assistance, huge amounts of private investment, and the India-Afghan strategic partnership agreement also call for a more robust Indian participation in resolving the Afghan conflict.
There have been discussions about Indian forces on Afghan soil, besides the ongoing training of Afghan security forces by the Indian military. Opponents argue that this would place India in the same quagmire that NATO forces are working to extricate themselves from. Others are optimistic that it will end Pakistan's strategic advantage, bring more security, and give India easier access to Central Asia.
Can the U.S. withdraw its troops but continue to fully support the current dispensation in Kabul without sidelining Pakistan? The answers to this question, and the future of Afghanistan, will be a test for the India-U.S. strategic partnership. These are perhaps the most important questions to consider after Biden's visit.
Chintamani Mahapatra is Chairperson, U.S. Studies Programme, Jawaharlal Nehru University, New Delhi.
This blog was exclusively written for Gateway House: Indian Council on Global Relations. You can read more exclusive content here.
For interview requests with the author, or for permission to republish, please contact outreach@gatewayhouse.in.
© Copyright 2013 Gateway House: Indian Council on Global Relations. All rights reserved. Any unauthorized copying or reproduction is strictly prohibited