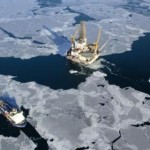 The fall in the price of petroleum from over $100 per barrel in 2014 to almost $40 per barrel now has overturned the dynamics of the oil business: for oil companies, it is cheaper to buy discovered oil fields than to search for oil themselves. By acquiring a stake in Russia's Vankorneft oil field, ONGC spent only half of the money required to unearth a similar amount of oil on its own.
In the last three years, from 2013-16, government-owned ONGC has added 123 million tons of petroleum reserves and spent Rs 21,280 crore – $3,187 million – via exploration. At this rate, for every million tons of reserves added, the company spent $25.9 million.
Compare this to another action of the same company – in May 2016, ONGC announced that it has picked up a 15% stake in Vankorneft, an oil field in Russia. Vankorneft has total petroleum reserves of 664 million tons, of which ONGC's share works out to 99.6 million tons. The reported price of the Vankorneft stake was $1,268 million – at this price, ONGC has paid $12.7 million per million tons of reserves added – this is just half of what it cost ONGC to add reserves locally.
Vankorneft comes with another advantage – the field is already producing oil. ONGC will get 66,000 barrels per day as its share from the field and the attendant cash flows. In contrast, newly discovered fields require large investments over several years in order to begin production. For instance, ONGC recently approved the development plan for its offshore fields in the Krishna-Godavari basin – the company will spend Rs 34,012 crore ($5,076 million) for the eventual production of 185,000 barrels/day of oil and gas. Production from these fields is expected to begin by 2020.
Clearly, at this juncture in the oil market, 'buy' is a better strategy than 'explore'. For India, which has sought to acquire oil fields overseas for over a decade now, this is the time to double down on the acquisition strategy and finalise more such deals. Gateway House has recommended this course of action in the past, and numbers now bear it out too.
Amit Bhandari is Fellow, Energy & Environment Studies, Gateway House.
This blog was exclusively written for Gateway House: Indian Council on Global Relations. You can read more exclusive content here.
For interview requests with the author, or for permission to republish, please contact outreach@gatewayhouse.in.
© Copyright 2016 Gateway House: Indian Council on Global Relations. All rights reserved. Any unauthorized copying or reproduction is strictly prohibited.