While Pakistan has been in the throes of the COVID19 crisis, the Pakistani army has succeeded in insinuating itself into an even more central position in national affairs. In March this year, Pakistan's Prime Minister, Imran Khan, invoked Article 245 of the country's constitution, enhancing the military's powers to ensure security during this time.[1]
The Military has currently deployed troops across Balochistan, Khyber Pakhtunkhwa, Punjab, and Sindh. New appointments of military personnel in civilian positions have been made, with former spokesperson Lt. Gen. Asim Saleem Bajwa, appointed as special assistant to the Prime Minister for information broadcasting.
This has been done in the backdrop of the U.S. retreat from Afghanistan, giving new confidence to Pakistan. No surprise then, that in the last month, there have been renewed border tensions in Kashmir, and with COVID19, a greater Chinese presence in Pakistan.
With the shifting dynamics of the current geo-economic climate in Asia and the world, now might be the opportune time for India to consider new strategies to manage Pakistan effectively in the post-COVID era.  One clear economic strategy that has not been considered comprehensively thus far is the imposition of sanctions.
Sanctions are a means of economic warfare between countries with the objective of enforcing change, signalling power and controlling aggressive behaviour. They have been used extensively and effectively by countries as a foreign policy tool and by agencies such as the United Nations for imposing control on the disagreeable behaviours of some countries. India for instance was sanctioned by the U.S. and Japan after its nuclear tests in 1974 and 1998.[2]
Pakistan, meanwhile has rarely been sanctioned, despite having been under global censure – including a grey-listing by the G20's Financial Action Task Force – for decades for supporting terror financing and harbouring terrorists. This is largely because it has powerful patrons such as China, and until recently, the United States. This status quo however, can change in the post-COVID world.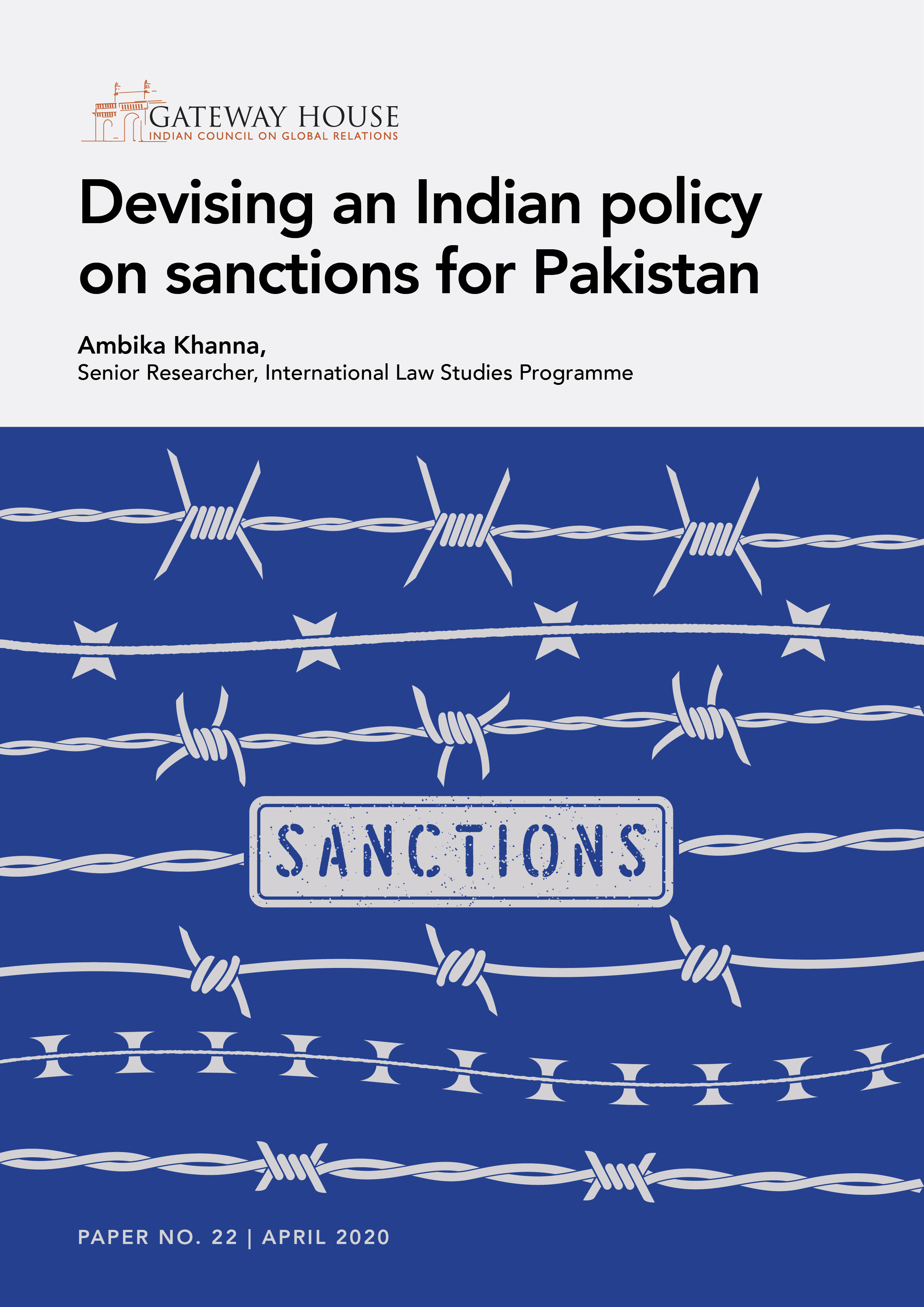 The history of imposing sanctions between India and Pakistan is brief. In February 2019, India withdrew the Most Favoured Nation (MFN) status granted to Pakistan after the Pulwama attack in Kashmir.[3] Pakistan in turn has also imposed restrictions on India, such as closing down its airspace[4], banning trade and discontinuing postal mail. The last is a rare measure that has various commercial implications.
In the wake of the attacks in recent years on Pathnkot, Uri and Pulwama, there are strong arguments in favor of India toughening its laws to incorporate a sanctions regime in order to handle the aggression from Pakistan. There are a few things India needs to consider to execute this effectively.
Unlike some other countries, India does not have clear and specific legislation on sanctions, currently. The first step to such clarity can be strengthening the extant Unlawful Activities (Prevention) Act of 1967, to allow for specific and targeted imposition of sanctions. To begin with the law needs to define and use the appropriate terminology for the action suggested – sanctions. It also needs to provide a rationale for what will be prohibited and why.
India needs to develop a targeted strategy to focus on the business interests of Pakistan's military. The military in Pakistan operates many organizations that conduct commercial business in the country.  Most of these are run by four parent entities, each of which is associated with different commands of the military: Fauji Foundation, Shaheen Foundation, Bahria Foundation and Army Welfare Trust. Largely, the beneficiaries of the returns from these economic interests are former and current military personnel. Fauji Fertilisers, a subsidiary of Fauji Foundation, has the highest valuation amongst the listed companies on the Pakistan Stock Exchange.
Finding the correct means to impose economic sanctions on such businesses will be useful for India's approach. Identifying companies and individuals from India that do business with Pakistani entities or have a presence in Pakistan will also help.
Policy makers should analyse India's experience and that of other countries, and adopt a multi-pronged approach rather than impose sanctions in part or in silos. The multi-pronged strategy includes a significant role for the diplomatic community, in addition to seeking support from other nations.
With its focus on Neighbourhood First, Act East, multipolarity and regionalism, India is nurturing friendships, and can leverage these to create a network of influence that will support the implementation of its sanctions strategy against Pakistan.
Ambika Khanna is Senior Researcher, International Law Studies Programme, Gateway House.
This article was exclusively written by Gateway House: Indian Council on Global Relations. You can read exclusive content here.
For interview requests with the author, please contact outreach@gatewayhouse.in.
© Copyright 2020 Gateway House: Indian Council on Global Relations. All rights reserved. Any unauthorized copying or reproduction is strictly prohibited.
References
[1] Yousaf, Kamran, Army called in to fight pandemic, Tribune Pakistan, March 24, 2020. <https://tribune.com.pk/story/2182804/1-army-called-fight-pandemic/>
[2] Shaw, Debnath, Amb. (Rtd.), Dimensions of Nuclear Suppliers Group and India's Deliberations with the Group Over Past Decade, Ministry of External Affairs, Government of India, September 02, 2016. <https://www.mea.gov.in/distinguished-lectures-detail.htm?546>
[3] Press Information Bureau, Suspension of LoC Trade between J&K and PoJK, April 18, 2019. <https://pib.gov.in/newsite/PrintRelease.aspx?relid=189799>
[4] Prasad, Gireesh; Kundu, Rhik, Shut since Balakot strike, Pakistan airspace reopens for civilian operations, Livemint, July 16, 2019. <https://www.livemint.com/news/world/shut-since-balakot-strike-pakistan-airspace-reopens-for-civilian-operations-1563249648264.html>