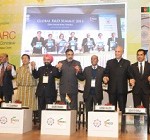 The fifth South Asian Association for Regional Cooperation (SAARC) Business Leaders Conclave, held in New Delhi on January 16-17, contained much hope but little substance.
The conclave was organised by the Federation of Indian Chambers of Commerce and Industry (FICCI), the SAARC Chamber of Commerce and Industry, and India's Ministry of Commerce.
Various high-level officials, including the commerce ministers of all SAARC countries, spoke at the meeting about the need for further regional integration. Greater integration, they said, can lead to the formation of a South Asian Union at a later date. Such a Union could include regionally-integrated value chains, a South Asian energy grid, the SAARC development fund upgraded to a regional bank, and a liberalised visa regime.
But such suggestions are not entirely new, and are expected from a region lacking in cohesive economic integration. Even 29 years after the formation of SAARC, intra-regional trade is at a low 4.23% of the grouping's global trade, according to the Asian Development Bank Institute [1]. The World Bank says that this makes South Asia the "least integrated region in the world." [2]
A similar sentiment was expressed at the conclave's inaugural address by India's Commerce Minister, Anand Sharma, who said that SAARC has been unable to create and "benefit from an ecosystem of regional integration and cooperation." Among the continuing hurdles to integration are bilateral political differences between South Asian countries and inadequate connectivity.
Each SAARC country, however, is inter-dependent at varied levels with its South Asian neighbours. For example, according to a report of the UN Economic and Social Commission for Asia Pacific, India's trade with SAARC was only 0.8% of its total imports and 5% of its total exports in 2008; but the same figures for Nepal are 73.9% and 59.6% respectively. [3]
Consequently, each country has different priorities for South Asian integration; this  was evident at a panel discussion of the commerce ministers of SAARC countries at the conclave: India wants increased private sector participation and value-added manufacturing to fully utilise trade and investment agreements in the region; Pakistan prefers to create regional supply chains and intra-regional transmission lines which could reduce its energy deficit; tourism and maritime cooperation are the primary concerns for the island-nations of Sri Lanka and the Maldives; land-locked Nepal and Bhutan want better land connectivity and cooperation in hydropower projects; Bangladesh, which has to cross Indian borders to reach any of the other SAARC countries, wants easier cross-border trade and improved border infrastructure such as warehousing facilities for its massive textile exports.
Most interesting, however, is Afghanistan, which will go through two transitions this year: a political transition with the presidential elections in April, and a security transition when the International Security Assistance Force (ISAF) withdraws from the war-torn country.
Mozammel Shinwari, the country's commerce minister, spoke at the Saarc meeting of positioning Afghanistan as "the bridge for SAARC to Central Asia, and a transit trade and communications hub." Shinwari is pushing for Afghanistan to become the preferred location for investments from South Asian countries. Shinwari also stressed the increasing role of the private sector in Afghanistan, which can help expedite the process of integrating the country with the rest of South Asia.
However, while bilateral engagements between SAARC countries are possible, it is regional integration that is difficult. Anisul Haq of Bangladesh, who is president of the SAARC Chamber of Commerce and Industry (2010-2012), said at the conclave, "SAARC takes seven years to make [an] idea into policy, and another four years to implement it."
Haq referred to the SAARC Visa Exemption Scheme, which allows visa-free travel to any South Asian country for 30 to 90 days. The scheme, which began in 1992, allowed each country to issue only 100 visa exemption stickers. It was increased, after much resistance from India due to disagreements with Pakistan, to 200 in 2012. Overall, 1,600 visa exemptions were issued until 2010; this is negligible when compared to other regional blocs in Asia such as APEC, which since 1997 issued 34,000 Business Travel Cards that allow visa-free travel to all member countries. [4}
However, there are signs of political appeasement that will promote India-Pakistan trade. The day after the conclave, on January 18, the commerce ministers of the two countries signed a non-discriminatory market access agreement. In effect, this gives the same benefits as the Most Favoured Nation status – agreed to by all World Trade Organisation members (including India and Pakistan).  Better India-Pakistan relations will strengthen SAARC, which at many times in the past has been slowed down due to disagreements between the two countries.
India must also improve regional connectivity and complete the infrastructure projects that are overdue in the Northeast.  However, while infrastructural roadblocks are important to clear, for South Asia to fully become part of the new Asian century, it must further separate its political differences from its economic complementarities.
The two high-level visits planned by Indian leaders to Pakistan – Commerce Minister Anand Sharma will visit the country from February 14-16, and Prime Minister Manmohan Singh is expected to visit in March – may now be a good starting point to focus on economics rather than politics.
Hari Seshasayee is Researcher, Latin American Studies Programme, Gateway House: Indian Council on Global Relations.
This blog was exclusively written for Gateway House: Indian Council on Global Relations. You can read more exclusive content here.
For interview requests with the author, or for permission to republish, please contact outreach@gatewayhouse.in.
© Copyright 2014 Gateway House: Indian Council on Global Relations. All rights reserved. Any unauthorized copying or reproduction is strictly prohibited
References
[1] Asian Development Bank, AsiaRegionalIntegrationCenter. (30 January 2014).  'Integration Indicators'. Retrieved from http://aric.adb.org/integrationindicators.
[2] S. Ahmed and E. Ghani (Eds.) (2007). 'South Asia: Growth and regional integration'. New Delhi: Macmillan India Ltd. Retrieved from http://siteresources.worldbank.org/SOUTHASIAEXT/Resources/Publications/448813-1171648504958/SouthAsiaGrowthandRegionalIntegration.pdf
[3] Deepika, W. (2009). 'Assessing the potential for growth of intraregional trade in South Asia'. Retrieved from http://www.unescap.org/tid/publication/tipub2563_chap3.pdf
[4] Asia Pacific Economic Cooperation. (n.d.). 'Apec business travel card'. Retrieved from http://www.apec.org/about-us/about-apec/business-resources/apec-business-travel-card.aspx