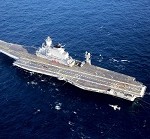 The U.S. and Israel have recently overtaken Russia as top arms suppliers for India. Reviving the defence bilateral will be a key topic on the agenda for President Putin's visit to India on 10 December 2014. Sameer Patil, associate national security fellow at Gateway House, comments on the India-Russia defence bilateral and expectations from President Putin's visit.
Statement:
"While Russia has historically been India's top arms supplier, unreliability and delay in spare parts supplies, defective spare parts and disagreements over the pricing of equipment (e.g. the $2.3 billion deal involving the Russian aircraft carrier INS Vikramaditya) have led to troubled defence ties between India and Russia in the post-Cold War era. As a result, when India started implementing its military modernisation plan a decade and a half ago, it aimed to diversify its arms imports, paving the way for the U.S. and Israel to emerge as top arms suppliers for the Indian military.
Defence cooperation between India and Russia currently includes maintenance of Soviet Russian-origin equipment in the Indian military, lease of the Akula-class nuclear submarine – INS Chakra – to the Indian navy for 10 years starting 2012, and military exchanges such as the Indra-series joint exercises between the Indian and Russian armies and navies, and more recently, the air forces as well.
Joint development of military equipment remains a key opportunity to boost defence cooperation between India and Russia. Both countries are already developing the Fifth Generation Fighter Aircraft (FGFA) and the Multi-role Transport Aircraft (MTA) which is a $600 million project. Additionally, both sides are exploring the opportunity to co-produce equipment such as Kamov Russian choppers for the Indian navy.
The Indian government is focused on reducing arms imports and boosting defence production through the 'Make in India' campaign. During President Putin's visit to India, substantial progress can be expected on joint research, development, design and co-production of equipment by way of an agreement on military-technical cooperation. India and Russia are also expected to ink an agreement for the development of an advanced version of the BrahMos cruise missile. Russia is keen to lease another nuclear submarine to the Indian navy, which will figure in the discussions along with an agreement to enhance military exchanges.
However, the Russia-Pakistan defence agreement will cast a shadow on the bilateral discussion. While Russia is expected to clear the air on the agreement, India will convey its concerns regarding the implications of the Russia-Pakistan agreement for its security interests."
For more information or interview requests, please contact Reetika Joshi at joshi.reetika@gatewayhouse.in