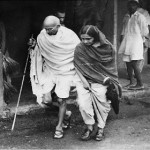 As the daily toll of numbers of Covid-19 cases rise around the world, examining possible responses of   Mahatma Gandhi could be useful. Gandhi felt political work was not sufficient and he was driven to a 'spirit of service' as a young man in South Africa. His success in the practice of law notwithstanding, Gandhi 'longed for some humanitarian work of a permanent nature'.[1] He got the opportunity:  Gandhi's nursing skills stood him in good stead when he volunteered his services to the Empire in times of war or served the community in times of disease, while his passion for cleanliness became one of the pillars of satyagraha (truth force).
To fulfill his longing in South Africa, Gandhi took up work as a compounder in the dispensary attached to a  charitable clinic run by Dr. Lancelot Booth. Gandhi spent a couple of hours away from his legal practice on a daily basis, talking to patients primarily indentured Indians and learning of their difficulties. Having ascertained the patients' complaints, he would inform the doctor and dispense the medicines. This work experience served Gandhi well, when he later volunteered during the Boer War.
Perhaps tending to his father in his final illness, together with his innate compassion, fuelled Gandhi's yearning for public service in nursing. Even before volunteering for Dr Booth, Gandhi had fed a leper who came to his door, given him shelter and dressed his wounds before sending him on to the Government Hospital.  [2]
Gandhi's two younger sons, Ramdas and Devdas, were born in South Africa. Despite resolving to have the best medical service for his wife Kasturba's delivery, getting a trained Indian nurse was an issue. The fear of being 'left in the lurch' at the critical moment led Gandhi to study Dr. Thribuvandas's Ma-ne-Shekhaman (Advice to a Mother) and he nursed both his children accordingly, tempered by his other experiences. The nurse was only for Kasturba; Gandhi himself took care of the babies. The last child had to be delivered by Gandhi due to the unavailability of the doctor and midwife, and he did so without being nervous. [3]
After he established Tolstoy Farm in 1910, he coaxed a 70-year old client, Lutavasinh, to give up smoking, put him on a special diet and cured him of asthma in a month. [4]At this time he also cured the stationmaster's son of typhoid with a particular diet and cold mud poultices on the child's abdomen.[5]
When Gandhi returned to India to bring his family to South Africa in 1896, plague broke out in Mumbai. Fear of an outbreak in Rajkot led Gandhi to volunteer his services to a committee to look into the matter. Gandhi's immediate suggestion to improve cleanliness of latrines led to inspections of these in every street. The poor agreed to the inspections and undertook the suggested improvements. The untouchable community had no latrines and had to use the open air instead. But their actual living quarters he found to be clean and well kept, and in no danger of hosting the plague.[6] The latrines of the rich, observed Gandhi, were abominably filthy – they resisted inspection as well as the renovations suggested to improve sanitation.
For Gandhi, good sanitation was a means to gain the respect of and reduce oppression by the white rulers: 'For whenever there is an outbreak of epidemics, the executive, as a general rule, get impatient, take excessive measures and behave to such as may have incurred their displeasure with a heavy hand.' [7]
Gandhi's loyalty to the empire at the time stemmed from his belief that India could achieve 'complete emancipation only within and through the British Empire'.[8] Therefore, Gandhi thrice volunteered his services to the British when they were at war, despite his sympathies being with the opposing side.
At the outbreak of the Boer War 1899-1902, Gandhi assembled 1,100 volunteers who the kindly Dr Booth trained in ambulance work. The Indian Ambulance Corps (IAC) was called into action when the Boers put up a tough fight. Although the IAC was kept out of the firing line, and had the protection of the Red Cross, eventually they were requested to pick up the wounded within the firing line, sometimes carrying them on stretchers for 25 miles. They served for six weeks and were lauded in the press, as being 'Sons of Empire'.
Once again, in 1906 during the Zulu Rebellion, Gandhi offered the services of an IAC of 24 strong. Gandhi's sympathies were with the Zulus. He felt it was not rightly labelled a rebellion: a Zulu chief refused to pay a tax newly levied on his people. So Gandhi was delighted when the IAC was assigned to tend to the wounded Zulus. Dr Savage, the Medical Officer, was pleased to have their assistance, as the white nurses refused to tend to the Zulus.[9] Though the job of the IAC was simply to bring the wounded to the hospital, the team happily took on the job of nursing the Zulus, whose wounds, inflicted by torture, were festering. [10]The behaviour of the IAC impressed even those British commanding officers who had hitherto opposed Gandhi, and they specially called to thank him.[11] Each member of the Corps was awarded a medal.
The third occasion was during World War I, when Gandhi raised another IAC of eighty volunteers in the UK, at the outbreak of the war. This was a controversial move, as many supporters felt it went against the principle of ahimsa (non-violence). Though Gandhi prevailed, ultimately he was the only one of the eighty who was unable to participate due to his ill-health.
The Spanish Flu epidemic must have been raging when Gandhi's political work led him to support the Khilafat Movement at the end of the World War I, with the aim to foster closer relations between Hindus and Muslims. As troop ships and soldiers returned after the war, they brought the infection first to Mumbai, and then as they dispersed to their home villages, the rural areas got infected as well.
By 1919, the virus became virulent, killing large numbers of young aged between 20 to 40. So many young women succumbed to it, that for the first time India's birth rate that year fell by 30%.[12] Spanish protocols to protect against it – wearing of masks, keeping distance, isolating and quarantining in case of infections, allowing for fresh air and light – were all remarkably similar to those currently in place against Covid-19. Yet in India, the colonial administration took little action. This may have been due to a dearth of doctors – some away at the war front, or themselves victims of the virus.
Suffering from exhaustion after the Champaran and Kheda campaigns, Gandhi was wracked with dysentery and in need of surgery for fissures. While he lay seriously ill, his daughter-in-law and grandson died, due to the 'flu. Yet, strangely Gandhi did not name their illness or mention the 'flu that reputedly killed upwards of 15 million people in India. Likely, the authorities' lack of response and suppression of media hid the facts of this epidemic. Therefore no call to action was taken by Gandhi.
How would Gandhi have reacted to the pandemic of today?
So far, though India has a very high rate of infection, the mortality from Covid-19 infections is lower compared with other countries. Nevertheless, it has severely strained medical resources and impacted the economy, putting livelihoods at risk.
With the available knowledge of protocols to follow, it is possible to imagine Gandhi's sarvodaya workers organizing in groups of six to eight and going from the city slums to villages with masks, brooms, disinfectant and soap, upon the outbreak of the pandemic. These simple items would be donated by big businesses or through collections taken up by community organizations. Distribution of food and essential items would be addressed similarly.
Despite the Swachh Bharat (Clean India) campaign in place for the last six years that has the Mahatma's iconic spectacles on its logo as his endorsement, cleanliness of public spaces still requires a good deal of work. Gandhi's  workers would sweep and clean all the public areas of the slum or village upon arrival, while educating the residents how to do so, if needed. They would also inspect all homes, advise residents about disinfecting common spaces, ensuring good ventilation and the need to wash hands upon returning home from outside. Getting fresh air and daily exercise would be encouraged. They would tour the area regularly, returning to each slum and village at least once a month to encourage the communities, refresh supplies and boost morale.
The workers would stress the importance of avoiding crowded places, while wearing masks when outside. To overcome the problem of a shortage of masks or using disposable masks that create more waste for landfills, they would turn mask-making into a cottage industry – already being done in many parts of the country. Sarvodya volunteers would encourage residents to introspect, and use the time to discover their own hidden potential, to turn it into an advantage to produce more or explore avenues of thought and creativity.
Many of these measures are indeed already in place in India, mostly carried out by NGOs, inspired by the model that Gandhi, the civilly disobedient satyagrahi who believed – that political work goes hand-in-hand with social reform, of which cleanliness and hygiene are the chief pillars.
Coonoor Kripalani, is a writer and researcher residing in Singapore. She is a former Honorary Institute Fellow, Hong Kong Institute for the Humanities & Social Sciences (inc. Centre of Asian Studies), University of Hong Kong.
A version of this article was originally published in the Seminar Magazine.
This article was exclusively written for Gateway House: Indian Council on Global Relations. You can read more exclusive content here.
For interview requests with the author, or for permission to republish, please contact outreach@gatewayhouse.in
© Copyright 2021 Gateway House: Indian Council on Global Relations. All rights reserved. Any unauthorized copying or reproduction is strictly prohibited.
Sources
[1] M.K. Gandhi, Trans, Mahadev Desai, An Autobiography: The Story of My Experiments with Truth (Ahmedabad, Navjivan Publishing House, reprint 1976), p. 151.
[2] Ibid., p. 151.
[3] Ibid., p. 152.
[4] Louis Fischer, The Life of Mahatma Gandhi (Toronto: Collier Books, 1969), pp. 67-8. Also, M.K. Gandhi, Trans. Valji Govindji Desai, Satyagraha in South Africa, (Ahmedabad, Navjivan Publishing House, reprint, 1972), p. 233-4.
[5] M.K. Gandhi, Satyagraha in South Africa, p. 234.
[6] M.K. Gandhi, An Autobiography, p. 127.
[7] Ibid.,p.163.
[8] Ibid.,p.161.
[9] Ibid.,p.236.
[10] M.K. Gandhi, Satyagraha in South Africa, p. 91.
[11] M.K. Gandhi, An Autobiography, p. 236.
[12] Lentin, Sifra, 'The 1918 'flu: India's worst pandemic', Gateway House Weekly Brief, 17 September, 2020,  https://www.gatewayhouse.in/1918-flu-india/?utm_source=MadMimi&utm_medium=email&utm_content=India%2C+the+G20+and+an+African+agenda+%7C+The+1918+flu+India's+worst+pandemic&utm_campaign=20200917_m160059292_Weekly+Briefing+2018&utm_term=The+1918+flu+India_E2_80_99s+worst+pandemic (Accessed October 30, 2020).