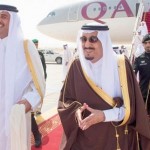 Six Arab states–Saudi Arabia, the UAE, Bahrain, Yemen, Libya and Egypt, and two other countries, the Maldives and Mauritius, cut off diplomatic and commercial ties with the gas-rich emirate of Qatar on Monday, June 5, closing off their ports, airports and borders. They have also barred their residents from visiting Qatar and vice versa. The UAE, Saudi Arabia and Egypt have also closed their airspace to flights to and from Qatar: flights from Mumbai to Doha are therefore taking longer now.
On Tuesday, June 6, President Trump weighed in on the issue in a series of tweets, claiming credit for the move: "During my recent trip to the Middle East I stated that there can no longer be funding of Radical Ideology. Leaders pointed to Qatar – look!" The U.S. stance was a surprise as Qatar is its ally and hosts a major U.S. base.
The whys of it
Saudi Arabia is driving this move against Qatar for its alleged support of terrorist groups, such as the Muslim Brotherhood, ISIS and Al Qaeda–and Iran.  Qatar's foreign policy, especially on Iran, differs notably from that of the Saudis. As a small country sandwiched between larger rivals, Qatar cannot afford to make an enemy of either, and its decisions on Iran–and other matters–show that it often does not see eye to eye with Saudi Arabia. Consider the following:
–In 2006, Qatar was the only nation that voted against the UN Security Council Resolution 1696, which expressed concern at Iran's nuclear programme. Saudi Arabia and the U.S. were completely opposed to the programme.
–In 2016, after Iran and the six global powers concluded the JCPOA (the Iran Nuclear Deal), Qatar was one of the countries to welcome it. Saudi Arabia continues to view Iran as a threat. The U.S. is party to the JCPOA, but the remaining American sanctions on Iran mean that the benefits of the JCPOA have not materialised for Iran. This is a way of undermining the agreement without actually violating it.
–In January 2016, Qatar recalled its ambassador to Iran after attacks on the Saudi embassy, but didn't cut off diplomatic relations entirely: Saudi Arabia and Bahrain did.
–Iran and Qatar jointly share the world's largest gas field, and have cooperated on its development. Natural gas exports from this shared field account for most of Qatar's income from exports.
–Qatar had provided financial support to the Muslim Brotherhood-led Morsi government in Egypt while Saudi Arabia supported the 2013 coup that overthrew Morsi.
Following President Trump's visit to Saudi Arabia, the emir of Qatar was quoted on May 23 by the official news agency as saying that there was "no wisdom in harbouring hostility towards Iran". This was later denied, Qatar claiming that this was the work of hackers. On May 27, the emir of Qatar spoke to the president of Iran over the phone which was viewed very negatively in the rest of the Gulf.
Qatar has enormous influence within the Arab and Islamic World because of its media, the state-owned Al Jazeera, and Saudi Arabia thinks that it needs to be brought in line. The reason for its acting now may be that in the wake of President Trump's visit to the desert kingdom, it feels it can count on the U.S.'s support to contain Iran. Saudi Arabia signed deals to purchase weapons worth up to $110 billion, while in his speech to the Arab states, President Trump called Iran the major source of terrorism and instability in the region.
What happens next?
This is the second time Saudi Arabia and its allies have recalled their diplomats from Qatar, the earlier instance being in 2014, but they had not cut off trade and other ties. On the escalation matrix, the current action looks like a 10/10, leaving no further scope for an endgame.
The Saudi action seems impetuous. From this point it will be difficult for them to step back—unless Qatar agrees to a major compromise. With the U.S. also signalling support for the Saudi move, Qatar may have no other option. The severity of the Saudi action—compared to 2014–may be due to there being a different king at the helm now and a different president in the U.S.
A long blockade will hurt Qatar's economy, particularly the ongoing construction projects which will affect the 600,000 or so Indians, who work in the emirate. A slowdown will lead to job losses.  India must not take sides in this dispute or try to weigh in in any manner: over seven million Indians live and work in the Gulf Cooperation Council member countries and any move may have repercussions on them too. India imports natural gas from Qatar, but this is unlikely to be affected.
Iran may be the intended target of this entire enterprise, through which Saudi Arabia could be sending out a message to countries and companies doing business with its rival.
The Saudi alliance is also working on other fronts to keep Iran economically isolated. A series of leaked emails between UAE's ambassador to the U.S. and a pro-Israel think tank indicate that the UAE (and Saudi Arabia) are working behind the scenes to isolate Iran. These emails include a list of non-U.S. businesses with operations in Saudi Arabia or UAE that intend to invest in Iran, and offer them a 'choice'.
For the U.S. too, the clampdown on Qatar is a way of keeping Iran in isolation. Presidential candidate Trump was critical of the Iran nuclear deal during his campaign, and therefore has reason to undermine it. The action on Qatar is a clear indication of the U.S.'s intent on Iran–without violating the letter of the JCPOA.
Indian businesses seeking to engage with Iran must be mindful of the potential ramifications and fall-out of this move by the Saudis.
Amit Bhandari is Fellow, Energy & Environment Studies, Gateway House.
This blog was exclusively written for Gateway House: Indian Council on Global Relations. You can read more exclusive features here.
For interview requests with the author, or for permission to republish, please contact outreach@gatewayhouse.in or 022 22023371.
© Copyright 2017 Gateway House: Indian Council on Global Relations. All rights reserved. Any unauthorized copying or reproduction is strictly prohibited.