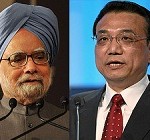 When Chinese Premier Li Keqiang visits India from May 19-21, the Sino-Indian territorial dispute will be on the top of his strategic agenda.
Li will visit against the backdrop of the recent Sino-Indian stand-off at the Depsang Valley in eastern Ladakh. In April, China's border patrols transgressed 19 kilometres into India-claimed areas.
The border intrusion was timed a month after China's new President Xi Jinping took over in March and identified the territorial dispute as the first of his five-point formula for relations with India. Xi also emphasised improving strategic communication, people-to-people contacts, cultural exchanges and economic ties.  Xi had suggested that the "complicated" territorial dispute could be resolved in the medium to long-term. But when he met Indian Prime Minister Manmohan Singh at Durban the same month for the BRICS summit, Xi stated that the dispute needs to be resolved "as soon as possible."
The last few years have seen a spurt in turbulence and nationalism in China's relations with neighbouring states. Relations between China and South-east Asian countries deteriorated in 2009 after Beijing identified the disputed South China Sea islands as a "core interest."  Previously, China had identified Tibet and Taiwan as core interests.  China-Japan relations have plummeted with new disputes over the SenkakuIslands and energy fields in the East China Sea. In April 2013, China's foreign ministry spokeswoman identified these islands as a core interest, indicating the likelihood of a potential escalation in Sino-Japanese conflict.
During his visit to India, Premier Li is likely to suggest a strengthening of confidence-building mechanisms on the disputed border – but these proposals to de-escalate border tension need careful scrutiny.
China has resolved land territorial disputes with all its 14 land neighbours except India and Bhutan – a history that provides China a psychological upper-hand over India. In the light of recent Indian measures to counter the Chinese military build-up in Tibet and adjoining areas, Beijing is now contemplating proactive measures to bind Indian forces and movements in legal framework agreements on the boundary. Li is likely to press for more such measures with India.
Given India and China's differing security perspectives, there is little hope that Li's landmark visit will speed up a resolution of the border dispute. Both sides are likely to make border stability rather than border resolution the focus of their dialogue. But the time has come for concrete outcomes on the territorial dispute.
In 1960, three Sino-Indian boundary discussions took place in New Delhi, Rangoon and Beijing, and eight between 1981 and 1988 at the joint-secretary level. These were elevated to the Joint Working Group (JWG) level led by the foreign secretary and 15 such meetings took place till 2005 when these talks were further elevated to the Special Representative-level under the Prime Minister's Office. While India has had four Special Representatives, Dai Bingguo led Chinese negotiations until the 15th meeting last year. Dai has now been replaced as state councillor by former foreign minister Yang Jiechi.
The 16th round of Special Representative-level boundary negotiations will take place this year. At the 15th Special Representative meeting in New Delhi in January 2012,  both sides reportedly exchanged a framework to clarify their respective jurisdictions.
The most significant outcome of bilateral agreements on the territorial dispute is enshrined in agreements made in 2005 and 2006. These reflect on possible ways to resolve the boundary dispute. The April 2005 "political parameters and guiding principles," for instance, is elaborate. Article 3 of this agreement mentions the need to make "meaningful and mutually acceptable adjustments to their respective positions on the boundary question''; Article 4 requires both sides to give "due consideration to each other's strategic and reasonable interests, and the principle of mutual and equal security" which is indicative of Chinese sensitivities for secure peripheries.
China's boundary dispute settlements with 12 of its 14 land neighbours show a pattern and also serve as useful indicators of what India can expect in future negotiations. In a majority of these settlements, China has insisted on demilitarisation of the border areas – up to 100-kilometres in the case of China's borders with Russia and Central Asia. The demilitarised zones give China more room to focus on the security challenges posed by the U.S. and Taiwan, which China claims as a renegade province. China and Vietnam have looked into the possibility of not dividing ethnic families in border areas. In its border dispute resolution with Burma as well, Chinese leader Zhou Enlai mentioned this point in the late 1950s.
Following this precedent, it appears that China is proposing a demilitarised zone across the border once the current Line of Actual Control is delineated and demarcated, and the territorial dispute is finally resolved. It is likely that a 20-kilometre demilitarised zone may be proposed by the Chinese all across the current Line of Actual Control as part of the final boundary dispute resolution, although the Beijing-Lhasa railway to Tibet and a slew of major infrastructure projects have enhanced Chinese military logistics in the region.
The details of a proposed Border Defence Management Agreement (BDMA), with potential demilitarisation proposals, have been closely guarded by both sides.
China may propose additional measures in the new BDMA, compared to the last such agreements with India in 1993 and 1996. China's plans to compel India to demilitarise and reduce border deployments have serious security implications. China has been boosting border troop deployments, while India has in the past diverted border deployments to Kashmir for counter-insurgency operations. Military patrols will be a challenge post-demilitarisation. It is also unclear whether future demilitarisation will be applicable to missile deployments – in any case, future Chinese missiles will be transported on rail.
When New Delhi negotiates with Li, it is therefore important to demand Chinese reciprocity on all strategic issues. The boundary may remain disputed in coming years. It is in India's immediate interest to put other pressing concerns on the negotiating table as well – starting with China's failure to endorse India's bid for permanent membership of the United Nations Security Council.
Srikanth Kondapalli is Professor in Chinese Studies and Chairman, Centre for East Asian Studies, at Jawaharlal Nehru University, New Delhi.
This article was exclusively written for Gateway House: Indian Council on Global Relations. You can read more exclusive content here.
For interview requests with the author, or for permission to republish, please contact outreach@gatewayhouse.in.
© Copyright 2013 Gateway House: Indian Council on Global Relations. All rights reserved. Any unauthorized copying or reproduction is strictly prohibited.