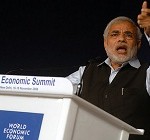 Recent reports suggest the Bharatiya Janata Party (BJP) will make the Ram Mandir a major issue in the upcoming Lok Sabha elections. This may raise some challenges for India's business leaders, many of whom have been enthusiastically advocating Narendra Modi as a future Prime Minister of India.
There is an urgent need to reflect both on how the revival of the Ram Mandir issue could impact the economy and consider creative ways for businesses to deal with the emerging political climate.
So far, the widespread support for Modi within the business community has been based on the perception of his ability for good governance. Many individuals doing business in Gujarat have found that there is much less red-tape and corruption. Above all, Modi is now seen as a decisive and dynamic leader.
This is why many people who are opposed to ethnic prejudices, and certainly horrified by communal violence, feel drawn towards the prospect of Modi as prime minister. Their reasoning is that many political leaders have been responsible for communal violence in different parts of India over the last six decades, so why single out Modi for what happened in Gujarat in 2002.
Confidence in this line of reasoning was steadily rising with Modi projecting development and economic growth as the key issues of his election campaign. It became tempting to believe that the Rashtriya Swayamsevak Sangh (RSS)-BJP combine had shifted its focus from identity politics to the challenges of securing India's position in the global economy.
Hoardings of Modi declaring "I am Hindu Nationalist", which went up all over Mumbai last week, may have shaken this confidence. The RSS leadership giving Modi a green signal to raise the Ram temple as an election issue should make it impossible for anyone to believe that Modi is a benign choice. Why should this make business leaders rethink their advocacy of Modi?
It could be argued that an attempt to revive the Ram Mandir issue will fall flat. Anecdotal evidence indicates that most young people, millions of whom will be first-time voters in the next election, do not relate to the Masjid-Mandir dispute or its accompanying historical-cultural baggage.
Even if this turns out to be true, there is still a huge risk that raking up the dispute in Ayodhya will raise communal tensions—making the body politic both toxic and highly volatile. Further polarization along communal lines will not only make everyday life more precarious, it will undermine the dream of India as a strong country and vibrant democracy. Outbreaks of mass violence, involving tragic loss of life and property also take a toll on the economy.
A cynic might counter this by saying that an economy as large as India's can bear the shocks of periodic bouts of communal violence.
But, is that a valid reason to knowingly make choices that will endanger both the social and economic fabric? Those who answer this question with a yes can sit back and go with the inexorable flow of events.
Those who say no and want to forge a different future for India have work to do, much of it within their own companies and the communities where they are located.
It is not the business of business to engage in unravelling the complexity of identity politics. But business leaders can improve or worsen the situation by overtly or covertly validating and supporting combatants in the arena of communal disputes.
Globally, the history of the last century is replete with instances of both kinds, where business leaders aided the forces of darkness and other instances where they played an exemplary role in finding creative solutions to ethnic conflict.
Among the most notable of the latter is a non-profit in the UK called Business in the Community, which was founded in 1982 as a response to race riots. Though it now works on various aspects of corporate social responsibility, its initial impetus was to enable businesses to address the causes of racial tension and violence.
As a trustee of Citizens for Peace (CfP), a Mumbai-based civic group, I have been part of an initiative to promote a Business for Peace charter. CfP was founded by professionals in Mumbai in response to the communal violence that rocked the financial capital, in 1992-93, following the demolition of the Babri Masjid in Ayodhya.
The premise of the Business for Peace charter is that India's private sector has a role to play in building immunity against communal tensions. This voluntary code outlines actions that companies can undertake to promote a healthy social climate both within their own space and in the public sphere. (The charter can be accessed at www.citizensforpeace.in)
An initiative like this needs to grow and permeate the entire business community. But this can only happen when business leaders are themselves prime movers, not just of a particular charter but of a vision for India that is greater than the forces of polarization.
Rajni Bakshi is the Gandhi Peace Fellow at Gateway House: Indian Council on Global Relations.
This article was originally published by Livemint on July 21, here,  and is republished with permission from the author.
For interview requests with the author, or for permission to republish, please contact Gautam Kagalwala at kagalwala.gautam@gatewayhouse.in or 022 22023371.