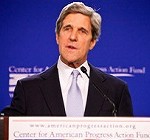 Almost six months after his installation as Secretary of State and more than a dozen visits to the turbulent Middle East, as well as to other parts of the globe, John Kerry is coming to India – the country that was supposed to be the "lynchpin" of U.S' Asian strategy.
The visit is framed by three elements. First, it is difficult not to notice that his visit, as did that of Chinese Premier Li Keqiang, rehyphenate India and Pakistan, with back-to-back visits. Second, Prime Minister Manmohan Singh's domestic political preoccupations make it a moot question whether India itself is in a position to make substantive progress in a largely stalled bilateral relationship. Finally, the remaking of the Asian region currently underway, certainly demands close India-U.S. consultation.
Domestically, the announcement of Gujarat Chief Minister Narendra Modi as the President of the Election Committee of the Bharatiya Janata Party (BJP) has prompted a reordering of Indian politics. The BJP's allies, including ruling regional parties in Bihar, Jharkhand and Odisha, have announced, or are in the process of announcing, their parting of ways. That has yet again given a new wind to the perennial talk of a third front, which till now had only been a gleam in the eye of Mamata Banerjee of the Trinamool Congress since her break with the Congress-led United Progressive Alliance last year and of the on-again off-again Samajwadi Party in Uttar Pradesh. While denying that the BJP move is a challenge, the Congress Party has not only reconstituted its All-India Committee, but also undertaken an underwhelming Cabinet reshuffle. The Left parties which were decimated in the last election are inserting themselves into the talks on the third front.
Into this merry-go-round, will arrive Senator Kerry.
Simultaneously, our immediate neighbours are reinventing the region. In Pakistan, Nawaz Sharif must be hoping to be third-term lucky as prime minister of a country torn by terrorist attacks, Shia-Sunni disputation and a deeply indebted, collapsing economy. The Awami League government in Bangladesh, seeking to recover its secular, inclusive beginnings, is under vicious attack from Islamist forces as the country approaches elections in autumn. Political parties in Nepal feel no urgency to write a new Constitution even years after their mandate has expired. Sri Lanka seeks to shore up long-term Sinhala dominance over the Tamil minority through ever-closer ties, including defence, with China. The Maldives is preparing for elections with confusing realignments among its old and new political forces, all claiming to want to keep Islamists at bay. However, Afghanistan, with presidential elections looming in April 2014, remains the centrepiece for the U.S., as it withdraws from the country.
In the broader Asian region, the new Chinese leadership is settling into a more abrasive policy vis-à-vis its neighbours, causing U.S. treaty allies Japan and the Philippines to demand support from their benefactor even as China sought to claim Asia as its sphere of influence from the U.S. at the recent Xi-Obama informal meeting in California. The unexpected victory of moderate, Hassan Rohani to the presidency in Iran, is an opportunity for the U.S., which has offered direct talks in the nuclear stand-off even as Israel warned sternly against any change in the western policy of sanctions. And the U.S.' relations with Russia worsen daily over widening differences on Syria, where the death toll is approaching a hundred thousand.
India, with its preference for pluralistic societies, and the U.S., also differ significantly in their perspectives on a solution to the crisis in Syria. But it cannot be a complete coincidence that the timing of the American decision to supply arms to Syrian rebels has come close on the heels of the global and domestic outcry over cyber-spying by the U.S.' National Security Agency – an oft-used U.S. tool to deflect public fury.
Like the dismay from the U.S.' European allies, our government has also asked for an explanation from the U.S. about India being the fifth most-spied-upon country. A morally-compromised America will have a harder time persuading sceptical Indians that its shift on Syria has to do with conclusive evidence on the use, by the Assad regime, of chemical weapons. This, when the daily death toll in Iraq keeps alive the memory of the fictitious Weapons of Mass Destruction used as the excuse for that invasion in 2003.
However, the differences over Syria should not obscure the full strategic agenda that India has to discuss with the U.S. Just a couple of weeks ago, President Obama announced major changes in the US' outlook on the world, especially on the terrorism question. By arguing that it is no longer going to pursue a global war against terror, the U.S. has made it official that it is no longer engaged in an open-ended pursuit of all terrorist groups, but will focus on those that threaten its own mainland. This shift also provides a philosophical underpinning to the U.S.' so far unsuccessful efforts to engage the Taliban for a safer exit from Afghanistan.
For India, it has implications for how much, or rather how little, pressure it will put on Pakistan to restrain groups such as the ISI-sponsored Lashkar-e-Taiba to desist from terrorist activities that target us. We also need to learn firsthand just what understandings the U.S. and China have arrived at regarding Asia – considering the near universal interest in containing the terror face of political Islam, the energy resources of Central Asia, and freedom of navigation in the Indo-Pacific.
According to Stockholm International Peace Research Institute, India has contracted to buy over $10 billion worth of weapons from the U.S. The quantum and quality of the defence relationship gives us the leverage to seek to understand the changes in US-China equations with a strenghtened China demanding to be treated as an equal big power, but we must also respond to often-made public promises to foreign investors, on economic reform.
U.S. senators and major CEO's are criticising India for backsliding in its economic reform programme. These misgivings are most succinctly captured in an open letter from the Chairman of the U.S.-India Business Council, Ajay Banga, to President Obama stating that these include: "Indian tax policy, aspects of which haunt investors… intellectual property policy, especially as it affects the pharmaceutical industry… the serious challenge to American electronics and IT service firms and manufactures from India's new preferential access market policy which, bluntly stated, discriminates against foreign competition."
The council does not leave it there. It wants, among other things, the opening up of the insurance sector, FDI in retail, a change in nuclear liability legislation – precisely the things that this government had promised, and given the political churn underway,  cannot possibly deliver in its last year.
It appears that once again, we will have an exchange of nice words, but a continued drift in the important India-U.S. bilateral will remain. Because the U.S cannot deliver on the strategic front and India cannot deliver on the economic front.
Ambassador Neelam Deo is Director of Gateway House: Indian Council on Global Relations and former Ambassador to Denmark and former Joint Secretary for Myanmar, Sri Lanka, Nepal and Bangladesh.
This article was exclusively written for Gateway House: Indian Council on Global Relations. You can read more exclusive content here.
For interview requests with the author, or for permission to republish, please contact outreach@gatewayhouse.in.
© Copyright 2013 Gateway House: Indian Council on Global Relations. All rights reserved. Any unauthorized copying or reproduction is strictly prohibited.