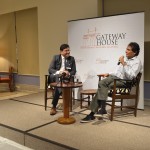 These remarks were given during an event at Gateway House. Click here to view more details.
Good evening, friends.
Today is a Friday evening in the busy city of Mumbai. It is an achievement on the part of Gateway House, Manjeet Kripalani and her colleagues that their work has drawn you here. I'm sure your appetite for learning more about global issues has been well satiated over the years by Gateway House, which is a top think tank working on global affairs.
The reemergence of India over the last few years has happened as a process, and not overnight. Today, India is recognised as one of the important players in the world in almost all spheres of activity. In terms of the economy, of Purchasing Power Parity (PPP), India is third in the world, among the top economies. In dollar terms also, (its GDP ranking) is 6th in the world. India's economy is strong at over $1.8 trillion, but the challenge is to realise that this amount is shared by around 1. 3 billion people. The world may see the huge grand total. But per capita income is a domestic issue: we need to make sure that whatever wealth is generated is distributed and people have a good quality of life.
Another global issue is environment. As a part of the ministry of environment 20 years ago, I always said that India may not be a part of G7, but it is a part of P7 – 'Potential Polluters 7'. Environmental problems are the unfortunate outcome of economic activity, causing depletion of national resources (while producing this economic output). Therefore, they have an impact on us. When we become a large economy, people look at us as a market, and as a part of global supply chains, wherein we do not only sell products, but also source them.
The environment becomes a global issue because if we pollute in our homeland, it affects other countries as the ecosystem is inter-related. For instance, South Korea, like its neighbour, Japan, has the most stringent environmental laws – and compliance laws – along with a good governance system to ensure that it adheres to the highest environmental standards. Despite this, South Korea suffers from environmental damage. The reason is that its neighbour is a polluter and it cannot prevent the effect on itself – therefore, the environment is a global issue.
Or take, for example, the typhoons that hit America. Where do they originate? Not in the U.S., but somewhere in Africa or other far-off place, they travel miles before they hit America. This is because of the oceans warming. So, India has a stake here as it too can get affected. If we don't take care of the environment, it will have an impact on the global community.
The global community faces some acute social issues as well. Just like the typhoons that hit the U.S., having originated elsewhere, the European governments are facing a geopolitical shock because the problem in Syria led to refugees all over Europe, a problem they did not expect. Since the refugees had to be absorbed, Merkel took a stand to take them all in and then lost ground, domestically and abroad. So social issues are also, in a way, global issues.
Coming then to the G20, this is a grouping of countries whose economic output constitutes 85% of global GDP. The figures even within this are quite skewed as 20 economies out of the total number of countries – that is, about 10% — will have 85% of global output. It is an important forum. The G20 – unlike the G7, which comprises the world's seven largest economies – is a unique combination of developed and developing nations. (Countries like Indonesia, Brazil, India, and South Africa are economically in the first 20, but still cannot be called the most developed countries.) A decision taken by the G20 has far greater acceptability than that taken by any other forum that is more exclusive.
India has now become a key player in the G20, and I have followed G20's processes for a long time, having been India's Sherpa in 2014 too. G20 is maturing as a grouping, people know each other better from working together. The operational comfort between countries has increased. At the same time, because the G20 constitutes 85% of the global economy, if the global economy slows – and that is not in anybody's interest – every country will be affected.
The global economy has been slowing – despite some recovery after the 2008 crisis – and this can be attributed to trade. Global trade was the driving force of the global economy. Prior to 2008, commodities, which constituted the bulk of trade, were being taken across the globe in a very intensified manner, which led to trade and commodity growth being greater than the global economy's growth. Since the slowdown, countries are questioning the very basis of global trade. The governing body – the World Trade Organization – is raising existential issues. This is worrying. India strongly feels it must promote the WTO.
In 2017, following the collapse of talks at the Buenos Aires ministerial conference in December, we organised a 'mini ministerial' meeting in New Delhi, which was attended by all 57 countries. And two months ago, we organised a similar event with only developing countries. We are planning to find out, in our own way, as Indians, how to ensure that global trade remains a robust and driving force in growth.
In the G20 declaration (at Osaka) issues related to both trade and economic growth were addressed, and I am glad that we played a key role in the formulation of the issues. For example, the other aspect of the economic issue is infrastructure growth. Infrastructure growth itself can spur economic activity. If the infrastructure of some countries is made to grow, this will induce demand from other countries since they will also benefit. An example of this is China's Belt and Road Initiative, which has aided its economic growth.
Some important social issues were also discussed at Osaka. Japan, as the President of the G20 summit, made a very welcome contribution, namely, Society 5.0, which covers how we can make a better society for the future by leveraging technology, how we can manage an aged society, and this is an area where India has a great role to play. We can train people in managing an ageing society. This is, after all, a global issue.
Women's empowerment was another area of discussion. In India, we encourage women-led growth: if all women became economically engaged, that itself will help increase our country's GDP by 1%.
The discussions devoted much time to the environment, climate change, energy and the Paris Agreement, focus areas also for the G7. The oceans are, in a way, the last resort and hope for the environment, absorbing all that happens terrestrially. Marine biodiversity is far richer than terrestrial, biological diversity.
Climate change is not a topic for mere discussion at Gateway House, but a real life issue for people. We must make sure that climate change becomes an integral part of foreign policy.
At the G20 Summit in Osaka, in June, Prime Minister Modi spoke of two other issues, namely, economic offenders, the main objective being to bring offenders back to the country where they committed the offence. Terrorism was the other. The panellists agreed that terrorism is a global issue, part of a global chain, and the global community needs to plan actively on how to counter it.
Technology, another point of discussion, is an area where India has a major role to play. The digital world is around us. There are many conversations taking place about the Fourth Industrial Revolution, and the digital platform will be the foundation for it.
Each of these issues – be it technology or terrorism or ageing – global though they are, are important as they influence our day-to-day lives. We should be conscious of them and work on them.
Another facet emerging from all these developments is that people have started respecting India's opinion. Japan, for example, acknowledged India's contribution at the Osaka Summit. I am happy to inform that India is playing a constructive role and is moving forward. We have also been invited as a partner to the G7 Summit in France (August 24-26). Ambassador Suresh Reddy and I will be going ahead to prepare for the Prime Minister's visit. We share the responsibility of preparing for it, like we did at the G20 Summit in Osaka.
I thank Gateway House for inviting me and those present here for their time.
Suresh Prabhu is the G20 and G7 Sherpa for India and a four-time Member of Parliament. While a Cabinet minister, he has led seven ministries including Commerce, Railways, Civil Aviation, Environment and Forest. He previously served as India's G20 Sherpa in 2014.
These remarks were given during an event at Gateway House. Click here to view more details.
© Copyright 2019 Gateway House: Indian Council on Global Relations. All rights reserved. Any unauthorized copying or reproduction is strictly prohibited