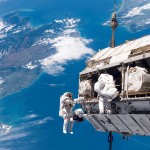 The 2020s will be a decade of space stations. The well-established space powers – Beijing, Moscow, Washington, Paris and Tokyo – as also the newer entrants, Abu Dhabi and Luxembourg, are constructing next-generation space stations that will usher in a new wave of industrialisation. Washington and Moscow, continuing their existing collaboration on the International Space Station, (ISS), the inter-governmental space megaproject, being operated for scientific and diplomatic purposes, recently signed a joint statement on the construction of a space station – a deemed Deep Space Gateway that will orbit the Moon. With sophisticated technological capabilities and finances available, it now seems possible to build such a semi-permanent habitat in deep space. [1]
It is disconcerting that India is the only trillion-dollar economy in the world currently with neither a space station nor involvement in a multilateral project to build one. It also has no strategic preparedness of its own for assembling one.
The Indian space programme can be credited with many achievements, but sustained growth is not one of them. Short-term techno-economic planning and lack of political will to improve the nation's infrastructure are largely to blame for this. If New Delhi were to construct a space station indigenously it will have to begin a long drawn out process of rationale-building, strategic planning, and resource allocation – as was recently made clear in the preamble to the inauguration of the Indian high-speed rail megaproject [2].
The Indian Space Research Organisation (ISRO) has been working on the apparatus for devising its own space station since the last 10 years. In 2007, it carried out the Space Capsule Recovery Experiment on the Polar Synchronous Launch Vehicle (PSLV) to test the structural integrity and viability of its indigenously designed miniature space capsule during its 10 days in orbit and its high-temperature and atmospheric re-entry[3]. Then in 2014, Hindustan Aeronautics Limited (HAL) and ISRO conducted the Crew Module Atmospheric Re-entry Experiment, a 3.7-ton prototype human-rated (capable of carrying crew and their life-support systems) space capsule on its more massive rocket – the Geosynchronous Satellite Launch Vehicle Mark III (GSLV Mk III)[4]. Early in 2017, ISRO had scheduled a capsule abort trial to verify its ability for the crew to make a safe exit in case of an emergency during the rocket launch. [5] This did not materialise: ISRO cited paucity of resources and other reasons and relegated the high-cost space station programme to the back-burner [6].
New Delhi's counterparts, in comparison, China and the United States, are on a bold march ahead. Beijing is scheduled to complete its modular space station in the low-Earth orbit in 2020. It has now tested the entire gamut – human-rated heavy-lift launch vehicle, human-rated capsule, space station modules – and executed several thousand hours of human spaceflight training. Beijing began sending its prototype space station modules, named Tiangong, in 2011. The same year, Washington phased out the National Aeronautics and Space Administration's (NASA) Space Shuttle, the only American crew and cargo transportation vehicle to the ISS.
Since then, Washington's supplies to the ISS have been partially dependent on Moscow's Soyuz crew-cargo spacecraft and Soyuz-Fregat launch vehicle. It was during this lull in its efforts that Washington funded NASA to administer the Commercial Crew Development (CCDev) and Commercial Orbital Transportation Services (COTS), two vital programmes meant for developing next-generation space station infrastructure with public-private partnership.
Washington has used the new aerospace companies, bred through the COTS and CCDev programmes, to hedge against risks that total dependence on NASA could create. Where SpaceX, the space transportation company, utilised the COTS to develop its Falcon expendable launch system and Dragon cargo spacecraft, the other major aerospace company, Orbital Alliant Tech Systems, used it for its Antares expendable launch system and the Cygnus cargo spacecraft. SpaceX will fly crewless its human-rated space capsule Dragon-2 to the ISS in 2018, as part of its ongoing safety tests. Dragon-2's successful capsule abort trials (2015-16) has even taken it into a select league of human-rated space capsules.
These efforts prove that Washington's capacity-building CCDev programme has spawned an industrial sector, dominated by companies that have taken up research, development, and manufacturing (RD&M) of crewed capsules, space cargo delivery systems, inflatable and modular space stations, and rocket launch systems. The ISS will exist until 2028, as per current plans, and these companies will compete for its transportation contracts.
There are geopolitical nuances too to these advancements. Next year will be a crucial one for Washington as it resumes its human space-flight programme after a gap of eight years; 2018 is also the time for the scheduled launch of the Chinese space station's core cabin module, Tianhe. Such scheduling suggests that Washington will strongly back its new aerospace corporations to thrive in the low-Earth orbit by building commercial space stations, and not let Beijing be present there on its own.
The 2020s thus signal the beginning of an era of commercial space stations. Human-rated space stations will be operated mainly by robots, which will enhance human factors and ergonomics tremendously. They will house cutting-edge industries, like three-dimensional printing in microgravity, manufacturing of novel semiconductors and metamaterials, extra-terrestrial mining, space medicine, quantum communications, in situ resource utilisation, and space tourism, to name a few. Domestic and global private-public partnerships are pursuing these innovative projects. Abu Dhabi and Luxembourg, which have low national space budgets and scarce human resources to see them through the long duration of space technology development, find that such enterprises offer them an attractive way of entering the space manufacturing industry. Where Luxembourg is investing tactically in the extra-terrestrial mining industry along with the U.S.-based company, Planetary Resources [7], Abu Dhabi is preparing to go to Mars and planning to send its astronauts either to the ISS or the Chinese space station [8].
Space cooperation finds regular, if unenthusiastic, mention in New Delhi's memorandum and agreements signed with many American, European, and Asian nations [9] – it needs clear spelling out like other bilateral and multilateral undertakings in trade, infrastructure construction, weapons platforms, cyber systems, or transportation units.
New Delhi is under-utilising ISRO by merely focusing on revenue generation from satellite and launch vehicle contracts. It should also use it smartly to create a competitive industrial base of avant-garde technologies: this is essential for India's growth in the 21st century. ISRO is certainly not generations behind its contemporaries, but it needs the resource stimuli and a comprehensive management review to keep up with the fast pace of techno-economic progress. New Delhi must forge public-private enterprises to speed up its space programme, recognising that the next multi-trillion dollar companies will emerge from the utilisation of space stations.
Dr. Chaitanya Giri is Adjunct Fellow, Space Studies, Gateway House. He is also a ELSI Origins Network Scientist at the Earth-Life Science Institute, Tokyo Institute of Technology, Japan. 
This article was exclusively written for Gateway House: Indian Council on Global Relations. You can read more exclusive content here.
For interview requests with the author, or for permission to republish, please contact outreach@gatewayhouse.in or 022 22023371.
© Copyright 2017 Gateway House: Indian Council on Global Relations. All rights reserved. Any unauthorized copying or reproduction is strictly prohibited.
References
[1] Warner, Cheryl, NASA, Roscosmos Sign Joint Statement on Researching, Exploring Deep Space​, (Washington D.C.: NASA, 2017) <https://www.nasa.gov/feature/nasa-roscosmos-sign-joint-statement-on-researching-exploring-deep-space>
[2] Dayal, Raghu, 'Bullet train scripts new paradigm for country; why India much not delay transformation of nation's lifeline', Financial Express, 30 September 2017, <http://www.financialexpress.com/opinion/bullet-train-scripts-new-paradigm-for-country-why-india-must-not-delay-transformation-of-nations-lifeline/876271/>
[3] Indian Space Research Organisation, Department of Space Science, Government of India, SRE-1, (New Delhi: ISRO, 2007), <http://www.isro.gov.in/Spacecraft/sre-1-0>
[4] Indian Space Research Organisation, Department of Space Science, Government of India, Crew module Atmospheric Re-entry Experiment (CARE), (New Delhi: ISRO, 2014), <http://www.isro.gov.in/Spacecraft/crew-module-atmospheric-re-entry-experiment-care>
[5] BR, Srikanth, 'Space age: ISRO's very human test', Deccan Chronicle, 18 December 2016, <http://www.deccanchronicle.com/science/science/181216/space-age-isros-very-human-test.html>
[6] BR Srikanth, 'ISRO puts off its manned mission', Deccan Chronicle, 5 January 2017, <http://www.deccanchronicle.com/science/science/050117/isro-puts-off-its-manned-mission.html>
[7] Aliya, Ram, 'US and Luxembourg frame laws for new space race', Financial Times, 19 October 2017, <https://www.ft.com/content/af15f0e4-707a-11e7-93ff-99f383b09ff9>
[8] Foust, Jeff, 'United Arab Emirates to establish human spaceflight program', SpaceNews, 2 October 2017, <http://spacenews.com/united-arab-emirates-to-establish-human-spaceflight-program/>
[9] Department of Space, Government of India, Joint Project between NASA and ISRO, (New Delhi: Department of Space, 2017), <http://pib.nic.in/newsite/PrintRelease.aspx?relid=169570>
Indian, Space Research Organisation, Department of Space, Government of India, Lok Sabha Unstarred Question no. 2491, (New Delhi: ISRO, 2015), <http://www.isro.gov.in/sites/default/files/lu_2491.pdf>
Ministry of External Affairs, Government of India, Saint Petersburg Declaration by the Russian Federation and the Republic of India: A vision for the 21st century, (New Delhi: Ministry of External Affairs, 2017), <http://www.mea.gov.in/bilateral-documents.htm?dtl/28507/Saint_Petersburg_Declaration_by_the_Russian_Federation_and_the_Republic_of_India_A_vision_for_the_21st_century>
Department of Space, Government of India, Cabinet apprised of the MoU between the Indian Space Research Organisation (ISRO) and the Japanese Aerospace Exploration Agency (JAXA) for cooperation in the field of outer space, ((New Delhi: Department of Space, 2017), <http://pib.nic.in/newsite/PrintRelease.aspx?relid=157461>
Indian, Space Research Organisation, Department of Space, Government of India, India and Brazil Sign Agreement for Cooperation in Space, (New Delhi: ISRO, 2004), <http://www.isro.gov.in/update/25-jan-2004/india-and-brazil-sign-agreement-cooperation-space>