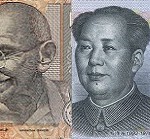 The most visible expansion in India-China relations since the turn of the century is in their economic and commercial engagement. This expansion has coincided with the emergence of the two countries as the fastest-growing economies in the world.
China is now India's largest goods trading partner. India is China's seventh-largest export destination. Even more remarkable, this upsurge in bilateral trade and economic ties has occurred over a short span of time. Over the last 12 years, trade between the two countries has grown at a compounded annual growth rate of 30%.
The trade volume between the two countries in the year 2000 was $3 billion. Eight short years later, China displaced the U.S. to become India's largest goods trading partner, with a bilateral trade volume of $51.8 billion in 2008. In 2011, bilateral trade reached an all-time high of $74 billion. In 2010, during former Premier Wen Jiabao's visit to India, both sides agreed to set a trade target of $100 billion by 2015.
Economic growth, mainly driven by exports and Foreign Direct Investment, transformed China into the "world's factory". This paradigm was different from India's domestic demand driven growth. China scoured the world looking for cheap sources of raw material to fuel its manufacturing boom. India, constrained largely by infrastructural bottlenecks, found China to be the ideal consumer for its raw materials and semi-finished goods.
Primary and raw material-based products dominate India's exports to China. The major exports include iron ore, cotton yarn, copper and its articles, diamonds, and organic chemicals. This contrasts with China's export basket to India, with a preponderance of machinery, electrical machinery, organic chemicals, fertilisers and articles of iron and steel.
Over time, the value-added exports of China have out-paced and out-valued India's raw material-based exports. This has created a large trade imbalance in favour of China. The concern, from India's perspective, is not just the actual size of the deficit but also its unabated year-on-year growth since 2006. In 2012, trade deficit with China touched a high of $29 billion for India. 1 This is more than one and a half times India's total exports of $18.8 billion to China in 2012. 2. Clearly, this is a major challenge for policy makers on both sides, who recognise its impact on the sustainability of growth in trade.
A web of linkages that span civil aviation, banking, and tourism, complement the booming trade. As many as 10 Indian banks have a presence in China.  India is one of the major destinations for Chinese project exports. The cumulative value of contractual Chinese engineering projects in India till February 2013 was $60.21 billion, with an overall realised turnover from these projects at $34.3 billion.
In recent years, the interest to invest in each other's economies has grown. However, mutual investment flows have yet to catch up with the potential offered by what are routinely referred to as the two most attractive investment destinations in the world. Two-way cumulative bilateral investment flows are estimated at $1.25 billion till February 2013. Chinese investments in India are concentrated in sectors such as engineering, telecom, automobiles and auto-components, infrastructure, and iron and steel.
Indian companies are keen to enter the Chinese market. This is particularly evident in sectors like information technology, pharmaceuticals, auto components, and agri-products. For instance, India's advantage in the pharmaceutical sector makes it a natural choice for sourcing of affordable, cost-effective and life-saving drugs by China. However, finding a foothold in the Chinese market has been more difficult than anticipated for Indian companies. Limited market access deters greater investment and aggravates the vast imbalance in trade. The insufficient market access and various other barriers must be overcome if they are not to become a hurdle to deeper economic and trade linkages.
The expansion in economic ties is underpinned by multi-faceted and multi-layered government-to-government engagement on trade and economic issues. A robust institutional framework exists today for bilateral cooperation across the spectrum of economic and commercial activity – energy, investment, agriculture, banking, civil aviation, and railways.
India and China created a Strategic Economic Dialogue (SED) in 2010 that serves as an institutional platform for both countries to discuss strategic macro-economic issues, to share their individual best practices in handling challenging domestic economic issues, and to identify specific fields for enhancing cooperation, learning and sharing of experience. Two rounds of the SED have been held. A third round is on the anvil later in 2013.
The SED is the latest high-level addition to a clutch of institutional dialogue mechanisms already in place, led by the Joint Economic Group on Economic Relations and Trade, Science and Technology (JEG). The ministerial-level JEG has so far met nine times.
The thriving trade and economic interaction between India and China has undoubtedly emerged as one of the most significant facets of bilateral relations. How both countries steer this engagement to create durable and mutually beneficial partnerships will not only impact them individually and jointly, but also the entire world, as the centre of economic gravity inexorably shifts towards Asia.
Namgya Khampa is Counsellor (Trade and Commerce) in the Embassy of India, Beijing.
This article was exclusively written for Gateway House: Indian Council on Global Relations. You can read more exclusive content here.
For interview requests with the author, or for permission to republish, please contact outreach@gatewayhouse.in.
© Copyright 2013 Gateway House: Indian Council on Global Relations. All rights reserved. Any unauthorized copying or reproduction is strictly prohibited.
Footnotes:
1 All the statistics in this article are from China Customs and Chinese Ministry of Commerce. Indian data on the trade deficit pegs it as much higher. It was $39 billion in 2011-12.
2 India-China bilateral trade was $ 66 billion in January-December 2012.