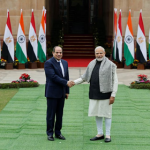 Egypt was invited as the Chief Guest at India's 74th Republic Day for the first time in 75 years of the two countries establishing diplomatic relations. Egyptian President Abdel Fattah El-Sisi's visit to India on the occasion signals that New Delhi plans to fulfil the potential of the India-Egypt bilateral. This was apparent in the partnership being elevated to a strategic level i.e. greater cooperation in the political, security, economic and scientific fields.[1]
A strategic cooperation between India and Egypt will promote peace and prosperity in the entire region. Geographically, Egypt is located at the crossroads of Africa, Asia and Europe, serving as an essential gateway for trade and investment. Its diplomatic presence in the Arab world and Africa, along with having the largest standing army in Africa, makes it a pivotal player for India as the country tries to increase its footprint in West Asia and Africa.
In multilateral fora, India and Egypt have been closely engaged. This goes back to the two countries being founding members of the Non-Aligned Movement in 1961.[2] Today also, they have shared concerns. During El Sisi's recent visit, both sides attached importance to the reformation of the United Nations Security Council (UNSC), for expansion of membership to enhance representation of developing countries. India has invited Egypt as a Guest Country during its ongoing G20 Presidency. The intention is to leverage Egypt's privileged position amongst the Global South to generate a broad consensus in restructuring a new world order, and work on issues of convergence ranging from sustainable development and climate change to food security and energy security. Prime Minister Modi congratulated Egypt on successfully hosting the COP-27 and its efforts to ensure the interests of developing countries in the climate sector by setting up a Loss and Damage Fund and launching the Global Renewable Hydrogen Forum (GRHF).[3]
On his part, President El Sisi in the joint statement complemented Prime Minister Narendra Modi on India's recent leadership at the UNSC non-permanent membership term 2021-22, and over the long term on maintenance of international peace and security through UN Peacekeeping missions, on establishing the International Solar Alliance and the Coalition for Disaster Resilience.
Now India and Egypt are opening a new front for collaboration: defence. Both countries have defence capabilities – India was placed fourth while Egypt ranked 14th on the Global Firepower Index.[4] Building on the Memorandum of Understanding (MOU) signed during Defence Minister Rajnath Singh's visit to Cairo in September 2022, both leaders agreed to further exchange technology and best practices along with the need for co-production under Egypt's framework of the Joint Defence Cooperation (JDC). Egypt wants to expand its domestic manufacturing and leverage India's defence technology in missile production, early warning systems and fighter jets. Joint military exercises between India and Egypt have been limited – just five since 2019 spread across the army, navy and air force. These will now be increased to allow both sides to share experiences and build capacity in combatting traditional and non-traditional security threats especially terrorism and cybercrime.[5]
Both countries emphasized the need for a holistic approach to counter terrorism and violent extremism. To this end, they agreed to continue holding the bilateral Joint Working Group on Counter Terrorism meetings to exchange information and best practices and enhance interaction between their respective National Security Councils. In the MOU signed for cyber security, India will share its expertise of new and emerging technologies like blockchain to curb disinformation and other terrorist activities on social media and the deep web. This, they hope, will accelerate economic growth and innovation in both countries as they aim to create an "open, free, stable, accessible, safe, trusted and accountable cyberspace."[6]
Commercially, India and Egypt have much ground to cover. Bilateral trade in 2021-22 was the highest ever at $7.26 billion but it is significantly below potential, given the size of the two economies. The goal is now to expand trade to $12 billion in the next five years, to build production capacities at home and enhance exports, and strengthen existing pharma and food supply chains, given the deleterious impact of the on-going Russia-Ukraine conflict and Covid-19 pandemic.[7]
To drive this home, President El Sisi and his high-level delegation – comprising of the Ministers of Foreign Affairs, Electricity and Renewable Energy, Planning and Economic Development, and Communications and Information Technology – interacted with the Indian business community in New Delhi, and outlined the incentives his government has in place for investors in Egypt's Suez Canal Economic Zone.[8] These are important engagements for Indian companies, given China's already established 7.34 sq. km (3 sq. miles) industrial estate near the Suez Canal known as Teda City (China-Egypt Teda Suez Economic and Trade Cooperation Zone.), as part of the Belt and Road Initiative.[9]
El Sisi therefore urged the large Indian companies like Birla Group, Kirloskar, Dabur India, Godrej, Mahindra, Monginis, etc. which are doing business in Egypt to boost their presence and sought out specialised Indian companies Adani Group and Renew Power for investment in Egypt.[10]
These opportunities will be made easier by the flag-off of a direct flight from New Delhi to Cairo and other points, as per mutual agreement. It will encourage the planned exchange of students and academics and greater collaboration between universities in Egypt and the higher education institutions of India.
With Egypt's new strategic partnership with India, a visit by Prime Minister Modi to Cairo is long overdue and should be planned. In the meantime, the bonhomie of 26th January can be reinforced by holding an India-Egypt 2+2 Foreign and Defence Ministerial Meeting – putting the Egypt and India relationship at the same level as heavy-weight bilaterals like the U.S., Japan, Australia and Russia.
Aliasger Bootwalla is the Manager for Media and Outreach at Gateway House.
This article was exclusively written for Gateway House: Indian Council on Global Relations. You can read more exclusive content here
For permission to republish, please contact outreach@gatewayhouse.in  
©Copyright 2023 Gateway House: Indian Council on Global Relations. All rights reserved. Any unauthorised copying or reproduction is strictly prohibited. 
References
[1]https://mea.gov.in/Speeches-Statements.htm?dtl/36146/English_Translation_of_Press_Statement_by_Prime_Minister_Shri_Narendra_Modi_during_the_visit_of_the_President_of_Egypt_to_India
[2]https://www.eoicairo.gov.in/page/india-egypt/
[3]https://mea.gov.in/bilateral-documents.htm?dtl/36148/IndiaEgypt_Joint_Statement_during_the_State_Visit_of_the_President_of_Egypt_to_India_January_2427_2023
[4]https://www.globalfirepower.com/countries-listing.php
[5]https://www.eoicairo.gov.in/page/india-egypt/
[6]https://mea.gov.in/bilateral-documents.htm?dtl/36148/IndiaEgypt_Joint_Statement_during_the_State_Visit_of_the_President_of_Egypt_to_India_January_2427_2023
[7]https://mea.gov.in/Speeches-Statements.htm?dtl/36146/English_Translation_of_Press_Statement_by_Prime_Minister_Shri_Narendra_Modi_during_the_visit_of_the_President_of_Egypt_to_India
[8]https://www.presidency.eg/en/%D9%82%D8%B3%D9%85-%D8%A7%D9%84%D8%A3%D8%AE%D8%A8%D8%A7%D8%B1/%D8%A3%D8%AE%D8%A8%D8%A7%D8%B1-%D8%B1%D8%A6%D8%A7%D8%B3%D9%8A%D8%A9/%D8%A7%D9%84%D8%B1%D8%A6%D9%8A%D8%B3-%D8%B9%D8%A8%D8%AF-%D8%A7%D9%84%D9%81%D8%AA%D8%A7%D8%AD-%D8%A7%D9%84%D8%B3%D9%8A%D8%B3%D9%8A-%D9%8A%D8%B4%D8%A7%D8%B1%D9%83-%D9%81%D9%8A-%D8%A7%D8%AC%D8%AA%D9%85%D8%A7%D8%B9-%D9%85%D9%88%D8%B3%D8%B9-%D9%84%D8%B1%D8%A4%D8%B3%D8%A7%D8%A1-%D9%83%D8%A8%D8%B1%D9%89-%D8%A7%D9%84%D8%B4%D8%B1%D9%83%D8%A7%D8%AA-%D8%A7%D9%84%D9%87%D9%86%D8%AF%D9%8A%D8%A9-%D9%88%D8%B1%D8%AC%D8%A7%D9%84-%D8%A7%D9%84%D8%A3%D8%B9%D9%85%D8%A7%D9%84-%D8%A7%D9%84%D9%87%D9%86%D9%88%D8%AF-25-01-2023/
[9]https://www.scmp.com/news/china/diplomacy/article/3161705/china-buckles-its-belt-and-road-ambitions-suez-investments
[10]https://www.presidency.eg/en/%D8%A7%D9%84%D8%B1%D8%A6%D8%A7%D8%B3%D8%A9/%D8%AE%D8%B7%D8%A8-%D8%A7%D9%84%D8%B1%D8%A6%D9%8A%D8%B3/%D8%A7%D9%84%D9%85%D8%A4%D8%AA%D9%85%D8%B1-%D8%A7%D9%84%D8%B5%D8%AD%D9%81%D9%8A-%D9%85%D8%B9-%D8%B1%D8%A6%D9%8A%D8%B3-%D9%88%D8%B2%D8%B1%D8%A7%D8%A1-%D8%A7%D9%84%D9%87%D9%86%D8%AF-26-1-2023/