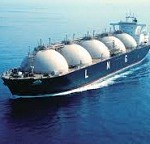 Economic growth in India is reviving following the slowdown of the past two years. The International Monetary Fund forecasts that the Indian economy will grow 5.4% in 2014 and 6.4% and 6.8% in 2015 and 2019 respectively. This economic growth will be contingent on India having access to reliable sources of energy. Currently, India is highly dependent on coal and oil, which combined account for approximately 80% of India's fuel consumption. With respect to natural gas, India consumed 131.79 metric standard cubic meters per day (mmscmd) in 2013-2014, of which 29% was imported in the form of liquefied natural gas (LNG).
In the first three quarters of 2012-2013, the largest consumers of imported LNG in India were refineries, fertilizer manufacturers, city gas distributors, and power generators, accounting for 20.8%, 20.2%, 17.5%, and 14.0% of total LNG consumption respectively.
In order to enhance energy security, the Government of India is seeking to diversify India's energy mix and the countries from which it sources fossil fuels. While oil and coal will continue to dominate India's energy mix in the coming decades, the share of natural gas is projected to increase. However, there will be challenges in supplying this gas because domestic production is limited and there are uncertainties about the viability of transnational pipelines. Government and industry studies project that natural gas demand will reach 746 mmscmd in 2029-2030, while domestic production and imports from transnational pipelines will provide only 260 mmscmd.
This creates a shortfall of 486 mmscmd in natural gas supply in 2029-2030. This disparity in supply and demand could be mitigated with increased imports of LNG. However, challenges exist in pursuing LNG imports.
First, India has limited regasification capacity, which is projected to reach only 214 mmscmd by 2029-2030. Second, the domestic pipeline network in 2029-2030 is unlikely to have sufficient capacity to handle projected natural gas demand, with especially weak coverage in most of the eastern and north eastern regions of the country. Third, India and the rest of Asia currently face high LNG prices, in part because prices of LNG provided to the region through long-term contracts are linked to the price of oil. Continued high LNG prices could reduce the size of the LNG market in India as cheaper sources of energy would be more attractive. Finally, the distorted domestic gas pricing regime in India reduced the desirability of the natural gas sector as an investment option, thereby further constricting natural gas supplies to the domestic fuel mix.
However, recent changes to the pricing regime announced on October 18, 2014 are likely to partially address this situation.
In 2013, India imported LNG directly from Qatar, Nigeria, Yemen, Egypt, Algeria, Brunei, and Norway. In recent years, Indian oil and gas companies have been investing in natural gas extraction and LNG export projects and/or concluding LNG offtake agreements around the world. Canadian LNG projects, of which there are at least 23 under consideration on the east and west coasts, have a number of characteristics that are attractive to Indian LNG buyers. Canada has large quantities of available natural gas, is politically stable, and presents an opportunity for India to diversify its import sources.
Indian companies have already invested in Canada's nascent LNG export industry. Recently, the state-owned oil company Indian Oil Corporation Limited (IOCL) acquired a 10% stake in the Pacific NorthWest LNG project in British Columbia. As part of this deal, IOCL also acquired a stake in gas fields in British Columbia and is guaranteed 1.2 million tonnes of LNG per year for 20 years.11 Another example is H-Energy, a part of the Mumbai-based construction group Hiranandani Group, which is planning to set up a 13.5 million metric tonnes per annum (mmtpa) natural gas liquefaction facility in Nova Scotia, which is located on Canada's east coast.
However, Canadian projects also have some substantial weaknesses, most notably the slow development of necessary export infrastructure. Furthermore, the large transportation distance between Canada and India, especially from Canada's west coast, could be a barrier to moving large volumes of Canadian natural gas to India.
Swap agreements could make Canadian LNG more desirable to Indian buyers. A swap agreement arranges for natural gas destined for one market to be delivered elsewhere and for substitute gas to be supplied to the original intended destination. An Indian and a Japanese company, for example, could enter into an agreement whereby an Indian company buys Canadian LNG, but ships the gas to Japan for consumption.
In return, the Japanese company's LNG cargo from Qatar or elsewhere would be sent to India. The benefit of this arrangement is that both Japanese and Indian companies can increase their bargaining power on price and contract terms by sourcing natural gas from multiple suppliers and still have gas delivered from locations that are relatively close geographically.
Furthermore, the LNG project proponents in British Columbia are predominantly global energy conglomerates, such as Shell, Chevron, and Mitsubishi. If these project developers were strongly motivated to gain Indian investment, they could agree to redirect their cargoes from other projects (for example, in Africa) to India in exchange for Indian investment in either downstream or upstream facilities.
However, the India-Canada LNG relationship should not just be about India purchasing Canadian gas or investing in gas extraction projects. Canadian companies or multi-nationals with substantial Canadian operations can also consider investing in regasification capacity in India, as the Indian government allows 100% foreign direct investment in regasification facilities. Such investments would benefit both Canadian LNG project proponents and India by expanding India's ability to utilise LNG.
CLICK HERE to read the full report.
Rajrishi Singhal is Senior Geoeconomics Fellow, Gateway House. He has been a senior business journalist, and Executive Editor, The Economic Times, and served as Head, Policy and Research, at a private sector bank, before shifting to consultancy and policy analysis.
This report is part of a Asia Pacific Foundation of Canada series on Canada's LNG opportunity in Asia. 
This article was exclusively written for Gateway House: Indian Council on Global Relations. You can read more exclusive content here.
For interview requests with the author, or for permission to republish, please contact outreach@gatewayhouse.in.
© Copyright 2014 Gateway House: Indian Council on Global Relations. All rights reserved. Any unauthorized copying or reproduction is strictly prohibited