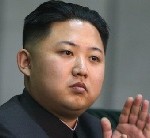 An untested 30-year-old dictator declares a 'state of war' with South Korea, threatens to set Seoul ablaze in 'a sea of fire' and launch missile strikes on U.S. military bases. He rules a rogue nuclear state; its army as large as India's and its isolated population as small as Mumbai's.
Just how dangerous is North Korea now?
Since taking over in December 2011 from father Kim Jong-il as the supreme leader of North Korea, the younger Kim has ratcheted up a dynastic ritual of war-talk. It serves two purposes, to consolidate his domestic hold on power among military veterans and repressed citizens by drumming up threats of a Western invasion, and later to arm-twist international powers for foreign aid.
But the latest phase of war talk is several notches higher and presents a 'clear and real danger,' to South Korea, the U.S. and Japan, according to U.S. defence secretary Chuck Hagel. Even China, the pariah state's only ally, is losing patience. Beijing has backed United Nations sanctions against Pyongyang for defiantly conducting a third nuclear test barely 100-km away from the Chinese border in February, and destabilising its northeast neighborhood.
Pyongyang's recent tantrums, in reaction to the sanctions and heightened U.S.-South Korea military drills, include tearing up an armistice declared since the Korean war in 1950, banning South Korean workers from a joint factory and restarting a reactor to make weapons-grade plutonium to 'bolster the nuclear armed force.' Tension between communist, impoverished North Korea and democratic South Korea, Asia's fourth largest-economy, is at the highest level since March 2010 when Seoul accused Pyongyang of torpedoing a naval ship and killing 46 South Koreans on board; a few months later North Korea shelled an island in the South. This year, the political stakes in both the Koreas are greater. Seoul has a new President who cannot afford to appear weak in response to Pyongyang's belligerence. Park Geun-hye says South Korea will retaliate with 'a strong response.'
"No doubt, the Korean peninsula is literally on knife's edge, possibly leading to a small-scale war,'' strategist Lee Byong-Chul at the Institute for Peace and Cooperation in Seoul, told Gateway House. "North Korea's increased nuclear capability seems to make the Kim regime more confident than ever, which indicates that the provocations will not end with rhetoric only.''
The crisis on the far-flung Peninsula is not remote from Indian interests, significantly because of a history of North Korean missile technology transfers to Pakistan in return for nuclear weapons know-how, with tacit Chinese approval. In fact, an Indian foreign ministry delegation is on a low-profile visit to Pyongyang this week, possibly with a message pressing for peace. India also has an increasing economic engagement with South Korea, its 'strategic partner' since 2010, and home to 8,000 Indians. Indian and South Korean investments on either side exceed the value of Sino-Indian investments.
So far, there are no major signs of North Korea mobilising men and machines and Kim has justified the country's nuclear strength as a 'war deterrent.' The U.S. embassy's advisory on April 4 ruled out imminent threats to U.S. citizens or facilities in South Korea.  An earlier advisory of the Indian embassy in Seoul too reported "little likelihood of any imminent or active hostilities breaking out on the Korean peninsula."
The outside world hopes as much, that Kim's bluster is a bluff to position himself as a strongman in the eyes of his military and the world.
But as one Seoul-based source with connections to North Korea noted, Kim 'may not know how to play the brinkmanship game as well as the two generations of Kim before him.' His inexperienced game in a militarised zone with tit-for-tat U.S. military deployments, including the deployment of a guided-missile destroyer and stealth bombers flown over the region, is fraught with risk. A miscalculated move on either side can spark a conflict that will drag in South Korea, its allies the U.S. and Japan, and North Korea. Pyongyang's missiles cannot reach the U.S. mainland but they could strike regional U.S. bases.
Beijing, though bound by a 1961 Sino-North Korean treaty to help Pyongyang in case of an attack, is intent on both avoiding a military showdown and keeping Kim at the helm.
China is North Korea's largest trade partner, supplier of food and energy and importer of minerals and coal. Beijing's own interests limit its control over North Korean actions, as Kim Jong-un is surely aware. A belligerent Pyongyang keeps the U.S. preoccupied and serves China's security concerns better than a unified, democratic Korea with a pro-U.S. leadership and American warships lurking in the periphery.
A commentary in the Global Times, a government-run Chinese newspaper, said as much this week: China will try its best to stop any military attacks against North Korea to avoid being involved in unnecessary military confrontation with its trade partners like the U.S. and South Korea…If North Korea collapses and Kim is replaced by a pro-U.S. regime, it will pave the way for the U.S. to redeploy its forces in South Korea to China's northeast border, which will be a big security danger when the U.S. and China lack military mutual trust."
China has made no overt move to resolve the crisis beyond pressing for restraint, a return to negotiations and backing sanctions. Beijing will employ back channels to convince Pyongyang to back down without losing face and press for a return to six-party talks on denuclearisation. This will not happen overnight. Beijing and Pyongyang are no longer as close as 'lips and teeth' as Mao Zedong once said. Chinese officials today privately admit that China's influence over North Korea, its buffer state and proxy in Northeast Asia, is overrated in the West. And China is in no hurry to upset the bilateral relationship. A Chinese editor of a Communist Party journal wassuspended last week for merely suggesting that Beijing abandon its old ally.
Reshma Patil is Associate Fellow, East Asia Studies, Gateway House: Indian Council on Global Relations. Follow her on Twitter @reshmapatil11
This article was exclusively written for Gateway House: Indian Council on Global Relations. You can read more exclusive content here.
For interview requests with the author, or for permission to republish, please contact outreach@gatewayhouse.in.
© Copyright 2013 Gateway House: Indian Council on Global Relations. All rights reserved. Any unauthorized copying or reproduction is strictly prohibited.