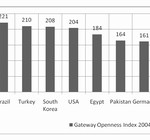 Why can Citibank or HSBC open a branch in India every year, but India's ICICI bank and State Bank of India open a branch in the United States just once every five years? Is the Indian financial sector more open than the US? Did this have to do with the global recession and if so, how much? Or was this a long-standing policy that had never been questioned as few banks from emerging markets found a way to do business in the US.
To address this nagging question, Gateway House senior geoeconomics research fellow Akshay Mathur studied the financial services industries in 11 countries: four BRIC countries, one emerging market, four developed economies and two developing markets. The result is the Gateway House Global Financial Openness Index.
The Index goes beyond existing financial freedom indices in that it illustrates the ease or difficulty with which a country allows a foreign bank to enter and conduct business.  The Index uses market and regulatory indicators for 2005 and 2010 at the national, industry and product level. Liberalization, technology, recapitalization and global accords were the impetus behind a greater opening up, while capital controls, money laundering and complacency in updating legislation resulted in closed systems.
The ensuing Curve answers the question posed: that emerging markets like Brazil, Turkey and Egypt have been far more receptive to foreign financial services firms than developed economies like the United States, Germany and Canada in recent years.  Despite a large dose of Western investment in Chinese banks, it is now harder to open a bank in China than ever before. India, as expected, opens only gradually, but steadily.
The Index is also available on the Gateway House Wikipedia where practitioners are invited to weigh in with new or additional information, to refine or challenge the Index.
We will continue to add new dimensions to the Index – new industries such as insurance and non-banking finance companies, and new indicators such as percentage withholding of profit remittances, Foreign Direct Investment in banking and laws for fair business practices.
Akshay Mathur is Head of Research at Gateway House: Indian Council on Global Relations.
This article was exclusively written for Gateway House: Indian Council on Global Relations. You can read more exclusive content here.
For interview requests with the author, or for permission to republish, please contact outreach@gatewayhouse.in.
© Copyright 2010 Gateway House: Indian Council on Global Relations. All rights reserved. Any unauthorized copying or reproduction is strictly prohibited.