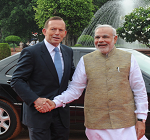 The India-Australia nuclear deal signed last Friday will go down in history as a defining moment marking a major shift in bilateral relations.  This was not just the hallmark of Prime Minister Tony Abbott's visit to India – that involved several other agreements – but also the first major international agreement for the Modi government.
At the outset, it symbolises a geopolitical shift that promises to make Canberra – which until recently was an outlier in India's foreign policy—a major strategic partner. The deal takes the India-Australia economic partnership to the next level, reflecting greater mutual appreciation and trust amongst their respective leaders.  As its first follow-up, Modi is expected to travel to Australia before the end of this year, making it the first bilateral visit by an Indian prime minister after Rajiv Gandhi's visit in 1986.
Provisions of this deal provide for supply of uranium, production of radio-isotopes, nuclear safety and other relevant areas of cooperation.  Both sides also signed a parallel nuclear safeguards agreement as India is not a signatory to the nuclear non-proliferation treaty. This marks a move towards international acceptability for India's nuclear programme despite it being a non-signatory to the nuclear non-proliferation treaty and comprehensive test ban treaty. The deal follows similar agreements that India has signed with nine other countries, including P5 (barring China). This created the backdrop for the five rounds of the India-Australia nuclear negotiations since 2012 when Australia finally lifted the ban on supplying uranium to India. It will now enable India to expand its nuclear power generation and help minimise India's carbon footprint in the years ahead.
However, while the political gestures have their undeniable significance, the commercial benefits for both sides will incur only in due course of time.  No doubt, Australia stands to gain billions of dollars by supplying uranium to India but it may take as long as three to five years for its shipments to anchor on Indian shores, given the track record of our deals with countries like Kazakhstan, Mongolia and Namibia. New Delhi has imported just about 2,000 tons of uranium in the last five years from these nations. Uranium mining operations are highly regulated in Australia and restricted to just three mines – all of them are currently locked into various long-term contracts to other recipients – China being the one big beneficiary. This may change as the Queensland province had overruled this ban in 2012, and the New South Wales province has lately begun accepting applications for exploration licenses.
According to the Department of Atomic Energy, India's uranium consumption is expected to rise from its 400 tons to 1,600 tons by 2019, and to 2,000 tons by 2022. Domestically, India has extremely limited resources and while discoveries in Tummalapalle (Andhra Pradesh) have brought some relief, the major mine at Jaduguda (Jharkhand) has witnessed frequent protests and criticism from activists. Given that Australia has 40% of the global reserves of uranium, and exports nearly 70,000 tons per year, it can be a reliable long-term supplier to energy-starved India. According to the Nuclear Power Corporation of India limited, India currently operates 21 nuclear power reactors at six power plants with total capacity of 5,302 MWe, and seven more are currently under construction with an additional capacity of 6,100 MWe.  India plans to raise this to 63,000 MW by 2032 which will require dozens of new reactors, as well as vast amounts of uranium fuel to keep them operational.
According to the World Bank, 400 million Indians have no access to electricity which means that India will have to continue exploring all possible options. Along with uranium, Australia will also supply India with other conventional fuels like coal and natural gas. In return Indian companies will expand investments in Australian coal and uranium mines.  In July, the Australian government approved an AUS $16.5 billion coal and rail project in Queensland for the Adani Group. Firms like Toro Energy are negotiating with Indian partners as well. There are hopes that talks regarding a Comprehensive Economic Cooperation Agreement, likely to conclude by 2016, will help facilitate trade and investment further. Two-way trade currently stands at $15 billion and India's investments at $20 billion; in comparison Australia's trade with China is about 10 times more.
All these promises are still in-the-making. The fundamental import of this nuclear deal, for now, lies in its political message reinforcing India's image as a credible and responsible nuclear power. Abbott has not just praised India's impeccable non-proliferation track record, but also endorsed India's membership claim to the Nuclear Suppliers Group. Coming within a week of a similar endorsement by Japan's Shinzo Abe, this promises to open doors for India in all other technology control regimes like the Australia Group, Wassenaar Arrangements and the Missile Technology Control Regime.
Swaran Singh is Professor for Diplomacy and Disarmament, Jawaharlal Nehru University, New Delhi.
This article was exclusively written for Gateway House: Indian Council on Global Relations. You can read more exclusive content here.
For interview requests with the author, or for permission to republish, please contact outreach@gatewayhouse.in.
© Copyright 2014 Gateway House: Indian Council on Global Relations. All rights reserved. Any unauthorized copying or reproduction is strictly prohibited