---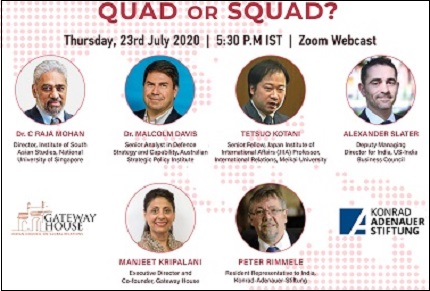 ---
On July 23, Gateway House co-hosted a webinar with Konrad-Adenauer-Stiftung on QUAD or QUAD.
The panel included: Dr. C Raja Mohan, Director, Institute of South Asian Studies, National University of Singapore; Dr. Malcolm Davis, Senior Analyst in Defence Strategy and Capability, Australian Strategic Policy Institute; Tetsuo Kotani, Senior Fellow, Japan Institute of International Affairs (JIIA) and Alexander Slater, Deputy Managing Director for India, U.S.-India Business Council.
Watch the video here.