---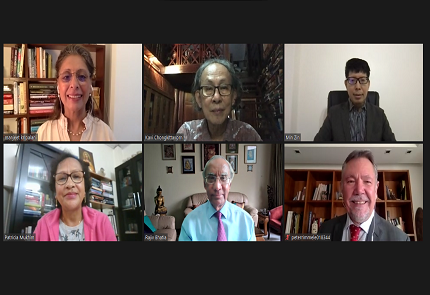 ---
We hosted a Webinar with Konrad-Adenauer-Stiftung on, Myanmar: Hundred days after the coup on May 13, 2021 at 5:30 PM IST.
To discuss this was an esteemed panel of experts: Kavi Chongkittavorn, Senior Fellow, Chulalongkorn University's Institute of Security and International Studies; Patricia Mukhim, Editor, Shillong Times & Dr. Min Zin, Executive Director, Institute for Strategy and Policy, Myanmar.
This webcast discussed the conflict in Myanmar, the pulse of the protesters' fight for democracy, the ominous presence of China as well as Russia and multilateral measures that the neighbouring countries including India can take towards restoring democratic processes in Myanmar. It will be moderated by Amb. Rajiv Bhatia, Distinguished Fellow, Foreign Policy Studies Programme, Gateway House and former Ambassador to Myanmar.
Read the key findings here.