---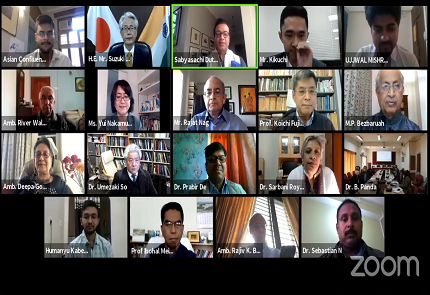 ---
On March 5,2021,  Amb. Rajiv Bhatia, Distinguished Fellow, Foreign Policy Security Studies chaired the session on, Development of North Eastern Indian Region: Indo-Japan Collaboration for Connectivity, Commerce, Capacity Building, Culture and Conservation. The web dialogue was hosted by Asian Confluence.
The panelists included Dr. Masaaki Fukunaga, GIFU Women's University, Japan; Dr. Sarbani Roy Chowdhury, Professor, Centre for East Asian Studies, School of International Studies Jawahar Lal Nehru University; Dr. Deba Kumar Chakraborty, Professor, Dibrugarh University; Dr. Monoj Das, Assistant Professor, Gauhati University; Dr. Ibohal Meitei, Professor (Strategic Management), MIMS, Manipur University; Dr. Bhagirathi Panda, Professor, North Eastern Hill University, ICSSR NERC, Shillong; Mr. Tsutomu Sato, Chapter Head Asian Confluence Japan, Discover India Club, Japan; Dr. Sebastian N, Assistant Professor, Sikkim Central University.
Watch the full video here.