---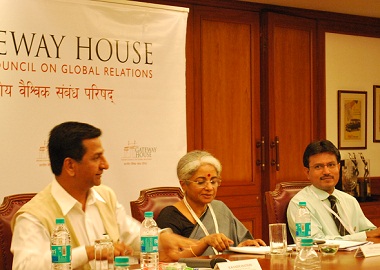 ---
Gateway House: Indian Council on Global Relations hosted a panel discussion at Mahindra Towers. The panel consisted of Usha Thorat, Director, Centre for Advanced Financial Research and Learning, and former Deputy Governor, Reserve Bank of India; Nilesh Shah, President (Corporate Banking) at Axis Bank. The panel was moderated by K.N. Vaidyanathan, former Executive Director, SEBI and Gateway House's Senior Geoeconomics Fellow.
The panel demystified Basel III norms for the house beginning with the evolution of Basel norms in the past decade. The panelists discussed how Europe descended into the current sovereign debt crisis and threw light on the corrective measures and possible solutions to the crisis. The implications for the markets and investors were talked about at length with relevant insights and the discussion was concluded with an active Q & A session with the audience.
A little more than a month after Gateway House hosted the meeting, India issued the Basel III Guidelines. For more information, click here.