---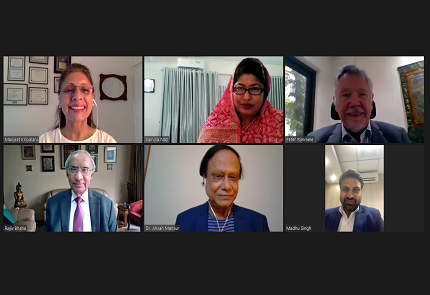 ---
We hosted a Webcast with Konrad-Adenauer-Stiftung on, Bangladesh: The Vietnam of South Asia, Leveraging the learnings for India on 18th  March 2021 at 5:30pm (Indian Standard Time).
The panel included Amb. Samina Naz, Ambassador of Bangladesh to Vietnam, Madhu Singh, Country Head, Bangladesh, Tata Motors Ltd., and Dr. Ahsan Mansur, Policy Research Institute of Bangladesh and Chairman, Brac Bank Ltd.
What can India, South Asia and the world learn from Bangladesh's successful development trajectory? This webcast focused on the economic growth pattern of countries such as Bangladesh and Vietnam, and the models they offer for others. It was moderated by Amb. Rajiv Bhatia, Distinguished Fellow, Gateway House, with experts from government, corporates and academia in discussion.
Watch the recording of the discussion here.