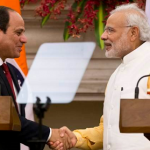 On India's 73rd year as a republic, India will have a special visitor: the President of the Arab Republic of Egypt, Abdel Fattah El-Sisi, who will be the Chief Guest at the Republic Day celebrations on 26 January 2023. The invitation is more than appropriate: the visit marks the 75th anniversary of the establishment of diplomatic relations between India and Egypt.[1]
For historical reasons, Egypt occupies a privileged position and represents a voice of moderation in Arab affairs and the larger Islamic world. Straddling different geographies – West Asia, the Mediterranean, Red Sea and northern Africa – Egypt's location gives it a unique geostrategic advantage. These are also regions with vital security, energy, and economic interests for India. The Mediterranean, as External Affairs Minister Dr. S. Jaishankar observed during his visit to Cyprus in December 2022, is of interest and 'will see more of India in the future'.
Egypt's role in its immediate vicinity and beyond cannot be overemphasized. If its relations with the U.S. and Israel have helped maintain peace in West Asia/Middle East for over four decades now, Egypt has, at the same time, sufficient influence with other countries in the region as well as the Palestinian factions. As a member of the 34-nation Combined Maritime Forces (CMF) partnership, Egypt contributes to maritime security in the Red Sea and the Horn of Africa (the Egyptian Navy assumed the command of a Red Sea task force under CMF in December 2022). The Suez Canal, accounting for about 12% of global trade and the transport of 7%-10% of the world's oil and 8% liquefied natural gas, underlines Egypt's strategic importance in global supply chains.[2]
Egypt is the third-most populous country in Africa (about 106 million people) and the Egyptian economy with a GDP purchasing power parity of $1.38 trillion is also the largest in that continent.[3]
El-Sisi began his first term as President in 2014 when Egypt was in the midst of a grave crisis. He has provided domestic stability during the preceding eight years. This, combined with significant and at times harsh reforms, has improved Egypt's economic prospects in the medium to long term. The Sisi era has seen Egypt cultivate key regional actors across the world that balances its ties with the U.S. and noticeably re-engage with Africa.
More self-assured now, Egypt is seeking to regain diplomatic space and visibility that it once enjoyed, while not abandoning the caution and pragmatism that have traditionally characterized Egyptian foreign policy.
To the credit of the NDA government of Prime Minister Modi, not too long after El-Sisi was elected President, India evinced interest in reinvigorating India-Egypt ties, by sending External Affairs Minister Smt. Sushma Swaraj on a visit to Egypt in August 2015.[4] Egypt reciprocated and during President El-Sisi's visit to India in 2016, the two countries agreed to intensify bilateral engagement on three tracks viz., closer political and security cooperation, deeper economic engagement, and scientific collaboration and wider cultural and people-to-people contacts. Since then, high level visits have been exchanged on the political as well as the defence track with, most recently, Defence Minister Shri Rajnath Singh and Jaishankar visiting Egypt in quick succession in September and October 2022, respectively. The signing of an MoU on Defence Cooperation during the Defence Minister's visit to Cairo was a particularly significant development. The economic track lags, but could show promise – two-way trade is just $7.26 billion in 2021-22,[5] with a target of $12 billion to be achieved within 5 years, by encouraging human resource investments, and manufacturing as Egypt has several trade arrangements in the region (the Common Market for Eastern and Southern Africa, the EU-Egypt Association Agreement, Agadir Free Trade Agreement, Egypt-MERCOSUR FTA).
Counter terrorism is also an area of mutual interest, given that El-Sisi had to resolutely battle a host of terrorist groups aligned with ISIS, Al Qaeda and Muslim Brotherhood. The two National Security Councils and the Joint Working Group on Counter terrorism are cooperating.
India and Egypt have seen trade between the Indus Valley civilization and ancient Egypt and the ties are thus truly civilizational. In the last century, the struggle against foreign domination fostered empathy between Indian and Egyptian nationalists. Their quest for autonomy under the NAM umbrella and that era, characterized by personal bonhomie between Nehru and Nasser, was the highpoint in the bilateral. Although relations seemed adrift under Sadat and Mubarak, the warmth and goodwill that Egyptians felt towards India was preserved (to which Bollywood has also contributed in no small measure) and continues to provide a bedrock to the relationship.
Egypt is fast earning a special place in India. President El-Sisi will be the first dignitary from Egypt to attend the Republic Day celebrations as Chief Guest. Egypt has also been invited as a 'Guest Country' during India's Presidency of G-20.[6] New Delhi sees Cairo as a natural ally as India works towards generating a broad consensus on a new world order among the global South, an order that will ensure that the voice and interests of the South are neither ignored nor made subservient to Great Power politics.
Rahul Kulshreshth was India's ambassador to Turkey and Egypt. 
This article was exclusively written for Gateway House: Indian Council on Global Relations. You can read more exclusive content here
For permission to republish, please contact outreach@gatewayhouse.in  
©Copyright 2023 Gateway House: Indian Council on Global Relations. All rights reserved. Any unauthorised copying or reproduction is strictly prohibited. 
References
[1] Ministry of External Affairs, Government of India, Chief Guest at India's Republic Day celebrations 2023, 27 November 2022, < https://www.mea.gov.in/press-releases.htm?dtl/35927/Chief_Guest_at_Indias_Republic_Day_Celebrations_2023>
[2] New Zealand Embassy Cairo, The Importance of the Suez Canal to Global Trade, 18 April 2021, <https://www.mfat.govt.nz/assets/Trade/MFAT-Market-reports/The-Importance-of-the-Suez-Canal-to-Global-Trade-18-April-2021.pdf>
[3] The World Bank, World Development Indicators (2021), GDP, PPP (current international $) – Egypt, <https://data.worldbank.org/indicator/NY.GDP.MKTP.PP.CD?locations=EG>
[4] India – Africa Forum Summit, Government of India, Ties in Focus: Egypt, <http://iafs.gov.in/ties-in-focus.php?tif_id=26>
[5] Ministry of External Affairs, Government of India, Visit of External Affairs Minister to the Arab Republic of Egypt, 13 October 2022, <https://www.mea.gov.in/press-releases.htm?dtl/35805/Visit_of_External_Affairs_Minister_to_the_Arab_Republic_of_Egypt_October_1516_2022>
[6] Press Information Bureau, Government of India, G-20 and India's Presidency, 9 December 2022, < https://pib.gov.in/PressReleaseIframePage.aspx?PRID=1882356>