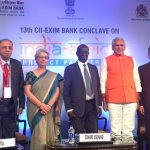 The 13th CII-Exim Bank Conclave on the India-Africa Project Partnership, held in New Delhi in the last week of March, brought together over 850 business and political leaders, whose main agenda was to increase the still low quantum of economic cooperation between India and Africa.[1]
India's partnership with Africa has historically been the oldest among all countries, but now it is being expanded with purpose. The three editions of the India-Africa Forum Summit, held in 2008, 2011 and 2015, played a valuable role, particularly the last one, in enhancing all facets of the relationship.[2] Then came a series of bilateral visits to African countries by India's top leaders – the president, the vice president and the prime minister – between March 2015 and April 2018. President of India Ram Nath Kovind has been visiting seven countries in Africa over the last six months (since October 2017)[3].
The VVIP traffic in the reverse direction too has been sizeable as New Delhi's doors have been kept open to Africa's leaders. What needs appraising is whether the two countries' diplomatic outreach has yielded adequate dividends for the economic partnership.
India's diplomatic efforts in Africa should be viewed within the context of the continent's own path to growth. In the past decade, Africa has made noticeable progress, moving towards peace and security, socio-economic development, more democratisation and better government. The African Union's guiding vision was spelt out in the Agenda 2063[4] and elaborated in the form of "Seven Aspirations", covering all aspects of government.[5]
The African Development Bank, in its 2013-22 strategy, identified two fundamental objectives for Africa – inclusive growth and green growth – and five priorities for its member-states to keep in mind to achieve them. These are: developing infrastructure, regional economic integration, promoting the private sector, emphasis on governance standards and accountability, and enhancing skills and technology.
The challenges remain – but Africa is striving to reform institutions, such as the African Union, and create new ones, such as the African Continental Free Trade Area. The world is being persuaded of its resurgence. Its rich natural resources, ranging from minerals to hydrocarbons, act as a continuing magnet.[6] The potential growth of 55 countries that account for 20% of world population and 2.69% of the global GDP is a crucial factor behind such interest. Many countries – including the U.S., EU, China, Russia, Brazil, ASEAN and the Gulf States – have been in active competition to forge stronger economic ties with Africa.
India's five pillars
Trade
The value of India-Africa trade was $14.2 billion in 2007-08. Ten years later, it rose to $51.9 billion in 2016-17. Cause to rejoice? Not really. Trade reached its peak at $71.5 billion in 2014-15, and was close to it at $70.3 billion in 2012-13.
The decline in the value of trade is often attributed to a fall in Africa's commodity prices, but Indian products need to become more competitive too. India must invest more in African enterprises that manufacture goods for the Indian and third country markets.
Another critical issue is that only a few African countries are currently involved in substantial trade with Indian companies. Six countries[7] alone took in Indian exports worth $1 billion or more in 2016-17 and only six countries[8] were sources of Indian imports exceeding $1 billion in value in 2016-17. Indian business needs to cast its net wider. The size and composition of the trade basket also have scope to expand.[9]
Africa has consistently had a trade surplus with India in the past decade, but this offers small comfort. The goal should be to secure a sharp increase in two-way trade of goods and services across the sectors through a determined programme of promotional measures and removal of non-tariff barriers. Further, provisions of the Duty Free Trade Preference (DFTP) Scheme for Least Developed Countries (LDCs) needs to be liberalised, according to African governments, business and Indian industry.
Investment
In the last decade from 2007-16, Africa received a total of $789.3 billion in Direct Foreign Investment (FDI) for its 7,808 projects. Of the total global FDI, Africa's share was only 9.3%. The top three investors in Africa by capital were the UAE, UK and China. India – with its $37.1 billion – figures at spot No.6, after the top three, France and the U.S.
Another way to assess Indian investment is to recall that the value of India's approved overseas direct foreign investment in African countries was $59.5 billion during April 1996-March 2017, according to an RBI and Exim Bank analysis.[10]
The top three sectors that received Indian investment in the past decade were: coal, oil and natural gas (39.8%); chemicals (11.5%), and communications (11%). Like trade, investment too goes to only a handful of countries, Mozambique, South Africa, Egypt, Zimbabwe, Nigeria, Ghana and Kenya being the top seven destinations.
It is worthwhile to note that the value of FDI equity inflows to India from Africa stood at $1.1 billion in the period from April 2000 to March 2017.
Without a dramatic increase in Indian investment, the economic partnership with Africa cannot flourish optimally. Consider that China's investment is four or five times more than India's, and it has been increasing rapidly. Indian business leadership has, therefore, urged the adoption of an "investment-led trade growth" strategy. The African side welcomes it whole-heartedly, but it has an obligation too: it needs to work harder to make the business environment more conducive to Indian enterprises.
Lines of Credit, project partnership
A major vehicle for India's development cooperation with Africa has been the government's commitment to extend concessional credit in the form of Lines of Credit (LOCs), managed by the Exim Bank. This is a programme under the Indian Development and Economic Assistance Scheme (IDEAS). The scheme helps fund economic and infrastructural projects in borrowing countries. It assists exports in specific sectors to create or expand markets for bilateral trade. IDEAS also facilitates export of goods and services in countries where India does not have a presence; and helps Indian exporters establish an adequate network of servicing facilities.[11]
Until December 2016, India extended 154 LOCs of the total value of $7.7 billion to 44 countries in Africa, money that has been used to execute projects as diverse as the construction of the complex, housing the seat of government and the presidency in Ghana, revamping the railways in Angola, and setting up a milk processing plant in Mauritania.[12]
Of late, however, the problem concerning under-utilisation of the LOCs has become a cause of serious concern to the authorities and business community. At the third summit, India announced fresh assistance of $10 billion as LOCs for a five-year period (2015-20), and to tackle the difficulties faced in the past, the government issued revised guidelines on their use in December 2015.
The African side is now required to prepare detailed feasibility studies before loans are approved: loans were not sanctioned in many cases as it could not produce these studies due to a lack of consultants. The Indian authorities have therefore now put in place a project preparation facility; they expect that this will help increase the rate of utilisation of LOCs.
Another constraint has been that unutilised funds lapse at the end of a financial year: Commerce and Industry Minister Suresh Prabhu's recent statement that the government planned to create a long-term, non-lapsable fund for financing India's projects in Africa should address this issue.[13]
Grants and skill development
Even though India has been assisting developing countries around the world in the field of training and human resource development since 1964 – through the Indian Technical and Economic Cooperation (ITEC) Programme – it is only since 2008 that skill development in Africa emerged as a key goal, and at the third summit in 2015, New Delhi announced a grant of $600 million (for the period 2015-20), a sum being used partly to finance 50,000 scholarships and establish institutions of training and skilling across Africa. (Other uses are: $100 million for the India-Africa Development Fund, $10 million for the India-Africa Health Fund and funds set aside for the expansion of the Pan Africa E-network.)
Other Areas
The India-Africa Framework for Strategic Cooperation, one of the two joint documents issued at the end of the third summit, identified other significant areas for economic cooperation, such as agriculture, infrastructure, health, Blue Economy and renewable energy. Both parties have been trying ever since to fulfill the agreed upon agenda for dynamic development. The latest milestone in this context was the Founding Conference of the International Solar Alliance (ISA), hosted by India, which approved the Delhi Solar Agenda on 11 March 2018. This reflects the parties' commitment to a clean and healthy world, "rooted in sustainable lifestyles".[14]
It is worth noting that the ISA conference announced India's support through LOCs for a total of 27 projects, bearing the value of $1.39 billion. They are meant to benefit 15 countries, all in Africa, except two, Bangladesh and Sri Lanka, which is proof enough of the high priority India accords Africa.[15]
Converging perspectives
India's dialogues at political, diplomatic and business levels with Africa all show a convergence of perspectives. The nation's benign and non-prescriptive approach and the proven success of its development model evoke Africa's admiration and acceptance. Africa's potential for growth, on the other hand, is viewed by India as an enticing opportunity. What then holds us back?
An African minister had an answer. He said Africa needs to collaborate with all interested external partners, but it values competitiveness and efficiency greatly. Indian companies can be winners if they internalise this piece of African wisdom.
Discussions with captains of business and industry can supplement those at the government level to ease the way further. Ms. Shobana Kamineni, president of CII, stressed the need for Business-to-Government (B-to-G) dialogue, both in India and Africa. The aim should be to eliminate existing constraints and cash in on the available opportunities – or else, the full benefits of India's political-level outreach to Africa may not accrue.
Finally, a dose of practical realism may also help. An Indian minister stated recently that India-Africa trade could be tripled to $150 billion in the next five years. A more realistic goal would be $100 billion in trade and $75 billion of investment in the next three or four years. This too needs a detailed, sector-wise action plan and a viable, comprehensive business strategy. The government and India Inc should rise to the challenge.
Rajiv Bhatia is Distinguished Fellow, Gateway House. He served as India's high commissioner to Kenya, South Africa and Lesotho. He writes regularly on Africa and its relations with India.
This article was exclusively written for Gateway House: Indian Council on Global Relations. You can read more exclusive content here.
For interview requests with the author, or for permission to republish, please contact outreach@gatewayhouse.in or 022 22023371.
© Copyright 2018 Gateway House: Indian Council on Global Relations. All rights reserved. Any unauthorized copying or reproduction is strictly prohibited.
References
[1] The break-up: over 500 delegates from Africa and 350 from India. There were 35 ministers from 20 African countries and three vice presidents – of Malawi, Zimbabwe and Uganda.
[2] Unlike the previous two summits to which only a handful of countries were invited based on the 'Banjul Formula', all African countries were invited – and were represented – at the third summit at a high political level.
[3] Ethiopia and Djibouti in October 2017, Madagascar and Mauritius in March 2018, and Zambia, Equatorial Guinea and Swaziland in April 2018.
[4] The vision is: "An integrated, prosperous and peaceful Africa, driven by its own citizens and representing a dynamic force in the international arena." It is elaborated in the "Seven Aspirations".
[5] They are:
A prosperous Africa based on inclusive growth and sustainable development
An integrated continent, politically united and based on the ideals of Pan-Africanism and the vision of Africa's Renaissance
An Africa of good governance, democracy, respect for human rights, justice and the rule of law
A peaceful and secure Africa
An Africa with a strong cultural identity, common heritage, shared values and ethics
An Africa whose development is people-driven, relying on the potential of African people, especially its women and youth, and caring for children
Africa as a strong, united and influential global player and partner
[6] Africa has 30% of global mineral reserves, 8% of the world's proven oil reserves and 7% of the world's proven gas reserves.
[7] South Africa, Kenya, Egypt, Tanzania, Nigeria and Mozambique.
[8] Nigeria, South Africa, Angola, Ghana, Botswana and Egypt.
[9] For major traded items, please refer to Table 4.4 and Table 4.5 on pages 27-28 of "Background Note" relating to 13th CII-Exim Bank Conclave on India-Africa Project Partnership.
[10] "Background Note" relating to 13th CII-Exim Bank Conclave on India-Africa Project Partnership, P. 35.
[11] Please see: Bilateral Cooperation Division, Department of Economic Affairs, Ministry of Finance, Government of India, Guidelines on Lines of Credit extended by the Government of India to various countries under the Indian Development and Economic Assistance Scheme (IDEAS), 7 December 2015, <https://www.eximbankindia.in/assets/pdf/loc/GOI-Guidelines-on-LOC.pdf>
[12] For details, please refer to the CII publication entitled Project Implementation by Indian Companies in Africa.
[13] From personal notes.
[14] Ministry of External Affairs, Government of India, Delhi Solar Agenda, 11 March 2018, <http://www.mea.gov.in/bilateral-documents.htm?dtl/29605/Delhi_Solar_Agenda>
[15] Another indicator is the Government's decision, announced on 21 March 2018, to open new diplomatic missions in 18 African countries in the next four years. Thus by 2021, the total number of Indian missions in Africa will rise to 47. https://www.narendramodi.in/man/cabinet-approves-opening-of-missions-in-africa-to-implement-commitments-of-india-africa-forum-summit-iafs-iii–539398