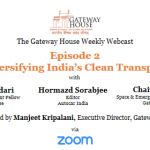 Three experts: Amit Bhandari, Energy & Environment Fellow, Gateway House; Hormazd Sorabjee, Editor, Autocar India; Chaitanya Giri, Space and Emerging Technologies Fellow, Gateway House discuss the topic.
Manjeet Kripalani, Executive Director and co-founder, Gateway House moderated the discussion.
This video was recorded on Zoom during the second episode of the Gateway House Webcast which took place on 16 April 2020.