Deep dive: The Quad
In an interview with Garrison Moratto of The New Diplomatist, Amb. Rajiv Bhatia, Distinguished Fellow, Foreign Policy Studies, counters China's claims that the Quad is an "Asian NATO." He highlights how the India-U.S.-Japan-Australia Quadrilateral initiative aims to increase cooperation in the Indo-Pacific on international law and security. This podcast delves into the history of the Quad's formation, current strategic characteristics, and future geopolitics, ahead of the fall in-person Leaders' Summit in the U.S.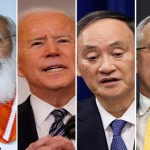 This podcast was first published in The New Diplomatist.

Rajiv Bhatia is Distinguished Fellow, Foreign Policy Studies Programme, Gateway House.