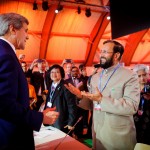 India had much to lose from the climate talks, while potential gains were not proportionate. Thankfully, India has come away from COP21 without any 'serious harm' to its long term growth prospects.  The two major worries, from the Indian point of view were:
First, having to declare a peak year for emissions. The U.S. and China made a joint declaration[1] on climate change in November 2014. The highlight was China's intent to peak its carbon emissions by 2030. That meant India could have also been pressurised into declaring a 'peaking year' for carbon emissions, even though India's per capita emissions are a quarter of China's and under one-tenth of U.S. levels. An early peak year could have meant India being permanently locked into consuming low levels of energy, i.e. restricted to a low level of development.
Also at issue were possible stringent sanctions on coal in terms of use and finance. Coal accounts for 75% of India's current electricity generation and will continue to have a big role going forward. However, coal is also the dirtiest among major fuels and its use is under increasing scrutiny. Specific sanctions on coal imposed at Paris, whether on use or financing, would have hurt India's growth.
Fortunately, neither of these has come about. Article 4 of the agreement inked in Paris says 'Parties aim to reach global peaking of greenhouse gas emissions as soon as possible, recognising that peaking will take longer for developing country Parties'[2]. This means India has a longer leeway towards burning coal and then, cleaning up its act — like every other major economy has done so far.
Second, coal doesn't find a mention in the text at all. The closest that the text comes to mentioning coal is in Article 2, Section 1-c, which says 'Making finance flows consistent with a pathway towards low greenhouse gas emissions and climate resilient development.' This, too, is not an explicit sanction on coal. Explicit mention of coal in the text could have meant a blanket refusal by Western banks and financial institutions to fund coal linked projects, of which India plans capacity additions of up to 500,000 megawatts[3].  This is not going to happen, at least, not immediately. Some financial institutions and funds, such as Norway's Sovereign Wealth Fund, California's pension funds and French insurance major Axa have already decided to divest away from coal – but this is a decision by individual fund managers, based on their interests[4].
What India had hoped for from Paris, was firm commitments for clean energy finance and access to technology. Expecting the rich world to share either its money or its intellectual property freely was a long shot, and expectedly, hasn't happened. This shouldn't be seen as a major loss.
Rather than blame the West for being selfish, India must make the most of the opportunity available. The Paris climate deal has been made possible by recent technological advances – in solar energy, electric vehicles and battery storage technology – which have made clean/carbon-free energy financially viable. As of now, the U.S. and China are the leaders in both these areas, but India must develop these industries domestically. It lacks the technological knowhow, but has the advantage of a big and a growing home market – an incentive for industry leaders to set up operations here.
India's under-developed market is an advantage. The U.S., EU and China are saturated markets for energy and for automobiles with large investments in existing, current technologies. India can leapfrog to new technologies directly without first investing in the old. The automobile industry is an example. EU, the U.S. and China car markets have each sales of 13 million to 18 million annually[5]. Almost all those cars use the internal combustion (IC) engine. India's much smaller car market of 2.5 million is growing and with proper policies, can move directly to electric vehicles.
There is already a model in place, in two-wheelers and small cars. From being a backwater of obsolete products, India is now a significant manufacturer and exporter of both. A similar approach can be used for solar, battery and EV technologies. Solar power is being encouraged, but the other two legs of clean development, EVs and battery technology, are being ignored. These technologies are a rare instance of green and development lining up together – an opportunity for India to show the way.
Amit Bhandari is Fellow, Energy & Environment Studies, Gateway House.
This article was exclusively written for Gateway House: Indian Council on Global Relations. You can read more exclusive content here.
For interview requests with the author, or for permission to republish, please contact outreach@gatewayhouse.in.
© Copyright 2015 Gateway House: Indian Council on Global Relations. All rights reserved. Any unauthorized copying or reproduction is strictly prohibited
References:
[1] Office of the Press Secretary, The White House, Government of the United States of America, U.S.-China Joint Announcement on Climate Change, 11 November, 2015, <https://www.whitehouse.gov/the-press-office/2014/11/11/us-china-joint-announcement-climate-change>
[2] United Nations Framework Convention on Climate Change, Conference of the Parties Twenty-first Session Paris, 30 November to 11 December 2015, 11 December, 2015 <http://unfccc.int/resource/docs/2015/cop21/eng/l09r01.pdf>, pp 22 (Accessed 16 December, 2015)
[3] World Resource Institute, Proposed Coal-Fired Plants By Installed Capacity (MW), 1 November, 2012, <http://www.wri.org/resources/data-visualizations/proposed-coal-fired-plants-installed-capacity-mw> ( Accessed 16 December 2015)
[4] Carrington, Damian and Caelainn Barr, "Coal Crash: How Pension Funds Face Huge Risk from Climate Change" The Guardian, 15 June, 2015 <http://www.theguardian.com/environment/2015/jun/15/coal-crash-how-pension-funds-face-huge-risk-from-climate-change> (Accessed 16 December, 2015)
[5] Bekker, Henk, '2014 (Full Year) International: Worldwide Car Sales', Car Sales Statistics, 16 January, 2015, <http://www.best-selling-cars.com/international/2014-full-year-international-worldwide-car-sales/>