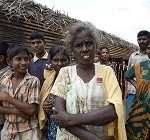 On July 23, local council elections were held in the erstwhile Liberation Tigers of Tamil Eelam (LTTE) strongholds in northern and eastern Sri Lanka. The Tamil National Alliance (TNA), a coalition with suspected links to the LTTE, swept the elections with huge margins; thus, bringing the Sinhalese government of President, Mahindra Rajapaksa, back to the negotiating table.
In the book International Organisations and Civilian Protection, Sreeram Chaulia, Vice Dean of the Jindal School of International Affairs, draws from his extensive  experience as a humanitarian aid worker. He speaks to Gateway House's Samyukta Lakshman about the efforts of international aid organisations in conflicts in Sri Lanka and the Philippines and how organisations like the TNA were determined to upset any initiatives:
Q. In the book, you have mentioned that the South Asian Association for Regional Cooperation (SAARC) gave the Sri Lankan government more leverage and  bargaining powers, over U.N. agencies and their western donors in the civil war. How does regionalism aid and abet autocratic regimes?
Regionalism is a cover behind which authoritarians have frequently hidden from international pressure. Take the example of Robert Mugabe in Zimbabwe. It is the so-called 'African solidarity' from neighbouring states like South Africa that has enabled him to keep on ruling and crush pro-democracy movements in Zimbabwe. The same applies to the Rajapaksa 'ethnocracy' in Sri Lanka. It cleverly rallied SAARC states during the final stages of the war and kept being patted on the back by all these powers, including India, for fighting terrorism. In the process, major war crimes were committed. In this book, I have questioned this pseudo solidarity based on principles like 'good neighbourliness' and sought to uncover the ugly underbelly of such state-to-state connivance at the expense of societies living under oppression.
Q. The TNA and the Tamil Rehabilitation Organisation (TRO) are alleged to have undermined the international organizations (IO) and international non-government organizations (INGO) working in Sri Lanka. In such a situation, shouldn't the Sri Lankan government have collaborated with these outfits instead of branding them as pro-LTTE?
Wars generate political circumstances in which diehard enemies often find themselves on the same side of the fence on certain issues. An unexpected convergence of interests occurred when the Ranasinghe Premadasa regime in Colombo joined hands with the LTTE to drive out the Indian Peacekeeping Forces (IPKF) in the late 1980s. TNA and TRO did undermine the independence of intergovernmental and INGOs during the Eelam wars, but their motive was to further the interests of the LTTE. The Sri Lankan state's motive was to avert them from probing and acting on human rights abuses committed by government security forces.
My book shows through several examples how IOs and INGOs became over-cautious and ultra-conservative on civilian protection because of such pressure. In most cases, the humanitarians ended up paying lip service to international human rights and quietly went about doing material relief work. I have critiqued this 'developmentalist' agenda in IOs and INGOs and also shown how some of them managed to remain proactive on civilian protection in spite of the dual pressure from the government and the LTTE.
Q. What are some of the problems that IOs and INGOs face in the Philippines? How is this different from Sri Lanka?
One of my book's chapters compares the external pressures and inducements to either highlight or downplay civilian protection in the Philippines vis-à-vis Sri Lanka. These two wars are basically similar but the actors and their modus operandi are quite different. I show, for instance, how local government units at the provincial level had a lot more might in Mindanao, southern Philippines, than in the North and East of Sri Lanka. Also, the guerrillas in Mindanao were less totalitarian than the LTTE in Sri Lanka. These structural differences of the armed parties eventually impacted the behaviour of IOs and INGOs in both countries. What is fascinating is that in both these varied conflicts, the UN Development Programme (UNDP) had a similarly dismal record towards civilian protection. Organisations like UNDP are simply incorrigible, and I have explained why this is so.
Q. How robust is the global financing system in meeting the demands for assistance in lesser known disasters? Are the sponsors of IOs and INGOs mainly capitalist nations?
The global financial system has failed to enhance civil and political rights of victims of war. This is the central argument of my book. I show how Wall Street and its affiliates among local capitalists, in war-hit countries, act as extractors of precious minerals and preventers of peaceful resolution of conflicts.
As to the 'development' agenda, it is a roaring business in the name of charity, and international financial institutions like the World Bank are at the forefront of pumping money for 'livelihood assistance', 'poverty alleviation' etc. My book shows that the main need of civilians in war is physical protection from violence, something that the aid agencies and their donors have grossly neglected. This neglect is not due to lack of awareness about the atrocities being committed by state and non-state actors. But more due to structural positioning of interests wherein global finance marries repressive states and local capitalists to deny civil liberties and freedoms in war zones.
IOs and INGOs get most of their humanitarian and development programmes funded by capitalist nations. I have labeled the capitalist world-system as the ultimate 'conditioner' for the behaviour of aid agencies. While unearthing the nitty-gritty of decision making inside IOs and INGOs, I have directed readers to the deeper, less evident interconnections between humanitarianism and financial capitalism and the havoc this has unleashed in war zones.
Q.What is the role of emerging nations like India, Brazil and China in humanitarian assistance?
A. My book shows that less advanced capitalist states that are growing fast do not yet have the liberal discourse or the sophisticated channels through which humanitarian assistance can be disbursed overseas.
Japan's rise from the 1960s was paralleled by the construction of an aid industry which went out and captured the 'development' segment across the Global South. It is possible that Brazil, India and China will take this path, but the lack of an independent capitalist class in China will mean that aid will remain confined to the state-to-state (overseas development assistance or ODA) method and not diversify into funding IOs and INGOs. India and Brazil are not as fortunate as China to possess trillions of dollars of foreign exchange reserves, and the amount of foreign aid they can disburse is therefore quite limited.
I have frequently argued that India must export its manpower and human capital in the form of a native version of the U.S. 'Peace Corps' for soft power. India often dishes out financial aid for developmental causes that is not
welcome (e.g. Bangladesh) and comes with interest rates higher than in private capital markets. The conditionalities of generating business for Indian corporations in the aid recipient country are also not liked. We need our young people to go and work in the remotest corners of Africa and Latin America, imparting basic knowledge and skills.
Sreeram Chaulia is Vice Dean of the Jindal School of International Affairs.
Samyukta Lakshman is a Researcher at Gateway House
This interview was exclusively conducted for Gateway House: Indian Council on Global Relations. You can read more exclusive content here.
For interview requests with the author, or for permission to republish, please contact outreach@gatewayhouse.in.
© Copyright 2011 Gateway House: Indian Council on Global Relations. All rights reserved. Any unauthorized copying or reproduction is strictly prohibited.